Undergraduate Handbook 2020-2021
On behalf of the advising office, we welcome you to learn more about our undergraduate programs in English. One of the largest degree programs within the College of Arts and Sciences, the English department allows students to specialize in one of three tracks: Literature, Media, and Culture; Creative Writing; or Editing, Writing, and Media (see links for individual program information). Students may also pursue other specialized programs such as Honors in the Major, or they may enroll in independent courses of study.
With the dedication of our faculty, the many opportunities on campus, and the excellence of our programs, students receive a state-of-the-art education that provides the necessary knowledge and skills for a professional career in many diverse fields. We hope you find our web page informative. Feel free to contact the English advising office for additional information.
English Major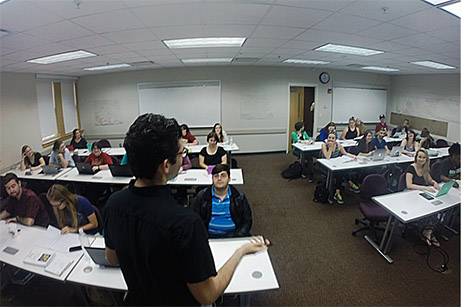 General Information
36 semester hours of English in courses numbered above 1999
No more than 12 hours may be at the 2000 level
At least 9 hours must be at the 4000 level
For Honors in the Major, we can accept 3 of the 12 required hours as applicable to any English concentration. See your advisor for more information.
The major can only accept a maximum of 3 hours of overlap with liberal studies
All courses applied to the major must have a grade of C- or better
Minor outside of English is mandatory
Program Checklists
Minor in English
The minor in English requires 12 credits hours in English classes numbered above 1999. These 12 hours may not include hours taken to fulfill Liberal Studies requirements. ENC 2135 may not count toward minor English courses. ENG 2012 Intro to English Studies may count toward the English minor.
Internship in Editing
The editing internship allows students to obtain a range of practical experience in editing and professional writing. Variable credit (1–6 semester hours) is possible for an individual internship course. Please note, only 3 credit hours will apply to the English major. In order to register for the internship course, students need to apply for it here. The internship course is S/U grade only. Because students receive credit hours for the editing internship (ENC 4942), the university assesses tuition and fees like any other course. For more information, see the internship site.
Honors in the Major
Eligibility and Registration: To qualify for the Honors in the Major program in English, students must have a 3.2 cumulative GPA and have completed a minimum of 60 credit hours.
Overview of Program: Honors in the Major in English consists of two seminars open to Honors students and two terms of thesis work. Students take 6 hours of Honors Seminar—ENG 4938—and 6 hours of honors thesis—ENG 4936. Students must complete seminars and thesis work in two consecutive semesters, with the exception of summer; students usually complete seminars and thesis work during the semester of senior year.
In order to graduate with Honors in English, the student must have at least a B average in Honors courses and a GPA of 3.2 or better. Students should not begin thesis work unless they know they can maintain and finish with such averages.
For more information about the Honors in the major Program, please see https://honors.fsu.edu/honors-major.
Directed Individual Study
Special topics or subject areas that are not offered in the regular English curriculum or that are more specialized or narrowly focused may be pursued as Directed Individual Study (DIS). For motivated, independent students with special interest in a particular topic or area of study, the DIS can be an excellent opportunity to explore "off-the beaten-path" subject matter while developing contacts with faculty. However, a student should not ask to take a DIS in a subject that is normally offered.
Faculty members (not instructors, adjuncts, or teaching assistants) and students negotiate DIS hours. In conjunction with a faculty member, students will name their course and provide a brief description of the work to be completed on a DIS form prior to registration. 
Please note that DIS will only apply to the major as English department elective credit. DIS cannot replace literature or writing requirements in the major.
Graduation
Students are required to complete two different graduation checks online (one for the College of Arts and Sciences and one for the Registrar) during the semester in which they will earn their 90th credit hour. For both, you may log on to your myFSU portal and look for a To Do list on the right side of your home page. Both processes will give you a date to pick up the results of your graduation checks, either in the Registrar's Office or in Longmire 010.
Grad checks are important because they ensure students are on track to completed major, minor, and university requirements by the following term. Please make sure you pick up your grad check when they become available. If you have any questions, please contact the English department advisor for Seniors.
Students must apply for graduation online in the first two weeks of their final semester. Students must apply for graduation even if they do not plan to participate in the commencement ceremony. Click here for a walkthrough on how to apply.
International English Honor Society: Sigma Tau Delta

The purpose of the Society is to confer distinction for high achievement in all areas of English studies at the undergraduate and graduate levels; to promote interest in literature and the English language in surrounding communities; to foster all aspects of the discipline for English, including literature, language, and writing; and to serve society by fostering literacy.
Membership is also open to any undergraduate student who has completed six semester hours of English course credit has a minimum GPA of 3.0. Acceptance into the Society requires verification that the student meets the academic requirements and one-time dues of $50.
The application can be downloaded here.
For more information about Sigma Tau Delta, please contact Dr. Kennedy, Faculty Sponsor (meegan.kennedy@fsu.edu). You can also send questions or applications to fsurhoepsilon@gmail.com
For additional information, please see our flyer. 
FSU International Programs
FSU offers study abroad programs in countries across the globe, including semester-long programs in London, England; Florence, Italy; Valencia, Spain; and Panama City, Republic of Panama. Although students may elect to pursue intensive language studies or opt for broad curriculum programs in Panama, Costa Rica, Ireland, Italy, Spain, or China, the London and Valencia programs have course offerings specifically designed for the English Major. Please visit International Programs for up-to-date program information, course offerings, scholarships opportunities, housing, and financial aid.
British Studies in London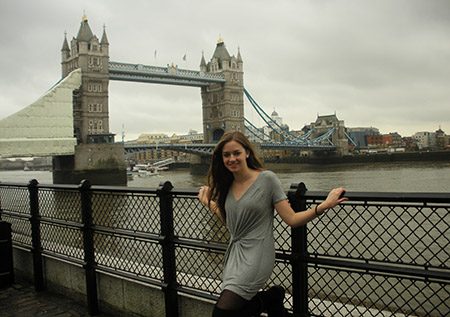 Students majoring in English can study British Literature at its source during the fall semester. They may choose among upper-division English courses specific to the English Literature, Media, and Culture program and from courses offered during the fall semester in the London Broad Curriculum program. This allows them to progress toward their degrees on schedule, while gaining the immense benefits of the London experience. As they read works by writers such as Chaucer, Shakespeare, Dickens, and Woolf, they can visit the settings of the stories, the homes of the authors, museums exhibits, and see productions of plays.
Editing, Writing, and Media in Valencia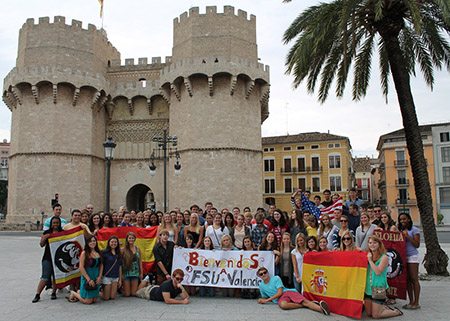 Students majoring in Editing, Writing, and Media become unofficial foreign correspondents while in Valencia. Students will write a journalistic-style article based on their experiences in the Valencia program and learn how to produce an eye-catching design for publication. In addition, they will hone their editing skills for print and social media. At the program's end, articles are compiled in a magazine that students can show to potential employers or graduate schools. Valencia offers plenty to see, do, and write about: medieval churches, renowned art museums, and European football, just to name a few. Students will be part of the Nomadic Noles, the magazine produced by students in the Editing, Writing, and Media Program during their five weeks of summer classes. This publication gives students a hands-on opportunity to learn more about the editing, writing, design, and social media aspects of publishing. Click here for a special issue that includes first-person articles that program alumni wrote and 2019 alumna Savannah Tindall coordinated and designed. 
Editing, Writing, and Media in Florence
This program allows students to complete a substantial portion of the EWM major during the six-week first summer session in Florence, Italy, while taking classes at FSU's study center in the Palazzo Bagnesi, a 16th-century castle in the heart of the city. Students will participate in all the Broad Curriculum program trips, which typically include sojourns to Rome and Venice, and to a Tuscany vineyard, and will also have opportunities to take an Italian cooking class, to visit an historic kitchen, and to interview writers and book conservators. See this link for more information.
Literary Life in Tallahassee: Getting Involved as an Undergraduate
Tallahassee has a vibrant literary scene. We encourage undergraduate English majors to take part. Our weekly Visiting Writers Series features illustrious visiting fiction writers and poets, along with FSU faculty and graduate students.
Throughout the year, there are numerous lectures and colloquiums offered for students. Visiting scholars regularly come to the FSU campus and give talks about literature and culture.  
Literary Magazines and Presses
The Kudzu Review is FSU's award-winning undergraduate literary magazine showcasing poetry, fiction, non-fiction, and visual art. 
The Southeast Review is a national literary magazine that publishes fiction and poetry by emerging and established writers from around the country. Students in FSU's graduate creative writing program edit and publish the Southeast Review. Undergraduate students can apply for internship with the Southeast Review.
A local literary press, The Anhinga Press, publishes anthologies of poetry and sponsors poetry competitions in Florida and nationwide. 
The Apalachee Review (formerly Apalachee Quarterly) is a literary magazine published in Tallahassee by Apalachee Press, a non-profit corporation.
The Naiad Press, one of America's largest feminist presses, also publishes in Tallahassee.