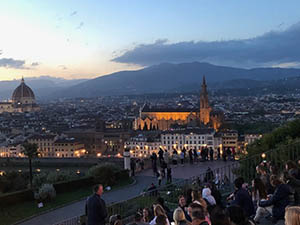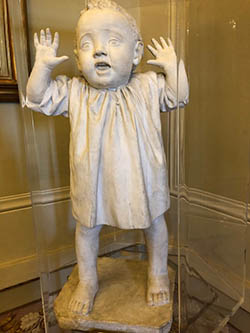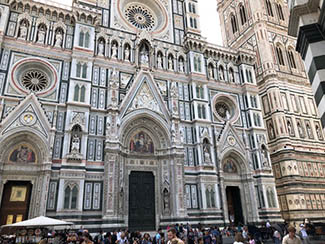 This program allows students to complete a substantial portion of the EWM major during the six-week first summer session in Florence, Italy, while taking classes at FSU's study center in the Palazzo Bagnesi, a 16th-century castle in the heart of the city. Students will participate in all the Broad Curriculum program trips, which typically include sojourns to Rome and Venice, and to a Tuscany vineyard, and will also have opportunities to take an Italian cooking class, to visit an historic kitchen, and to interview writers and book conservators.
In the Florence-based version of the cross-listed ENC 3416 (Writing and Editing in Print and Online) and ENG 3310 (Article and Essay Technique), students will experience and write about all aspects of Italian food culture. Each week students will take field trips to restaurants and markets, interacting with (and writing about) Florentine restauranteurs, cooks, and food enthusiasts. Students will also meet with local cookbook writers and Florentine food experts, among other renowned Florence-based writers, and they will experiment with writing in genres that include recipe, blog post, memoir, and restaurant review.
In the Florence-based version of the cross-listed ENG 4815 (What is a Text?) and ENG 3803 (History of Text Technologies), Florence's museums and street culture will serve as the jumping-off points for class activities, and students will investigate texts and textuality in part by creating many texts themselves. Text exploration activities may include visiting 15th-century frescoes that instructed monks on proper behavior, discussing book restoration techniques with conservators still laboring over books damaged when the national library was flooded (along with the rest of Florence) in 1966, and learning about how an innovative pizza maker uses his food to communicate. Once students encounter a hand-illustrated Medieval Bible or an amazing Florentine gelateria—and challenge themselves to consider both as texts—they will see religious artifacts and ice cream shops in entirely new ways.
Students in both classes will build portfolios of writing and editorial work by contributing to, and helping to edit a suite of social media sites (Twitter, Instagram, TikTok) which focus on Italian culture and the FSU experience in Florence.
title-inside title-centered
2