Janet Burroway Professor, Associate Chair, Graduate Studies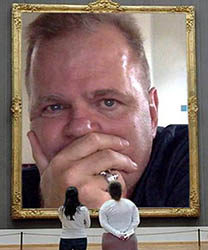 WMS 418
Creative writing, fiction, non-fiction
MARK WINEGARDNER, who writes fiction and nonfiction, is the Burroway Professor of English. He was born and raised in Bryan, Ohio, near what was once known as Exit 2, a town of 8,000 which supplies the world with its Dum-Dum suckers and Etch A Sketches. He is the winner of a University Teaching Award and is the department's only two-time winner of the University Mentoring Award. He has also won grants, fellowships and residencies from the Ohio Arts Council, the Lilly Endowment, the Ragdale Foundation, the Sewanee Writers Conference and the Corporation of Yaddo.
Winegardner's books have been translated into more than twenty languages and sold almost two million copies worldwide. They have appeared on the New York Times Bestseller List and in best-of-the-year lists by The New York Times Book Review, the New York Public Library, The American Library Association, Entertainment Weekly, USA Today, The (Cleveland) Plain Dealer, The Los Angeles Times and The Chicago Sun-Times. In 2004, Cleveland Magazine named Crooked River Burning the best book ever written about Cleveland.
A contributing writer to ESPN the Magazine and The Oxford American, Winegardner's work has also appeared in such magazines as GQ, Men's Journal, The New York Times Magazine, Playboy, Ploughshares, Five Points, Doubletake, Story Quarterly, and TriQuarterly. The varied subjects of his National Magazine Award-nominated nonfiction have included art forgery, Cuban defectors, a giant Punjabi teenager, Congressman Louis Stokes, the Clown Prince of Baseball, the Southern Literary Mafia, and the first viral video to cause a felony arrest.
He also helped write the script for The Godfather video game (all platforms), creating original dialogue performed by such actors as James Caan, Robert Duvall, and (in his final professional gig) Marlon Brando.
He's now working on a novel about a school shooter.
BOOKS
Florabama Normal (novel). In progress.
The Godfather's Revenge (novel), Putnam, 2006.
3x33: Short Fiction by 33 Writers (textbook), Thomson Heinle, 2004.
The Godfather Returns (novel), Random House, 2004.
That's True of Everybody (stories), Harcourt, 2002.
Crooked River Burning (novel), Harcourt, 2001.
We Are What We Ate (editor), Harcourt, 1998.
The Veracruz Blues (novel), Viking, 1996.
The 26th Man: One Minor Leaguer's Pursuit of a Dream (non-fiction, editor), Macmillan, 1991.
Prophet of the Sandlots: Journeys with a Major League Scout (non-fiction), Atlantic Monthly Press, 1990.
Elvis Presley Boulevard: From Sea to Shining Sea, Almost (non-fiction), Atlantic Monthly Press, 1988.