Krafft Professor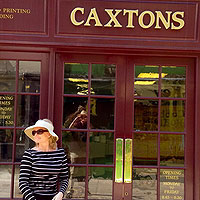 WMS 447
Renaissance and late-medieval literature, history of text technologies, comparative literature, translation studies, poetry
ANNE COLDIRON, Professor (Ph.D., University of Virginia), has primarily worked in the fields of Renaissance/early modern literature and late-medieval literature, with special focus on translation, book history, poetics and poetry, women and literature, French-English literary relations, and literary reception. She joined FSU's interdisciplinary program in the History of Text Technologies in Spring 2007. In 2014-15 she served as Director of the Year-Long Colloquium in Renaissance/Early Modern Translation at the Folger Institute, Washington DC. In 2017-2018 she held The Berry Chair in English Literature at the University of St Andrews (Scotland); in 2018-19, she returned to FSU as George Matthews Edgar Professor of English.
Her first book issues a strong challenge to traditional literary periodization and canons by examining the large, tri-lingual oeuvre of a 15th-century French poet, Charles of Orleans. Her second book, English Printing, Verse Translation, and the Battle of the Sexes, 1476-1557 (2009), treats popular verse translations of French gender discourses that appeared in the formative early decades of printing in England. Her third book, Printers Without Borders (Cambridge UP, 2015), studies the early English printers' and translators' complex, resistant appropriations of foreign texts. (See below for editorial work and other publications.)
She has held several research fellowships, including two from the NEH (National Endowment for the Humanities), a year-long ATLAS grant, a Kluge fellowship, and Folger fellowships (see below for details). She was a collaborator on an Insight Grant from Canada's SSHRC (Social Sciences and Humanities Research Council) for the project now residing at translationandprint.com. Currently she is part of the Trajectories of Translation Project, an international group of researchers funded by the SSHRC (Social Sciences and Humanities Research Council of Canada), for 2018-2022.
Coldiron's invited lectures include the Library of Congress (DC); Oxford University (UK); the NIDA Institute's Translation Studies Research Symposium (New York); the Folger Shakespeare Library (DC); l'Université de Paris; the CNRS (Centre National de Recherche Scientifique) of France; University of Pennsylvania; UCLA; and others. In July 2016 she delivered a keynote lecture ("Languages of the Book") at the international SHARP conference in Paris. Fall 2016 included a keynote lecture on Renaissance translators at the School of Advanced Study at the University of London and invited lectures at the University of Bristol and the University of York (UK). In October 2017 she presented the 53rd Annual Erasmus Lecture at the University of Toronto's Centre for Renaissance and Reformation Studies.
Coldiron's graduate students have worked successfully on such topics as transnational Armada pamphlets, lyric poetics and the Renaissance garden, script-to-print techniques, Elizabeth I's speeches, Spenser, emblems, and early modern visual poetics. Her former PhD students have won grants and fellowships from e.g. the ACLS (American Council of Learned Societies), the Mellon Foundation, the Folger Library, and the NEH.
Her current projects include books on (a) the English translations of the works of Christine de Pizan and (b) the mutable representations of authors and translators in words and images. She is coordinator of a Special Topic Issue on translation in PMLA planned for publication in May 2023; see CFP, with deadline of June 2021, about halfway down this page. Questions about poetic translation and more generally about literary change (whether translingual and transcultural, socio-historical, and/or material-textual) continue to animate her research.
Books and Editions
Co-ordinator, Special Topic issue of PMLA on Translation, for May 2023.
Christine de Pizan in Early English Print: The "Mirror and Mistress" of "Intelligence". Toronto: University of Toronto Press. Under Contract; expected 2022.
Guest editor, The Translator's Voice, a special double issue of Philological Quarterly 95.3&4 (2016).
Printers Without Borders: Translation and Textuality in the Renaissance (Cambridge, UK: Cambridge University Press, 2015). Reprinted in Paperback, Cambridge University Press, 2020. More information. See reviews in Renaissance Quarterly, SEL: Studies in English Literature, Spenser Review, Philological Quarterly, Sendebar, The Library, Cahiers Élisabéthains, and Bibliothèque d'Humanisme et Renaissance.
English Printing, Verse Translation, & the Battle of the Sexes, 1476-1557. Aldershot, Hampshire, UK: Ashgate Press, 2009. See reviews in Review of English Studies; Notes and Queries; JEGP (Journal of English and Germanic Philology); the JPHS: Journal of the Printing Historical Society; and Translation & Literature.
Canon, Period, and the Poetry of Charles of Orleans: Found in Translation. Ann Arbor: University of Michigan Press, 2000.See reviews in Translation & Literature, Renaissance Quarterly, and Sixteenth-Century Journal.
Editor, Christine de Pizan in English Print, 1478-1549 MHRA Tudor and Stuart Translations Series (under contract).
Selected Articles and Essays
(in progress). "Introduction: Special Topic on Translation," PMLA, due Dec. 2022.
(forthcoming). "Trans- and Multi-Lingual Print." In The Oxford Handbook to the History of the Book in Early Modern England), ed. Adam Smyth. Oxford University Press. Expected 2022.
(forthcoming). "Adventures in Multilingualism: the 'English Exception'?" for Multilingual Texts and Practices in Early Modern Europe, ed. Peter Auger and Sheldon Brammall, Routledge, UK. Expected 2022.
(forthcoming). "Transnational Lyric." In OHRP (Oxford Handbook to Renaissance Poetry), ed. Jason Scott-Warren. Oxford University Press. Expected 2022.
(accepted; in press) "Spenser's Third Babel," Sidney Journal, expected in Vol. 40, 2022.
(invited) "Translation and Early Printing: Caxton," in Lieven D'Hulst, ed., A Cultural History of Translation, Vol. 3 (Bloomsbury).
"William Caxton, Multi-Mediator," Forum for Modern Language Studies, vol. 58.4, 2022;
https://doi.org/10.1093/fmls/cqac055
"Feminist Hermeneutic Tools: Visual Metaphors of Christine de Pizan's Literary Labor," Digital Philology: A Journal of Medieval Cultures, vol. 11 no. 1, 2022, pp. 121-141; doi:10.1353/dph.2022.0008.
"'A Most Remarkable Volume': The Long-Term Authority of Provenance in Christine de Pizan's Deracinated Military Manual," Journal of the Early Book Society, vol. 24 (2021): 199-220.
"Babel and the Bard: the 'Naked Englishman' in the European Literary Polysystem." Shakespeare Studies Vol. 48 (2020), 10-19.
"Translation and Transformission; Or, Early Modernity in Motion," Canadian Review of Comparative Literature/Revue Canadienne de littérature comparée, Vol. 46.2 (2019): 1-12.
"Teaching the Early Modern English Translations of Christine de Pizan" pp. 188-196 in Approaches to Teaching the Works of Christine de Pizan, edited by Andrea Tarnowski. New York: Modern Language Association, 2018.
"The Translator's Visibility: Early Modern Printed Portraits." In Thresholds of Translation: Paratexts, Print, and Cultural Exchange in Early Modern Britain, ed. B. Hosington and M-A. Belle. Palgrave, 2018.
"Translation and Translations." A Companion to Renaissance Poetry, ed. Catherine Bates. Wiley Blackwell, 2018. pp. 16-30.
"Beyond Babel: The Translator's Voice in Early Modern Literature and History". Philological Quarterly 95.3-4 (2016): 311-319.
"Form[e]s of Transnationhood: the case of John Wolfe's trilingual Courtier," Renaissance Studies, 29.1 (2015): 103-124.
"Response by Coldiron to Karin Littau, 'Translation and the materialities of communication'." Translation Studies 8.4 (2015):1-6. DOI: 10.1080/14781700.2015.1085433
"Macaronic Verse, Plurilingual Printing, and the Uses of Translation," in Early Modern Cultures of Translation, ed. K. Newman and J. Tylus (University of Pennsylvania Press, 2015), pp. 55-56-75 and 277-283. More information.
"The Mediated 'Medieval' and Shakespeare," in Medieval Shakespeare: Pasts and Presents, eds. Helen Cooper, Peter Holland, and Ruth Morse (Cambridge: Cambridge University Press, 2013), pp. 55-77.
"'La Femme Replique': English Paratexts, Genre Cues, and Versification in a Translated French Gender Debate." In French Connections in the English Renaissance, edited by Catherine Gimelli Martin and Hassan Melehy. Farnham, Surrey and Burlington, VT: Ashgate, 2013. 15-25
"How Spenser Excavates Du Bellay," revised rpt., in The Norton Edmund Spenser's Poetry, 4th ed., ed. Andrew Hadfield and Anne Lake Prescott (NY: W. W. Norton, 2013), 830-843.
"Visibility Now: Historicizing Foreign Presences in Translation" Translation Studies 5.2 (May 2012): 189-200. DOI: 10.1080/14781700.2012.663602. Read it here. 
"Women in Early English Print Culture," pp. 60-83 in History of British Women's Writing, vol. 2. Ed. Jennifer Summit and Caroline Bicks. London and New York: Palgrave: 2010. This collection has won the SSEMW Prize for best book of 2010 (Society for the Study of Early Modern Women).  Reprinted 2014; reprinted 2015.
"French Presences in Tudor England," in A Companion to Tudor Literature, ed. Kent Cartwright (Wiley-Blackwell, 2010), pp. 246-260.
"Shakespeare et le Coriolan « de l'empire lettré »," co-author, Nicholas Crawford. Cahiers Charles V No. 45 (2008): Shakespeare, Les Français, Les France. Université Paris Diderot-Paris 7, 2008 (appeared Nov. 2009), pp. 95-113. More information here. 
"Translation's Challenge to Critical Categories," reprinted in Critical Readings in Translation Studies, ed. Mona Baker (Routledge, 2010). Also reprinted in Translation Studies: Critical Concepts (vol. 2), ed. Mona Baker, 4 Vols. (Routledge, 2009). Reprinted from "Translation's Challenge to Critical Categories," Yale Journal of Criticism 16.2 (October 2003): 315-44. Yale Journal of Criticism/abstract
"Caxton, Translator," in The Oxford History of Literary Translation in English. Vol 1, to 1550. Ed. Roger Ellis (Oxford University Press, 2008), 160-169.
"Journey and Ambassadorship in the Marriage Literature for Mary Tudor (1496-1533)," in Renaissance Tropologies: The Cultural Imagination of Early Modern England. Ed. Jeanne Shami (Duquesne University Press, 2008), pp.143-165 & 328-335.
"'Universal' Shakespeare? Transnational Reception as Synecdoche" in How to Do Things With Shakespeare: New Approaches, New Essays, ed. Laurie Maguire (Oxford: Blackwell, 2007) pp. 255-279.
"The Widow's Mite and the Value of Praise: Commendatory Verse and an Unstudied Manuscript Poem in...The Faerie Queene (1590)," Spenser Studies XXI (2006, appeared March 2007): 109-131.
"A Widow's Mite," The Times Literary Supplement, Dec. 23/30, 2005.
"A Readable Earlier Renaissance," Literature Compass 3.1 (2006): 1-14. Online Abstract
"Cultural Amphibians," Yearbook of Comparative and General Literature 51 (2003-04): 43-58.
"Taking Advice from a Frenchwoman: Caxton, Pynson, and Christine de Pizan's Prouerbes moraulx," in Caxton's Trace: Studies in the History of English Printing, ed. William Kuskin (University of Notre Dame Press, 2005), pp. 127-166.
"Public Sphere/Contact Zone: Habermas, Early Print, and Verse Translation," Criticism 46.2 (2004): 207-222.
"'Tis Rigor and Not Law': Trials of Women as Trials of Patriarchy in The Winter's Tale," Renaissance Papers 2004, 29-69.
"A Survey of Verse Translation from French Printed Between Caxton and Tottel," in Reading and Literacy in the Middle Ages and Renaissance, ASMAR vol 8, ed. Ian Frederick Moulton (Turnhout: Brepols, 2004), 63-84.
"Paratextual Chaucerianism: Naturalizing French Texts in Early English Print," Chaucer Review 38.1 (2003): 1-15.
"How Spenser Excavates Du Bellay's Antiquitez, or, The Role of the Poet, Lyric Historiography, and the English Sonnet," Journal of English and Germanic Philology 101.1 (January 2002): 41-67.
"Toward A Comparative New Historicism: Land Tenures and Some Fifteenth-Century Poems," Comparative Literature 53.2 (Spring 2001): 97-116.
"Translation, Canons, and Cultural Capital," pp. 183-214 in Charles of Orleans in England 1415-1440, ed. M.-J. Arn. Woodbridge, Suffolk, UK: Boydell and Brewer Ltd., 2000.
"Sidney, Watson, and the 'Wrong Ways' to Renaissance Lyric Poetics," Renaissance Papers 1997, eds. Trevor Howard-Hill and Philip Rollinson (Camden House Press, 1997), pp. 49-62.
"Translatio, Translation, and Charles of Orleans's Paroled Poetics," Exemplaria: A Journal of Theory in Medieval and Renaissance Studies, Vol. 8(1), Spring 1996, pp. 169-192.
"Thomas Watson and Renaissance Lyric Translation," Translation & Literature, Vol. 5(1), Spring 1996, pp. 3-25.
"Milton in parvo: Mortalism and Genre Transformation in Sonnet XIV," Milton Quarterly, Vol. 28(1), March 1994, pp. 1-10.
"'Poets be Silent': Self-Silencing Conventions and Rhetorical Context in the 1633 Elegies on Donne." John Donne Journal, Vol 12(1&2), 1993, pp. 101-113.
"Rossetti on Villon, Dowson on Verlaine: 'Impossibility' and Appropriation in Translation," The Comparatist, Vol. 17, May 1993, pp. 119-140.
SELECTED AWARDS
Collaborator, SSHRC-funded project, "Trajectories of Translation," PI Dr M-A Belle, Université de Montréal, with 6 collaborators in Germany, USA, UK, Canada. 2018-2022.
Insight Grant (collaborator), SSHRC (Social Sciences and Humanities Research Council of Canada), 2013-2017.
University Graduate Teaching Award, 2015-2016
National Endowment for the Humanities Fellowship, Jan-Dec 2010
Folger Long-Term Research Fellowship, Dec 2010-Aug 2011
Folger Short-Term Fellowships, 1998 & 2002
ATLAS Grant (Year-Long Research Award), 2005-2006
Kluge Fellow, Library of Congress, 2002-3
National Endowment for the Humanities Fellowship, 1998-1999