Pablo Maurette reflects on teaching, research, and recent accomplishments with his scholarship
---
Pablo Maurette reflects on teaching, research, and recent accomplishments with his scholarship
By Sara Sanfilippo
In the summer of 2018, Florida State University Assistant Professor of English Pablo Maurette participated in a fellowship with the Harvard University Center for Italian Renaissance Studies in Florence, Italy.
Maurette's location for his fellowship fed into his research seamlessly, he says. He traveled on the weekends to Tuscany, Italy, and saw the art he was studying in person.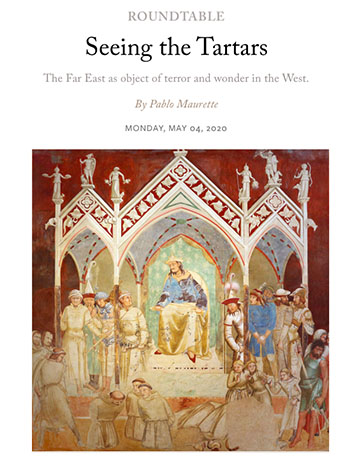 "It was the perfect place to work on this," he recalls. "I was based at one of the best art history collections in the world."
His time at the center led to his recent award from an online publication for Best Essay of 2020. Maurette's article, "Seeing the Tartars," focused on his research while in Italy, and Lapham's Quarterly published his work in May of 2020. The journal, according to its website, "embodies the belief that history is the root of all education, scientific, and literary as well as political and economic."
At the beginning of 2021, The Browser, a subscription website that curates a weekly newsletter of outstanding articles found online, recognized Maurette's article as one of the best essays of 2020. The reviewer referred to the piece as a "thrilling, discursive essay."
"Seeing the Tartars" is an in-depth piece that examines depictions of the Mongols in 13th- and 14th-century European literature and art. The essay includes beautiful illustrations and powerful descriptions of the artwork and the history behind the images.
Maurette remembers feeling "very honored and very surprised" when he first found out about the recognition.
One year after his fellowship in Italy, in the fall of 2019, Maurette began teaching at FSU. Before coming to Tallahassee, he taught at the University of Chicago. Maurette has instructed an array of courses, from film theory lectures to Spanish language classes. His primary teaching focus now is on Early Modern comparative literature and the Classical Tradition.
Maurette focuses much of his research on the crossroads between literature, science, and the history of ideas between the 1400s and 1650s in England, France, Italy, Spain, and the New World. He finds that teaching is the "necessary counterpart of [his] research," and he adds that his students, class discussion, and creating new syllabuses for his course help to inspire his research.
Landis Grenville, an FSU doctoral student in creative writing-poetry, took Maurette's Issues in Literary and Cultural Studies class in the fall of 2020.
"He built a beautiful class that braided scholarly and creative texts and posed questions about authorship, aesthetic, and authorial voice," she says.
Greenville describes Maurette's classroom environment as one where she "felt free to be uncertain, to question and to express what I did not understand, so that we, as a class, could wrestle with the texts to better interpret their meanings and applications."
Maurette's time as a professor at FSU has been untraditional because of the COVID-19 pandemic. Still, the English department has welcomed his arrival with open arms and encouragement.
"Both my colleagues and my students have been extremely supportive and enthusiastic, making the transition [to Florida State University] run smoothly," he says.
English Assistant Professor John Ribó was one of the faculty members involved in the hiring process for Maurette. Maurette, an esteemed scholar in the United States and his native country of Argentina, was first invited to the department to present his research on the monstrous.
"He impressed our faculty and students," Ribó recalls, "and we were lucky to be able to hire him."
Ribó says that his colleague brings "a dynamic energy and cosmopolitan approach to literature as a living phenomenon relevant to everyone throughout the world," making him an excellent addition to the department.
Maurette is also on three dissertation committees at the moment, and he looks forward to working with the graduate on their upcoming projects.
Along with "Seeing the Tartars," Maurette has published several works, including books, articles, and presentations. The University of Chicago Press published his 2018 book, The Forgotten Sense: Meditations on Touch. This book is a collection of essays that complemented his dissertation at the time. The Forgotten Sense explores the sensation of touch and its role in numerous literary and philosophical works from the Western tradition.
His recently published novel, La Migración, is written in Spanish and tells the story of three friends trying to solve the mysterious disappearance of their other friend who went missing twenty-five years before. Currently, he is in the early stages of writing a second novel. He is also hard at work on a second monograph focusing on monstrosity in early modernity in the Americas and Europe.
Maurette's research is already proven to be award-winning, and he has made a meaningful impact on his students and colleagues at FSU. His research focus may be on events and artifacts from centuries ago, but Ribó says "his scholarship speaks powerfully to the present by revealing how the past lives on in our world today."
Click here to read Maurette's award-winning article "Seeing the Tartars."
Sara Sanfilippo is an English major, on the editing, writing, and media track, with a minor in retail operations.
Follow the English department on Instagram @fsuenglish; on Facebook facebook.com/fsuenglishdepartment/; and Twitter, @fsu_englishdept