Assistant Professor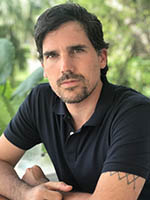 WMS 109
Classical and Renaissance Comparative Literature, History of the Senses, Early Modern History of Medicine, Late Medieval and Renaissance Art History, Transatlantic Studies
Pablo Maurette received his BA in Philosophy from the University of Buenos Aires, an MA in Late Antique and Byzantine Studies from the University of London (Royal Holloway College), and a PhD in Comparative Literature from the University of North Carolina at Chapel Hill. Between 2013 and 2017, he was a Harper Fellow in the Humanities at the University of Chicago. And in 2018-2019, he was a Fellow at Villa I Tatti, the Harvard University Center for Italian Renaissance Studies.
Maurette specializes in Early Modern comparative literature and the Classical Tradition and his approach is trans-historical, multilingual, and interdisciplinary. His research focuses on the intersections between literature, science, and the history of ideas in the period between 1400 and 1650 in England, Italy, France, Spain, and the New World.
In 2018, he published The Forgotten Sense: Meditations on Touch (The University of Chicago Press), a collection of essays dedicated to the role that the sense of touch has played throughout the Western literary and philosophical tradition, from Homer to Karl Ove Knausgaard. His current book project centers on scientific conceptions and literary depictions of monstrosity in Early Modern Europe from a Transatlantic perspective, focusing on attempts to classify, categorize, demonize, and redeem a monstrous "other" during the time of the first encounters between Europe and the New World.
Maurette also writes for wider audiences in Lapham's Quarterly, La Repubblica (Italy), and Perfil (Argentina). He has published two books of essays in Spanish and his first novel is forthcoming in Argentina and Spain in 2020.
Books
The Forgotten Sense: Meditations on Touch (The University of Chicago Press, 2018)
Articles
"The Living Envelope: The Fascination with Skin and its Removal", Lapham's Quarterly (March 18, 2019): Online
"The Children of Anaxagoras: Did Hands Make Us Human?," Lapham's Quarterly (July 9, 2018): Online
"The Organ of Organs: Vesalius and the Wonders of the Human Hand," Journal of Medieval and Early Modern Studies 48.1 (2018): 105-124
"Shakespeare's Venus and Adonis and Sixteenth Century Kiss Poetry," English Literary Renaissance 47.3 (2017): 355-379
"Plato's Hermaphrodite and a Vindication of the Sense of Touch in the Sixteenth Century," Renaissance Quarterly 68.3 (2015): 872-898
"De rerum textura: Lucretius, Fracastoro, and the Sense of Touch," Sixteenth Century Journal 45.2 (2014): 309-330
Select Presentations
"Sir Thomas Browne e la metafisica della pelle" (May, 2019), Seminario del RISK, Università degli Studi di Padova, Padua, Italy
"Perspective and Perspicuity in the Renaissance" (September, 2018), Villa I Tatti, The Harvard University Center for Italian Renaissance Studies, Florence, Italy
"The Organ of Organs: Early Modern Anatomy and the Wonders of the Human Hand" (November, 2016), Stefanovich Institute on the Formation of Knowledge, University of Chicago
"Notes on Flaying: The Discovery of the Skin in the Renaissance" (April, 2016), Literature and Science Seminar, Green Templeton College, University of Oxford
"Kissing and Bussing in the Renaissance" (January, 2016), College of Letters, Wesleyan University, Middletown (CT)
"Breakfast of Love: The Sixteenth-Century Kiss-Craze" (September, 2015), Department of Comparative Literature, Harvard University, Cambridge (MA)
"The Discovery of Skin in the Renaissance: Medicine, Literature, and Art" (March, 2015), Comparative Literature Research Seminar, King's College, London
"The Second Most Intimate Touch: Kiss Poetry in the Sixteenth Century" (February, 2012) Department of English, Barnard College, Columbia University, New York
Awards and Fellowships
Jean-François Malle Fellow at Villa I Tatti, The Harvard University Center for Italian Renaissance Studies (July 2018 – June 2019)
Eugene H. Falk Award for Best Dissertation in Comparative Literature, University of North Carolina at Chapel Hill (September, 2014)
Tanner Graduate Teaching Assistant Award for Excellence in Undergraduate Teaching, University of North Carolina at Chapel Hill (January 2010)
The Ecumenical Patriarch Bartholomaios I Studentship, full tuition fees for M.A. in Late Antique and Byzantine Studies (2004-2005)