Assistant Professor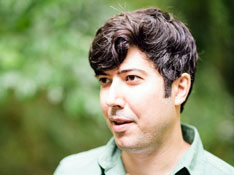 WMS 437B
U.S. Latinx, Latin American, and Caribbean literatures, comparative literature, cultural studies, popular culture
JOHN RIBÓ, Assistant Professor, Ph.D. University of North Carolina-Chapel Hill (2015), specializes in contemporary U.S. Latinx and Caribbean literatures and popular cultures. His work is driven by a fascination with the Caribbean and Central America as crossroads of the Americas and crucible of the New World.
Dr. Ribó's current research explores how Latinx artists, musicians, and writers from the Caribbean evoke images of Haiti and the Haitian Revolution to critique historical injustices and racial inequalities both on the islands and in diaspora. His next project analyzes the dark side of Pax Americana in popular television series, films, music, and literature obsessed with criminality and violence at the southern edges of U.S. empire.
Works in Progress
Haitian Hauntings. 90,000-word book manuscript.
"Farming the Bones of Latinx Studies: Danticat and Transnational Hispaniola." Book chapter in Bloomsbury Companion to Edwidge Danticat, edited by Nadège Clitandre and Jana Evans Braziel. Bloomsbury Press.
"Flusser's Hemispheric Modernism." Book chapter in Understanding Flusser, Understanding Modernism, edited by Aaron Jaffe, Rodrigo Martini, and Michael F. Miller. Bloomsbury Press.
Forthcoming
Co-edited with Dr. Delia Poey. "New Approaches to Latinx and the Caribbean." Special Issue of Studies in American Culture.
"Rethinking Latinx Studies from Hispaniola's Borderlands." Book chapter in Teaching Haiti, edited by Cécile Accilien and Valérie Orlando. University Press of Florida.
Review of Diary of Fire, Elías Miguel Muñoz. Cuban Studies.
Encyclopedia Entry
"Cuban American Immigration 1870-1940." Immigrants in American History: Arrival, Adaptation, and Integration. Ed. Elliott Barkan, ABC-Clio Publications. 2012.
Book Reviews
Review of Toussaint Louverture: Repensar un icono, Eds. Mariana Past and Natalie M. Léger. Journal of Haitian Studies, vol. 24, no. 1, 2018.
Review of The Cinema of Robert Rodriguez & Critical Approaches to the Films of Robert Rodriguez, Frederick L. Aldama. Chiricú, vol. 1, no. 1, 2016.