David Advent and Erin Christopher win top awards
---
David Advent and Erin Christopher win top awards
David Advent and Erin Christopher excelled throughout their undergraduate careers as English majors, so capping the experience by winning two major department awards is no surprise. Even if both students weren't quite sure what they won at first.
"It was such an honor to hear about the nomination for the Fred L. Standley Award—I had no idea what it constituted or anything," Advent said.
"I'm just thankful for all of the different opportunities I've had at FSU and in the English department, such as working with Dr. Barry Faulk as my faculty advisor on the IDEA Grant."
Advent's project was his honors thesis, "The Dorset Chronotope: An Ecocritical Reading of Thomas Hardy's Jude the Obscure and The Mayor of Casterbridge." He traveled to Dorchester, England, over the summer of 2018 to conduct his research. In Dorchester, Advent visited Hardy's cottage, the boyhood home of Hardy, and the Dorset Archival Center, where he had the opportunity to interact with primary documents such as an original edition of Hardy's Wessex Poems.
"FSU has allowed me to blossom into myself," he said, after winning the award to honor his undergraduate career. "I've experienced such a period of growth and self-actualization, and most of that has come through the independent project I have been able to pursue. And having so much support from the English faculty here has made me who I am today, and I can't thank FSU and the department enough for that."
He plans to enjoy a gap year before ultimately working toward earning a master's degree in English, either in literature or rhetoric, with the goal of earning a Ph.D.
Christopher won the Louis and Mart P. Hill Award for Outstanding English Honors Thesis, and she focuses her research interests on the field of new media studies, specifically investigating the emerging literary conventions of the digital age. She was unsure what the award was for when she first received the email, but she became excited when she realized that the financial part will pay for her costs for graduate school.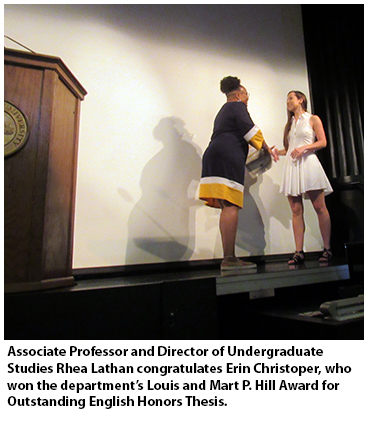 "But really, as I sat there reading the email, I started to think back about how much support I have had in the department from the beginning," she said. "I remember sitting one time in English Professor Robert Olen Butler's office [her fiction professor], and I was telling him that I really wanted to do this crazy research project, and he said 'you need to go for it; this is what you need to do.' And he gave me this first little spark that eventually became the fiction podcasts I produced."
Her IDEA project was titled "The Presentation of Visual Details in Modern Audio Drama, 2012-2017," which was an eight-episode drama series set in the 18th century. Faulk was her faculty advisor as well for the grant.
"This award is such a huge honor because this program has meant so much to me and it's the first thing I recommend to anyone as an academic recruitment officer for the university," she said. "The award is humbling and exciting . . . I'm an English major, I should have more words than this."
Christopher begins a master's program in writing and producing for television at Loyola Marymount in Los Angeles in the fall of 2019. She will be "right there in the hub," she said, and she feels honored to go from a top-ranked English program into a top-ranked screenwriting program in film school.