Erin Christopher: IDEA Grant winner for production of eight-episode miniseries
---
Erin Christopher: IDEA Grant winner for production of eight-episode miniseries
When people find out a college student is earning an English degree, they likely think that student is focused strictly on historical or modern literature, creative writing, or rhetoric and composition. Most of those people probably have not stepped foot in an English department in many years, though.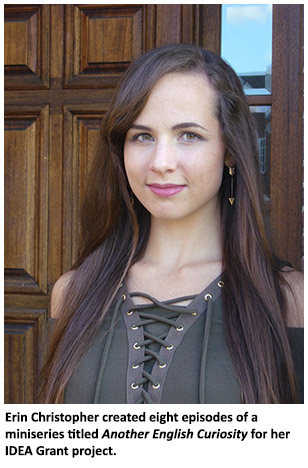 Erin Christopher is a Florida State University senior who is using all of the skills and resources the Department of English offers to forge her own path within the discipline. In 2018, with a boost from an FSU Center for Undergraduate Research and Academic Engagement IDEA Grant, Christopher created a project showcasing her two creative and academic passions: script writing and new media research.
Titled "The Presentation of Visual Details in Modern Audio Drama, 2012-2017," Christopher presented her poster project on October 1, 2018 at the President's Showcase for Undergraduate Research Excellence. Christopher is a senior whose English major concentration is creative writing, and she also studies French as a minor. She focuses her research interests on the field of new media studies, and she specifically investigates the emerging literary conventions of the digital age.
"The funny thing about my project is while my research and creative processes strictly concerned the aural, the stimulus for my IDEA was visual," Christopher says. "I was on social media, and had noticed a lot of artwork for a particular podcast. These works were created by multiple, unassociated artists, but their interpretations of these characters and worlds were continuous."
She started with an original question—"How do creators do this—how do podcast writers and sound designers construct these vivid, almost cinematic worlds from sound?"—and refined that query into her final research question, "how do fiction podcast writers navigate the limits of audio-only storytelling in order to relay visual story details to their audiences?" For Christopher, that idea essentially narrowed down to "how do we tell visual stories using sound?"
She began work in March 2018, and the process culminated in December 2018, in the production and publication of an eight-episode drama miniseries, which included the contributions of voice actors from around the world. Christopher says an 18th-century British Literature course she took with English Professor Candace Ward and the class discussions inspired the initial idea. A follow-up talk she had with Professor Robert Olen Butler helped expand Christopher's idea when he suggested she write an audio drama set in the 18th century.
"I played with a few different concepts before beginning the drafting process, but eventually my story coalesced: I would tell the story of a girl whose brother returned from his grand tour of Europe with a horde of potentially cursed objects, and each episode of the audio drama would focus on a miniseries," says Christopher, whose miniseries is titled Another English Curiosity.
She wrote the scripts, which took about three and a half weeks for the eight episodes, and she then posted online a casting call for voices. The voice actors spanned the globe, and they recorded and sent their lines remotely. For the October 2018 symposium she had one episode recorded and mixed, and she presented a demo of the first six minutes.
"It was so exciting to be able to share a project I'd poured so much academic and creative work into—it was really an incredible moment," she says.
English Professor Barry Faulk was Christopher's faculty advisor for her IDEA Grant project, and he appreciates the expanse of her endeavor.
"Erin's thesis is a cutting edge, multi-modular work, and reflects her extensive scholarly study of 18th century fiction as well as her mastery of new media production," he says.
Christopher, in turn, is thankful for Faulk's recommendations and guidance he provided during the prospectus phase.
"I am grateful, though, for the freedom he gave me in the creative portion," she says. "It's been great to have a mentor who wants to see my project to its best possible end."
Upon her 2019 graduation, Christopher plans to pursue a master of fine arts in writing for film and television. She will begin her next project, scripts for an augmented reality video game, in the spring of 2019.