David Advent: IDEA Grant winner for his research into works of Thomas Hardy
---
David Advent: IDEA Grant winner for his research into works of Thomas Hardy
Reading an author's works allows a person only so much insight into what the author was thinking during the writing of the books. To gain a better understanding and more awareness of English novelist Thomas Hardy and his novels, Florida State University English major David Advent recently immersed himself in the Victorian realist's environment.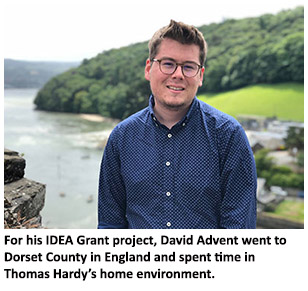 Specifically, Advent traveled to the area where Hardy spent most of his life, Dorset County in England, to inspire Advent's own research and academic breadth. Advent's trip abroad capped his current studies into Hardy, and helped finalize his FSU Center for Undergraduate Research and Academic Engagement IDEA Grant project, titled "The Dorset Chronotope: An Ecocritical Reading of Thomas Hardy's Jude the Obscure and The Mayor of Casterbridge." Along with other IDEA Grant winners, Advent presented his poster project on October 1, 2018 at the President's Showcase for Undergraduate Research Excellence
Before he embarked on his project, Advent already had a strong literary background in Hardy, having read many of his novels, including the two for his project, which also is his honors thesis.
"Most of the understandings I had of Hardy concerned how he and his novels were environmentally oriented, as Dorset is a primarily agricultural setting," Advent says. "But, my understanding of the environment in his novels at that time was limited only to the setting, not to any specific motifs or metaphors."
During the Fall 2017 semester, in an advanced English seminar, Advent's perspective on Hardy and the environment changed when he was introduced to the writings of Mikhail Bakhtin.
"After reading through some of Bakhtin's works, particularly his essays on the chronotope, I began connecting Hardy and Bakhtin together, particularly their similarity in emphasizing space, time, history, and the environment," says Advent, who is a senior in the literature, media, and culture program. "The project was then born out of that intersection between Hardy and Bakhtin, as it provided a concrete and complete framework to understand how important Dorset was to Hardy."
Advent saw firsthand what made the area so important to Hardy when he made the "appropriate and vital visit to Dorset." He said the trip added two important components to his creative process: visiting Hardy's cottage and visiting the Dorset Archive Center.
"Visiting the cottage, by walking 3 miles one way from Dorchester, afforded me the opportunity of solitude in the midst of Hardy's environment, providing me with time to take notes and observations during my walk," Advent says. "Overall, the experience at the cottage gave me a better framework to understand the influences that inspired Hardy to write."
Advent interacted with some of Hardy's original works at the Archive Center, including an original edition of his poetry, a piece of pottery that contained all the settings of his novels, among other items.
"This experience gave me a concrete idea of Hardy's writing and allowed me to connect, on a more personal level, with Hardy," Advent says. He crafted his experiences in Dorchester into the presentation at the symposium. "Because these experiences were pastoral and literary, it was best to include pictures of my research in action—photos of the road to the cottage, of his original poems, and architecture notebook were included."
The pictures served as visual representations of his time in Dorchester, Advent says, but "more importantly, presenting at the symposium allowed me to share my research with the community at large and established a new conversation in the literature of Hardy and ecocriticism."
Professor Barry Faulk was supervising professor for the project, and he says Advent's thesis "argues that Thomas Hardy's 19th-century fiction embodies a radical new form of environmental/eco-consciousness." Faulk adds that the IDE Grant "provided David with the means to add both depth and detail to his interpretation of Hardy's fiction."
Advent says his project would not be the same without Faulk's support and guidance. He says Faulk's multiple readings of drafts and PowerPoint files helped him "refine, redefine, and solidify the ideas of my project, allowing me to better transmit my ideas."
"Professor Faulk helped me find confidence in my project and pointed me in all the necessary avenues to conduct research, including specific databases and journals," Advent says. "He has also introduced me to different conferences to apply to present this thesis, including the Florida Undergraduate Research Conference (FURC)."
Advent is a double major in international affairs, and in addition to writing his thesis, he is an Undergraduate Research Opportunity Program leader, through which he co-instructs a humanities research course. He also is the assistant director of the Student Council of Undergraduate Research and Creativity. Upon graduation from FSU, Advent would like to attend Rice University to pursue a doctorate in ecocriticism and 18th-century British literature.