Associate Professor, Associate Chair, Undergraduate Studies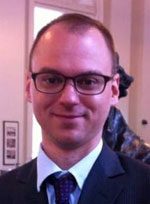 WMS 309
Modern British and Irish literature and culture, modernism, postcolonial studies, Fin-de-siècle literature, poetry and poetics, queer literature
ROBERT STILLING, Associate Professor, (Ph.D. University of Virginia, B.A. Yale).
My work focuses on the contact points between decadence studies, transnational modernism, and postcolonial studies in British, Irish, and postcolonial literature from the late-nineteenth century to the present. My recent book, Beginning at the End: Decadence, Modernism, and Postcolonial Poetry (Harvard University Press, 2018) demonstrates how the fin-de-siècle notion of "decadence" became a central concept in the development of postcolonial thought as artists and writers in emerging independent nations navigated between the realist imperatives of national culture and the lure of aestheticism and art-for-art's sake, rewriting the received understanding of European modernism in the process. The book reads the reemergence of figures such as Oscar Wilde, J.-K. Huysmans, and Walter Pater in the work of contemporary poets and artists such as Derek Walcott, Derek Mahon, Chinua Achebe, Wole Soyinka, Agha Shahid Ali, Bernardine Evaristo, and Yinka Shonibare.
My current book project on Decadent Trajectories (working title) continues to explore an expanding global geography and historical durée of decadent literature. My most recent research, for example, examines the intersection of fin-de-siècle decadence and religious fundamentalism in fiction by Salman Rushdie, Hanif Kureishi, and Michel Houellebecq; the development of decadent poetics in early twentieth-century Caribbean literature; and the revision of decadent orientalism in Francophone Arab poetry. My other long-term project examines changes in the cultural geography, politics, and economies of prestige surrounding the production and reception of ekphrastic poetry.
CURRENT COURSES
No courses Spring 2020.
HONORS AND AWARDS
Honorable Mention, Modern Language Association Prize for a First Book (2019, for a book published in 2018)
Winner, Modernist Studies Association Prize for a First Book (2019, for a book published in 2018)
Special Collections Research Fellowship, Burke Library, Hamilton College, 2015
Scholarship, 2013 Irish Seminar, University of Notre Dame, 2013
First Year Assistant Professor Award, Florida State University, 2013
Bradley Fellow, Department of English, University of Virginia, 2011-12
Award for Excellence in Scholarship in the Humanities and Social Sciences, University of Virginia, 2011
Thomas J. Griffis Prize for best essay by a graduate student, Department of English, University of Virginia, 2011