Associate Professor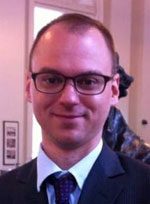 WMS 309
Twentieth- and Twenty-first-century British literature and culture, global Anglophone literature, modernism, postcolonial studies, Fin-de-siècle literature, poetry and poetics, queer literature
ROBERT STILLING, Assistant Professor, (Ph.D. University of Virginia, B.A. Yale), specializes in twentieth and twenty-first century British, global Anglophone, and postcolonial literature and culture, with particular interests in transnational modernism, postcolonial studies, poetry, and visual art. His book, Beginning at the End: Decadence, Modernism, and Postcolonial Poetry, is forthcoming from Harvard University Press in 2018. This book examines the reprisal of fin-de-siècle "decadence" in contemporary British, Irish, and Postcolonial poetry and art. His research explores the reemergence of figures such as Oscar Wilde, J.-K. Huysmans, and Walter Pater in the work of contemporary poets and artists such as Derek Walcott, Derek Mahon, Chinua Achebe, Wole Soyinka, Agha Shahid Ali, Bernardine Evaristo, and Yinka Shonibare.
PUBLICATIONS
Beginning at the End: Decadence, Modernism, and Postcolonial Poetry. Harvard University Press, 2018 (forthcoming).
Featured Review: Mad Heart Be Brave: Essays on the Poetry of Agha Shahid Ali, Edited by Kazim Ali. ASAP Journal. September (2017).
"Multicentric Modernism and Postcolonial Poetry." The Cambridge Companion to Postcolonial Poetry. Ed. Jahan Ramazani. Cambridge University Press, 2017: 127-138.
Review: Literature and the Politics of Post-Victorian Decadence by Kristen Mahoney. Nineteenth Century Literature 71.1 (2016): 136-140.
"Warramou's Curse: Epic, Decadence, and the Colonial West Indies." Victorian Literature and Culture. 43.3 (2015): 445-463.
"An Image of Europe: Yinka Shonibare's Postcolonial Decadence." PMLA. 128:2 (2013): 299-321.
"Consonance" (revised encyclopedia entry). The Princeton Encyclopedia of Poetry and Poetics, 4th ed. Ed. Roland Greene, et. al. Princeton University Press, 2012.
What Should I Read Next? (edited collection of essays). Edited with Jessica Feldman. University of Virginia Press, 2008.
"Between Friends: Rediscovering the War Thoughts of Robert Frost." Virginia Quarterly Review, Fall (2006): 113-119.
CURRENT COURSES
Fall 2017
Postcolonial Form and Genre (LIT4233)
Sound and Color: Global Anglophone Poetry and the Visual Arts (LIT 5235)
Spring 2018
Contemporary Irish Poetry (LIT4184)
Modern British Novel (ENL4132)
HONORS AND AWARDS
Special Collections Research Fellowship, Burke Library, Hamilton College, 2015
Scholarship, 2013 Irish Seminar, University of Notre Dame, 2013
First Year Assistant Professor Award, Florida State University, 2013
Bradley Fellow, Department of English, University of Virginia, 2011-12
Award for Excellence in Scholarship in the Humanities and Social Sciences, University of Virginia, 2011
Thomas J. Griffis Prize for best essay by a graduate student, Department of English, University of Virginia, 2011
Society of Fellows, University of Virginia, 2006-2007 and 2008-2009
President's Fellow, University of Virginia, 2004-2009