Professor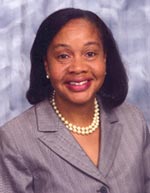 WMS 433
African American fiction, contemporary black women's novels, cultural and gender studies
MAXINE LAVON MONTGOMERY, 2014-16 Frances Cushing Ervin Professor of English, earned a doctorate in English from the University of Illinois at Urbana-Champaign (1986). Her areas of specialization include contemporary Black Women's Fiction, Post-colonial Literature, African Diaspora Literature and Culture, Black Apocalyptic and Post-apocalyptic Writing, and Critical Race Theory. She is currently at work on a book-length monograph on Black Women's speculative narratives. Tentatively entitled Writing the Future: Black Women's Post-Apocalyptic Fantasies, Montgomery's book offers an interrogation of apocalyptics, or, more specifically, post-apocalypticism as a locus for examining futuristic imaginaries in works by black women across a trans-Atlantic geography.
Memberships include the Modern Language Association, the College Language Association, the Toni Morrison Society, and the Florida College English Association.
BOOKS
Meditations on Race, Culture, and History: New Critical Essays on Toni Morrison's God Help the Child (forthcoming, University Press of Mississippi).
Conversations with Edwidge Danticat (University Press of Mississippi, 2017).
Contested Boundaries: New Critical Essays on the Fiction of Toni Morrison (Cambridge Scholars Publishing, 2013).
The Fiction of Gloria Naylor: Houses and Spaces of Resistance, (University of Tennessee Press, 2010).
Conversations With Gloria Naylor (University Press of Mississippi, Spring 2004).
The Apocalypse in African-American Fiction (U P of Florida, 1996).
ARTICLES
"Bearing Witness to Forgotten Wounds: Toni Morrison's Home and the Spectral Presence" (South Carolina Review, 2014).
"Got on My Traveling Shoes: Migration, Exile, and Home in Toni Morrison's A Mercy" (Journal of Black Studies, 2011).
"Don't Look B(l)ack: Spectatorship in Toni Morrison's Tar Baby." (Zora Neale Hurston Forum, 2010).
"Good Housekeeping: Domestic Rituals in the Fiction of Gloria Naylor" (Gloria Naylor's Early Novels, U P of Florida, 1999).
"Authority, Multivocality, and the New World Order in Gloria Naylor's Bailey's Cafe" (African-American Review, 1997).
"Racial Armageddon: The Image of Apocalypse in Richard Wright's Native Son" (College Language Association Journal, 1991).
"A Pilgrimage to the Origins: Apocalypse as Structure and Theme in Toni Morrison's Sula" (African-American Review, 1989).
HONORS AND AWARDS
University Undergraduate Teaching Award, 2017-18
Transformation Through Teaching Award, 2017
Dr. Martin Luther King Distinguished Scholarship and Service Award, 2010 (FSU).
COFRS Grant, 2004.
Sabbatical, Fall 2003.
University Teaching Award, 2002 - 2003.
W.E.B. DuBois Honor Society Distinguished Faculty Award, 2001.
Teaching Incentive Program Award, 1994-5.
University Teaching Award, 1994-5.
McKnight Junior Faculty Fellowship, 1989-90.
Gold Key Faculty Member Recognition. 1994.