Professor, Associate Chair, Undergraduate Studies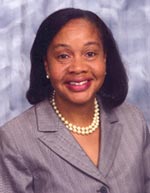 WMS 433
African American fiction, contemporary black women's novels, cultural and gender studies
MAXINE LAVON MONTGOMERY, 2014-16 Frances Cushing Ervin Professor of English, earned a doctorate in English from the University of Illinois at Urbana-Champaign (1986). She specializes in African-American, American Multi-Ethnic, and Women's Literature. Professor Montgomery is currently at work on a book length manuscript on Erzulie, Voudoun goddess of love and beauty, in the fiction of Edwidge Danticat, Gayl Jones, Toni Morrison, Gloria Naylor, and Paule Marshall. Tentatively entitled Mirrored Subjects: Manifestations of Erzulie in Africana Women's Novels, the study not only involves an interrogation of "writerly" reenactments of legend and lore surrounding Erzulie, it suggests the spirit-goddess as a locus for examining vexed issues of color and caste, race and gender in texts by Caribbean and African American women.
Memberships include the Modern Language Association, the College Language Association, the Toni Morrison Society, and the Florida College English Association.
BOOKS
Contested Boundaries: New Critical Essays on the Fiction of Toni Morrison (Cambridge Scholars Publishing, forthcoming 2013).
The Fiction of Gloria Naylor: Houses and Spaces of Resistance, (U of Tennessee P, 2010).
Conversations With Gloria Naylor (University Press of Mississippi, Spring 2004).
The Apocalypse in African-American Fiction (U P of Florida, 1996).
ARTICLES
"Bearing Witness to Forgotten Wounds: Toni Morrison's Home and the Spectral Presence" (South Carolina Review, forthcoming spring 2014).
"Got on My Traveling Shoes: Migration, Exile, and Home in Toni Morrison's A Mercy" (Journal of Black Studies, 2011).
"Don't Look B(l)ack: Spectatorship in Toni Morrison's Tar Baby." (Zora Neale Hurston Forum, 2010).
"Good Housekeeping: Domestic Rituals in the Fiction of Gloria Naylor" (Gloria Naylor's Early Novels, U P of Florida, 1999).
"Authority, Multivocality, and the New World Order in Gloria Naylor's Bailey's Cafe" (African-American Review, 1997).
"Racial Armageddon: The Image of Apocalypse in Richard Wright's Native Son" (College Language Association Journal, 1991).
"A Pilgrimage to the Origins: Apocalypse as Structure and Theme in Toni Morrison's Sula" (African-American Review, 1989).
HONORS AND AWARDS
Dr. Martin Luther King Distinguished Scholarship and Service Award, 2010 (FSU).
COFRS Grant, 2004.
Sabbatical, Fall 2003.
University Teaching Award, 2002 - 2003.
W.E.B. DuBois Honor Society Distinguished Faculty Award, 2001.
Teaching Incentive Program Award, 1994-5.
University Teaching Award, 1994-5.
McKnight Junior Faculty Fellowship, 1989-90.
Gold Key Faculty Member Recognition. 1994.