Queer Studies Reading group brings a diverse selection of texts to the discussion table
---
Queer Studies Reading group brings a diverse selection of texts to the discussion table
By Emily Voytecek
Once a month, a collection of Florida State University graduate students can be found seated in the fourth-floor Skybox of the Williams Building. As may be expected from a group of master and doctoral students in English, the group has gathered for the purpose of discussing literature.
This particular group is the Queer Studies Reading group, "an interdisciplinary, discussion-based group that investigates reading relevant to the field of queer studies and transgender studies," according to the group's biography on the Literature, Media, and Culture webpage. Department reading groups are one-credit courses dedicated to a specific subject and designed to facilitate conversation between students and faculty.
Poetry and queer studies doctoral student Mat Wenzel has embraced a leadership role in the group. Though Wenzel, who is in his fourth year, organizes the group and picks texts, he prefers to be referred to as a "facilitator" of the group.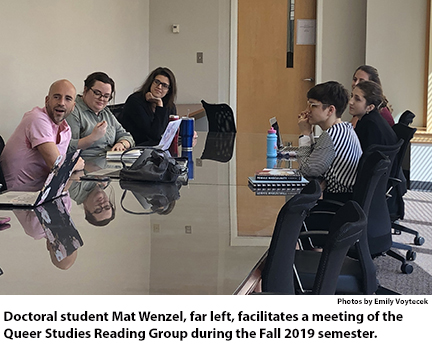 "Mostly I try to listen, and I try to bring it in a broad variety of texts," says Wenzel, who provides ample options to select from for the group, drawing on his academic research in queer studies. The group reads a broad range of material, including the work of theorists, novels with queer characters—one of which is Marriage of a Thousand Lies, the work of FSU English alumna S. J. Sindu—and "a teensy bit of poetry and some graphic novels," Wenzel says.
A diversity of texts is important, Wenzel explains, to provide a wide view of the queer studies field.
"Part of the problem with queer studies is that it's not really clear what's foundational, or what's foundational is constantly being sort of revised as queer theory," he says.
Furthermore, students participating in the reading group bring a variety of experiences with queer studies to the reading group. Wenzel joined the group purely for personal interest after first arriving at FSU. About a dozen students join each semester, Wenzel says, and the reading group is usually full. They've had up to 19 students in the past.
Students typically take the class for credit, and each person brings different goals to the reading group. For example, "a creative writer might be interested in [questions such as] 'how do I create more queer characters in my stories,' or 'what does that look like,'" Wenzel says. "Whereas a rhetoric and composition person might be more interested in queer rhetoric as theory, and literature people usually want to apply queer theory to certain texts or they want to read texts that have LBGQ characters in them."
As a result, reading a broad variety of texts becomes a way for all the students to accomplish their established goals.
The emphasis on a variety of texts leads into a selection of many different authors as well. Selections include writers such as Judith Butler, Alison Bechdel, Gloria Anzaldúa—who is well known for her work centering on both queerness and language studies—and Audre Lorde, a theorist Wenzel admits is one of his personal favorites.
In order to keep up with the volume, the group frequently reads excerpts, as opposed to entire texts, which allows for more focused conversations. For example, Wenzel says the group discussed Judith Halberstam's Queer Art of Failure, which "is a whole book about particular queer theory applied to different movies and texts," Wenzel says.
Wenzel believes the reading group offers benefits outside of purely academic interests, such as offering an opportunity for leadership experience.
"You're not instructor of record, but you're still facilitating, doing selection of texts," Wenzel says. "I think it is an opportunity for master's and Ph.D. students to take a leadership role and work with their peers."
Information about the English department's Literature, Media, and Culture Program's reading groups can be found here.
Emily Voytecek is a junior majoring in English on the editing, writing, and media track, with a minor in information technology.