Maxine Montgomery named to lead university's Task Force on Anti-Racism, Equality & Inclusion
---
Maxine Montgomery named to lead university's Task Force on Anti-Racism, Equality & Inclusion
Florida State University English Professor Maxine Montgomery has devoted almost 40 years to being a life-changing influence for students, faculty members, and administrators who discovered a sense of place in FSU's community. The work Montgomery has been asked to do over the next eight months will have impacts on many more generations to come.
FSU President John Thrasher announced in two separate July statements the creation of the President's Task Force on Anti-Racism, Equality & Inclusion for the 2020-21 academic year and the framework for the task force. He named Montgomery to chair a three-person executive committee that leads the task force. Read that statement here and read his July 6 statement here.
Montgomery says that since Thrasher assumed the role of FSU president in November 2014, she has spoken with him several times about a range of issues affecting Black faculty. She added that it is an honor to accept his invitation to chair the task force.
"Being chosen for this crucial role is an affirmation of the quiet advocacy that I have been engaged in over the course of my decades-long career as an English professor and former administrator," she says, "not to mention my work with marginalized students in and outside of the classroom at Florida State and the University of Nebraska-Lincoln, where I held a joint appointment in English and the Ethnic Studies Institute."
The dates, times, and registration information for the task force virtual meetings can be found here.
Being chosen for this crucial role is an affirmation of the quiet advocacy that I have been engaged in over the course of my decades-long career as an English professor and former administrator. . .

— Maxine Montgomery
Montgomery has served on university-wide committees in the past, including the Panel on Buildings, Naming, and Statues in 2018. She also has served in the role as an adjunct professor with FSU's Center for Academic Retention & Enhancement (CARE) in its mission of recruiting, retaining, and graduating first-generation students. Thrasher has visited her CARE summer classes as a guest lecturer.
"President Thrasher's request speaks volumes about the University's willingness to take up tough issues surrounding social justice and in ways that acknowledge the lasting effects of systemic racism in the academy as well as the need to craft initiatives that help make Florida State a more welcoming, inclusive institution," Montgomery says.
In his July 23 message, Thrasher revealed the full list of the 30 FSU community members who will serve on the task force.
"I am grateful to each of these individuals for agreeing to contribute their time and attention to these topics during this crucial time in the nation's and university's history," he wrote in a published statement. "I'm confident they will help the university address racial and ethnic disparities on campus and accelerate our goal to strengthen FSU's diversity."
In addition to her work with the CARE Program, Montgomery has been a leader for the FSU community throughout her time as a student—she earned both her bachelor's and master's degrees from FSU—and as a faculty member after joining the English department in 1988.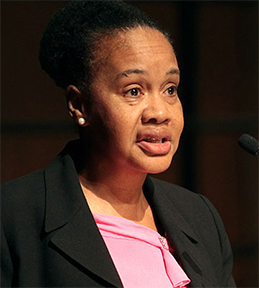 FSU has awarded her numerous teaching awards, including a 2017 Transformation Through Teaching Award, which "honors full-time faculty who have had an intellectual, inspirational, and integrative impact on the life of a student," as described on the university's Spiritual Life Project website. In 2010, Montgomery received FSU's Dr. Martin Luther King Distinguished Scholarship and Service Award.
"I envision my role as chairperson of the Task Force as an extension of the work that I have been engaged in quietly, behind the scenes and in the background, in an effort to address issues surrounding racial and social justice in the academy," Montgomery says.
Her appointment as chair of the task force, she says, positions her to facilitate broader conversations across campus, seeking out and listening to culturally diverse groups. The objective for those discussions is to find ways that foster mutual understanding and cooperation, Montgomery says, ultimately in the pursuit of a common goal: "to increase diversity and inclusivity within the FSU community."
"Much of that work is, by its very nature, anti-racist in that it involves identifying the multi-dimensional systemic and structural inequities that have prevented marginalized individuals from every strata of the University from reaching their full, unhindered potential and bringing about positive change," she says.
The task force's first official meeting is scheduled for mid-August, but the university has already moved ahead with one visible action, the removal from campus of the Frances W. Eppes statue. The statue's controversial presence, Thrasher and Montgomery agreed, had become a major distraction from the task force's work.
In the short term, the task force and its various sub-committee will address other issues, such as reconsidering the names of campus buildings and Doak S. Campbell Stadium, with recommendations likely to reach Thrasher before April 2021.
"There are other initiatives that could be actionable prior to the April 2021 date marking the end of our work," Montgomery says. "Since the task force is to deliver bi-monthly reports to President Thrasher and we are acutely aware of the time-sensitive nature of our deliberations, the sub-committees will likely move swiftly in identifying those initiatives that can be carried out in short order."
In his July 23 message, Thrasher wrote that he is asking the task force "to identify racial and ethnic disparities on campus and to implement a range of initiatives, such as developing mandatory diversity and inclusivity training for all campus employees and students and fostering the recruitment and retention of students, faculty and staff from underserved groups."
Montgomery says she knows there are no simple answers to the issues raised on campus and across the country. But she is confident that the task force comprises "a group of smart people from a range of backgrounds who have a vested interest in social justice, and I look forward to working closely with each of them in the coming months."
"We are at a pivotal moment in our nation's history with the outcry against acts of violence directed toward black and brown communities and other forms of oppression, and in FSU's history as well, but we also have an opportunity to engage in the essential work that holds the potential to implement the kinds of initiatives that could prove transformative in the near future and for the long-term," she says. "In other words, our work has the power to affect the quality of life for those who will follow in our footsteps."
Follow the English department on Instagram @fsuenglish; on Facebook facebook.com/fsuenglishdepartment/; and Twitter, @fsu_englishdept