L. Lamar Wilson returns to Tallahassee bringing inspiration for students and care for his family
---
L. Lamar Wilson returns to Tallahassee bringing inspiration for students and care for his family
By Alyssa Cuevas
L. Lamar Wilson joined Florida State University's English department in the fall of 2020 as an assistant professor. Having worked in journalism and other Research 1 universities for 18 years, his experience within the writing realm is invaluable to students.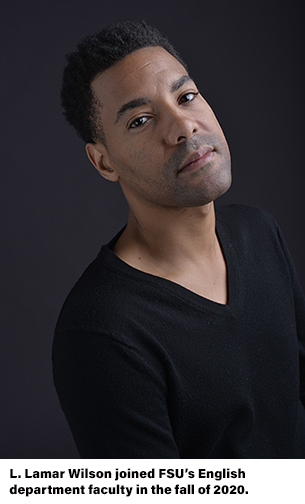 Specifically, Wilson brings into the classroom experiences from his work and creative projects, which in his words focus on "the voices and experiences of black, brown, and indigenous folk thriving in the rural South," according to his department faculty page. Those endeavors range from poetry, drama, and even a documentary short.
He returned to the Tallahassee area after teaching at Wake Forest University in North Carolina, and Wilson explains why this move was vital to him.
"The move from Winston-Salem was lateral in rank but has afforded me the opportunity to spend my parents' latter days with them, continuing our family's tradition of caring for our elders," says Wilson, who spent his first year at FSU teaching a variety of creative writing courses remotely. "They took care of my father's mother, my hero and best friend, Mary Elizabeth 'MaMary' Long Wilson, until she passed away in 2012, months shy of her 107th birthday.
"I pray that while I'm helping FSU's Creative Writing Program students realize dreams of multimodal, socially relevant artmaking in this century, I can enjoy a fuller life and do the same for the two living souls whose faith in me is most responsible for making my impossible dreams tangible."
As FSU and the English department continue to transition to in-person classes, Wilson says his reasoning for pursuing teaching stems from mentors he had in his life.
"I had great teachers growing up who used literature to expand my sense of myself in the world, my ability to answer and ask hard questions of the world, and my capacity to dream that I could make the world a better place," he says.
The teachers Wilson had in the Jackson County (Florida) school system, at Florida A&M University, at Virginia Tech, and at the University of North Carolina-Chapel Hill modeled the kind of empathy, citizenship, and what he calls "derring-do" that he strives to implement now in his classrooms.
"I've always wanted to inspire young people to think critically and to believe in their own voices and their capacity to make the world a better place because that's what my teachers did for me," he says.
I all but insisted that we hire what I call a Poet Plus, someone whose reputation could stand on his or her poetry alone but who makes significant contributions to other fields.

— David Kirby
Robert O. Lawton Distinguished Professor of English David Kirby, who was the chair of Wilson's hiring committee, explains that these experiences are what made Wilson stand out.
"I all but insisted that we hire what I call a Poet Plus, someone whose reputation could stand on his or her poetry alone but who makes significant contributions to other fields; this just makes for a more interesting colleague as well as someone who can connect more effectively with others in the university, the town, the world at large," Kirby says.
Within his classrooms, Wilson aims to create an environment that inspires and challenges students.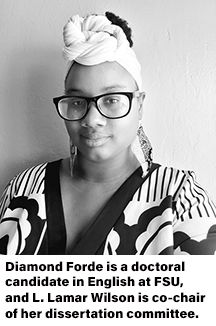 "I center students' writing and carefully organize discussions," he explains. "Lecture-based courses, with memorization and regurgitation of information, have proven to me at this level not a good idea for this generation of 21st-century learners."
The hard work Wilson puts into his courses and his students is one of the many things they praise him for. Diamond Forde is a doctoral candidate in English at FSU, and she is currently university fellow at the University of North Carolina-Asheville. Wilson is co-chair of her dissertation committee.
"In the classroom, Dr. Wilson brings rigor, wit, and compassion to the forefront," Forde wrote in an email response. "He bridges the academic and the creative, encourages profound exploration in poetry, and he reads creative work with a careful eye. And chile, if I try to run from the great truth in my poetry, he will catch me every time. I'm so grateful for that."
Navigating students through difficult conversations, Wilson builds a space where student writing is always front and center. One of the main lessons impresses upon his students is the importance of revision, and he explains the nature of how he teaches that concept.
"Write and revise, and then write and revise again, and then write and revise again until you're certain you have arrived at your best effort," he says. "Revision is central in my courses."
As FSU continues the transition to in-person classes, the English department welcomes "Poet Plus" L. Lamar Wilson back to Tallahassee.
Alyssa Cuevas is a junior who is majoring in English-Editing, Writing, and Media, with a second major in Communication.