Honors in the Major Program is a 'springboard for leaping into graduate school, careers, and jobs'
---
Honors in the Major Program is a 'springboard for leaping into graduate school, careers, and jobs'
By Rebecca McCandless
Florida State University's Honors in the Major (HITM) program may be completely foreign territory for some English majors.
Thought to be dominated by students in the STEM field, this program allows any FSU student to complete a research thesis or a creative project in their area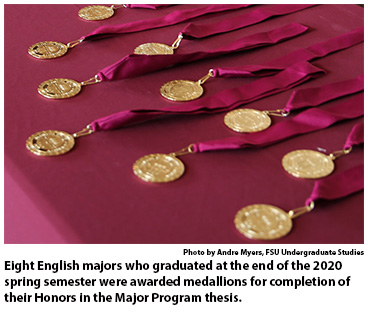 of study under the supervision of a faculty committee. More English majors are discovering the academic benefits, however, and they still have time to enroll for the fall semester.
Several students in the Department of English benefited from the program in 2019-20, and they completed their theses with guidance from their professors.
For example, honor student and English major Tomas Cabezas was introduced to the program during his first-year orientation. He attended a mandatory meeting for all honors students where Jefferey Badger, the honors director at the time, informed the students about the different opportunities that were offered by the honors college, including HITM.
Cabezas knew at the start of his college career that he intended to pursue the HITM because the achievement would help him graduate with an honors distinction. He also recognized how the finished project would set his resume apart from others.
"[I could] show future employers and grad programs that I've had this personalized and individualized experience that was mostly thought of by me," Cabezas says.
Jacques Toussaint, academic support specialist for the English department, says the English department had 21 majors enrolled in 2019-20, and 45 English majors have enrolled for the 2020-21 academic year. The deadline to apply for the program has been extended to August 1.
"Honors in the Major is one of most advanced undergraduate research programs," Toussaint says. "Being a part of HITM paints a positive picture for a student's academic reputation, so it's also an excellent springboard for leaping into graduate school, careers, and jobs."
Despite any misperceptions English students might have, the fact is that any student who has completed 60 hours of coursework and has a 3.2 GPA or higher can participate in the Honors in the Major program. Another requirement of the program is to create a thesis committee composed of at least three faculty members. There are no other specific qualifications for English majors.
"The only thing one should expect as an English major is probably the extremely wide range of possible research topics you could choose from since English permeates through all facets of life," Cabezas says. "It is a rich, complex, and diverse lens to do research through."
From his own range of ideas, Cabezas narrowed down his thesis topic to whether posting on Twitter is conducive to activism.
"Specifically, I looked at a post by French President Emmanuel Macron where he says we need to pay attention to the Amazon fires, back in 2019,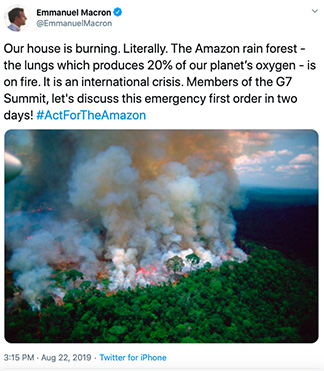 and discuss this environmental crisis at the G7 summit," he says. referring to the annual gathering of countries with the seven largest economies.
From the starting point of Macron's August 22 tweet, Cabezas analyzed the comments on the post to assess the kinds of responses that emerged and to identify which ones received the most engagement. This information allowed him to gauge the feedback to Macron's message and organize the comments into two major patterns: refutation and confirmation.
"I'm trying to figure out through the discourse in the comments if the post by Macron has facilitated any indications of activism within the audience," Cabezas says.
His project, which yielded 79 pages, is titled Twitter (In)action: Environmental Images and Audience Response Environmental Degradation: A Global Crisis. The completed project can be found here.
English Professor Kristie Fleckenstein was one member of Cabezas' faculty committee and his thesis director. She is complimentary of not only his work but his character as well.
"One of the qualities I particularly admire is that Tomas is a self-starter," Fleckenstein says. "He might have looked to me for guidance at various junctures, but he came to me with a vision of his project as well as a substantial amount of secondary research completed. Plus, he always displayed a willingness to do whatever was necessary to realize his vision of this project."
Fleckenstein's main roles in the process were to offer suggestions for readings to help inform Cabezas' project, guide him through the genre conventions of thesis writing, and recommend revisions to his drafts so that his key points are better articulated. They met bi-weekly to discuss his progress and where he may be having trouble.
Cabezas refers to Fleckenstein as his "all-knowing guide through this heavy analysis I'm doing."
Cabezas' defense, held on April 17, was conducted via Zoom. Fleckenstein, English Associate Professor Michael Neal, and Professor Laura Arpan from the School of Communication were all in attendance.
"I would say the toughest thing about completing the project was the meticulous proofreading and creating all the visuals for the project," Cabezas says. "HITM really helped me present a written sample to law schools that showcased my research and information synthesis skills.
"It also was personally gratifying, for I was able to create this entire research project surrounding my legitimate concern for how people perceived the global environment crisis while using all the skills I've sort of accumulated as a result of the EWM track."
In addition to completing the Honors in the Major Program, Cabezas also received the distinction of induction into FSU's Garnet and Gold Scholar Society during an April virtual ceremony. Established in 2010, the Garnet & Gold Scholar Society facilitates student involvement and recognizes undergraduate students who excel within and beyond the classroom in at least three of five areas: international experience, internship, leadership, research and service.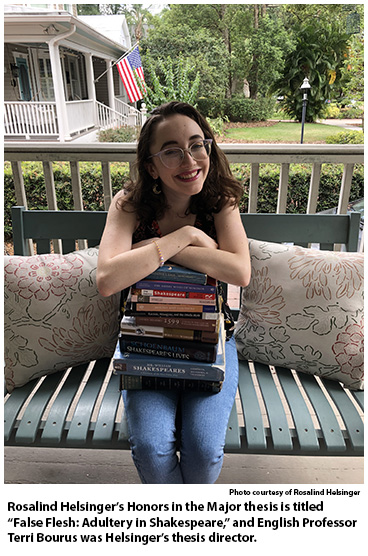 Another English major and HITM student, Rosalind Helsinger, gained her research experience with Professor Terri Bourus, who is professor of both English and theater. In addition to being Helsinger's thesis director, Bourus is also faculty advisor for FSU's informal Shakespeare Club and she teaches an Introduction to Shakespeare course.
"Terri Bourus has been my champion since my freshman year," Helsinger says. "She's made me a better student, researcher, and lover of Shakespeare."
Helsinger's thesis primarily focuses on false adulteresses in Shakespearean literature, which she became interested in after playing Hermione in a production of The Winter's Tale at the Orlando Shakespeare Theater.
"My research argues that the trope of the false adulteress, featured in five of Shakespeare's plays, increases the dramatic stakes due to views of the time that saw chastity as the core of identity for women," Helsinger says. "The false adulteress trope consists of a woman who is wrongly accused by her husband of being unfaithful when she is truly innocent."
Bourus also encouraged Helsinger to apply for a 2020 IDEA Grant from FSU's Center for Undergraduate Research and Academic Engagement, which helps fund student research. Students create an abstract, proposal, budget, and personal statement in applying for the university funds. FSU granted Helsinger $1,000 for her HITM thesis titled False Flesh: Adultery in Shakespeare. Originally, she intended to use this money to travel, but because of COVID-19 restrictions, she will use the funds for online library access and covering lost income.
With such a wide variety of topics to research, such as the effects of Twitter on environmental activism and the false adulteresses of Shakespeare, English majors have an extensive supply of material to use for the Honors in the Major program.
"Being an English major is actually a blessing when it comes to HITM," Cabezas says. "You can tailor your project to explore any kind of interest or passion you have, and I have to say it is very rewarding."
Other English department graduates who completed an Honors in the Major thesis:
Skyler Cox, Creative Writing
Zoe D'Alessandro, Editing, Writing & Media
Caleb Dros, Creative Writing—Read about Caleb and his project here.
Nicholas Holt, Creative Writing—Read about Nicholas and his project here.
Alejandro Jarmel, Literature, Media & Culture
Christian Ragland, Editing, Writing & Media
Rebecca McCandless is a junior majoring in English on the creative writing track, with a minor in communication. She is currently a writing intern for the College of Arts and Sciences.
Follow the English department on Instagram @fsuenglish; on Facebook facebook.com/fsuenglishdepartment/; and Twitter, @fsu_englishdept