Honors in the Major Program—Nicholas Holt
---
Honors in the Major Program—Nicholas Holt
Nicholas Holt graduated with a degree in English from Florida State University in May 2020. In addition to completing an Honors in the Major (HITM) project, he won the 2020 Department of English John Mackay Shaw Academy of American Poets Undergraduate Award.
The HITM Program allows any FSU student who has completed 60 hours of coursework and has a 3.2 GPA or higher to participate. The student must complete a research thesis or a creative project in their area of study under the supervision of a committee composed of at least three faculty members.
Read on for more information about Holt and his HITM project.
Major
English, Creative writing, with a minor in biological sciences
Hometown
Tallahassee, Florida
Title of Honors In The Major project
Oh—To Be A Worm!
See Nicholas' project here.
Faculty advisor
English Senior Lecturer Barbara Hamby
What was the inspiration behind your HITM project?
There were a few inspirations behind my thesis: one, I wanted to study the humor in contemporary poetry; and two, I wanted to further understand what attracted me to the craft.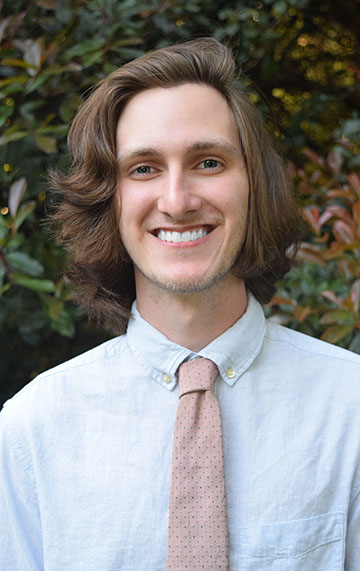 Explain the context and conclusion of your HITM project.
I have always been fascinated by humor's place in literature. It can be a dour art form, and it's rare and welcoming to find yourself laughing at a book that manages to maintain its artistic integrity. I found that literary humor is about making unexpected observations about serious situations while maintaining a deep sense of respect for whatever you are writing about. Also, I accidentally reverse-engineered surrealism. I discovered that surrealism is just humor without the punchline. Many of my poems turned out to be more surreal than I expected, which I believe is what happens when a writer's crucial sense of respect engulfs them as they explore their subject.
Describe your working relationship with Barbara Hamby; how did she help guide you through the process?
She and I would meet every few weeks at The Square Mug, where we would have coffee while she gave me notes on my work. She encouraged my impulse to evoke humor and she motivated me to explore a technique called "leaping," which is the poet's way of finding links between seemingly disparate images.
What advice would you give to any English students who want to apply for HITM?
I would advise students with an interest in Honors in the Major to look for a mentor who has a goal in their field that the student admires—that navigates academia the way that they would. A good mentor will notice your strengths and show you how to use them to maximize your research efforts, and more importantly, how to enjoy it.
What plans do you have post-graduation?
I am taking a year off in which I plan to continue writing poetry and research different Master of Fine Arts programs before I apply to one for the fall of 2021.