FSU's Poetry Club welcomes back students for in-person gatherings and creativity sessions
---
FSU's Poetry Club welcomes back students for in-person gatherings and creativity sessions
By Rachel Loring
Normally, Florida State University's campus is sleepy and quiet on Friday afternoons. Stragglers leave Suwannee. Students get ready for their weekends. Parking is finally available anywhere on campus.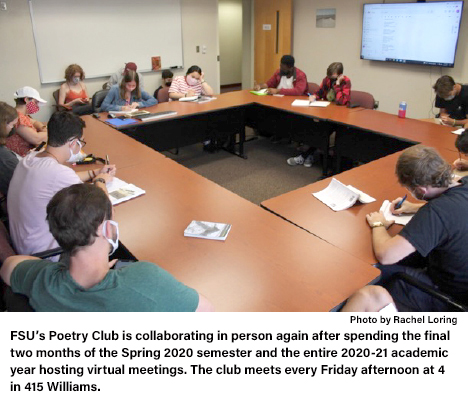 Enter Room 415 of the Williams Building and you'll find another story developing: FSU Poetry Club president Jenna Prunty leading students in poetry discussions and readings in a nonjudgmental, collaborative fashion.
The Poetry Club is back on campus, back in person, and most importantly, back as a space for students to express, create, and share their passion for poetry.
The student organization was founded in 2019, in what club advisor and Distinguished University Scholar Barbara Hamby calls a "spontaneous movement that started with the students." She went on to mention how the club continues a long tradition of scholars and authors meeting to discuss and connect with other poets.
"Ovid and Horace did the same thing in ancient Rome," Hamby says. "The Romantics met and discussed their work in early 19th-century England, Sylvia Plath and Anne Sexton were in a workshop with Robert Lowell in Boston, and the Beats and New York poets congregated in San Francisco and New York."
The students continue to be the focus of the club, beginning with its inception and continuing to its reemergence as an official FSU organization this year. Prunty's interest as club president is her members on an individualized level.
"I just want people to have a collective environment to grow as writers, grow as people, create friendships, and feel comfortable in their own skin [and] with their writing," she says.
Robert O. Lawton Distinguished Professor David Kirby points out that much of this work can be credited to Prunty and former club leadership.
"The Poetry Club has always been run by remarkable people, beginning with its founder, Parker Logan, and Jenna continues that tradition," says Kirby, who also is a club advisor. "She's smart and organized; perhaps most important, she's a great listener."
This philosophy is visible before, during, and after meetings. While waiting for members to trickle in, students freely chat and get to know each other. Genuine laughter can be heard from all over the room. Compliments on T-shirts and stories about hometown quirks are genially passed between members.
During meetings students are eager to talk about poetry and even more eager to share and write their own, which is evident in the club's growth alone; membership has doubled from last year. After meetings, Prunty even stays to talk individually with members about their poems and techniques.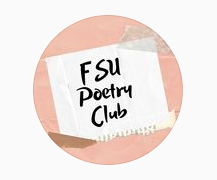 The club dynamic has shifted as well. Prunty, an international affairs major, has a deep love for poetry and eight years of poetic writing under her belt. Last year, she was one of the only club members who was not an English major.
This year, many members are from outside of the English major, which Prunty sees as a positive addition to the club and a chance for engagement and growth with students who might not have classes together or see each other on campus.
Keeping Prunty's goals in mind, the meetings begin with an open group discussion about one selected poem. One recent gathering began with a reading of "Mustard Seed" by William Bortz. Members are encouraged to comment on anything that strikes them in the poem. Some members point out form. Some talk about how it makes them feel.
One student likens the poem to an extended metaphor of watching a parent suffer through Alzheimer's disease and dementia.
"It's a nice little retreat to come in and be able to talk about little things and big things all at once," member Greggory Boatwright says about the environment.
Members spend the second half of the meeting writing and sharing their poetry. They get a loose prompt to write about in whatever way they come up with. Some write short poems, some write poems with strict rhyme scheme, and some write narrative and free verse poems.
This time is some members' favorite. Alyssa Hatfield finds that the time spent drafting and reciting is beneficial to her own writing.
"Being around other people and getting to hear their poems and getting to write every week helps [in my writing]" she says.
Sophomore Noah Bookstein got the opportunity to share his own writing aloud for the first time at a meeting and says that the Poetry Club is a great opportunity to try out an unfamiliar discipline.
Meeting in person is also an unfamiliar experience for some members. Last year, in the wake of COVID 19, the Poetry Club's meetings were entirely online. Now with masked in-person meetings possible, Prunty is eager to expand what the club is capable of doing.
Her main goals are to promote group collaboration and exposure in the form of group poems and campus wide poetry readings. Prunty also hopes to eventually bring in guest speakers and other outside resources for her members.
For anyone looking to join in on the Poetry Club's fun, Prunty would love to have new members. "If there's any aspiring poets or even if you've never written before, just come out. Just try it," she says. "You can't mess up in poetry."
Or in the words of Kirby, the club's advisor, come out to join in "adding to the beauty of the world."
The Poetry Club meets every Friday at 4 p.m. in Room 415 of the Williams Building.
Get to know the Poetry Club president—Q&A with Jenna Prunty
What is your experience or personal experience to poetry?
I've always had an interest in poetry. I've written poetry consistently for probably eight years. I've read a lot of poetry and always enjoyed it. One thing about poetry that's really nice is its freedom of artistic expression. It's a good way to get emotions out, really let your mind go. It allows me to open my mind to different ways of using words, how to communicate with people, and finding ways to articulate exactly what you want to say.
How has your relationship to poetry changed since being in college?
In college my relationship with poetry got a lot stronger. Before college, I'd written a couple poems a month. I was consistent with it, but I wasn't adamant about it. Over [my first year] winter break, I had a challenge to write every day of winter break. I started writing every day, sometimes more than once a day, and I've stuck with it. I've been writing poems every day since. And it's been a really good way to get my mind going, and my writing has drastically improved
How does it feel to be back in person for meetings? Any changes you've noticed in the club?
It's very different from last year. Most of the people in the club [last year] were English majors and they all knew each other from classes. This year, it's a very different dynamic. Most of the people aren't English majors, most of them don't know each other. But I'm hoping to foster an environment where people are engaging together, growing together, and working collaboratively. When we're sharing poems and when we're going out and reading, everyone's discussing together, everyone's throwing in ideas, everyone's adding on to each other and that kind of environment is really what I'm hoping to do with this club.
Rachel Loring is double majoring in English on the creative writing track and in family and child sciences.
Follow the English department on Instagram @fsuenglish; on Facebook facebook.com/fsuenglishdepartment/; and Twitter, @fsu_englishdept