FSU honors Professor Mark Winegarder with 2020-21 Outstanding Graduate Teaching Award
---
FSU honors Professor Mark Winegarder with 2020-21 Outstanding Graduate Teaching Award
By Elizabeth Chailosky
When English Professor Mark Winegardner was in grade school, he was in constant trouble for reading books in class instead of completing his assignments. His love of reading manifested itself into a prolific writing career, while Winegardner eventually replaced his dislike of school with an appreciation and knack for teaching.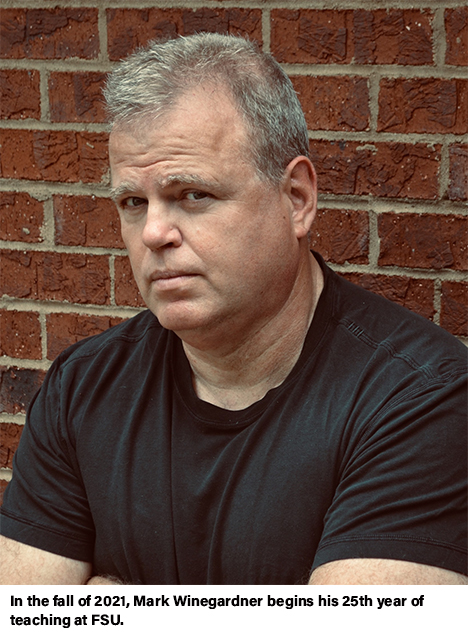 "I was the kind of kid who would get in trouble for reading a book," Winegardner explains. "The books you would buy at the Scholastic Book Fair changed my life. I would get up at three in the morning to read them."
For the past 40 years, Winegardner has written a wide variety of critically acclaimed books and he has taught at four different universities. In the fall of 2021, he begins his 25th year of teaching at FSU with another recognition of his successful career. On April 22, 2021, Florida State university announced Winegardner as a 2020-21 Outstanding Graduate Teaching Award recipient.
Winegardner is the English department's only two-time winner of the Graduate Teaching Award. Winning awards is not his end personal goal, but, of course, he is satisfied that students value his teaching efforts and nominate him for such awards.
"You get nominated for a thing like this and you're happy about it but like anything you're competing for, for me, it feels silly to compete for it in the first place," says Winegardner, who admits talking about winning awards makes him feel uncomfortable.
Nonetheless, Winegardner recognizes what an incredible privilege it is to "walk into a room of smart people who want what you have" and to "talk about things I love and to open doors for people."
Rebecca Orchard, an FSU English doctoral student in fiction, credits Winegardner with helping her become a better writer and for providing her with several advantageous opportunities.
"He's particularly good at matching students with opportunities that play to their strengths," she says. "I know I'm in a better position—within the program regarding my career—for having worked with him."
Winegardner graduated from Miami University in Oxford, Ohio, in 1983, making him the first member of his family to graduate college. He then went on to earn a Master of Fine Arts degree at George Mason University in Virginia, finishing in 1988.
As the first member of his family to graduate, Winegardner believes in giving his students their "money's worth" by providing them with all of the tools and means necessary in order to benefit the most.
"I'm the one getting paid, and they're the ones paying to show up," Winegardner explains. "So, I ought to be able to return good value."
Winegardner began teaching at FSU in 1977 and he is Burroway Professor of English. He has written a wide variety of books in addition to many essays that have appeared in magazines such as The New York Times and GQ Magazine. In 2002, author Mario Puzo's estate selected Winegardner to write The Godfather Returns, a sequel to Puzo's 1969 classic The Godfather.
As a kid, Winegardner never imagined he would have the career he has now. Growing up in a place like Bryan, Ohio, which today has approximately 8,300 residents, taught Winegardner how to be practical, he says. So, the thoughts of one day becoming a fiction writer were nonexistent for him.
Winegardner's childhood love of reading books allowed him to escape reality, he says, as he developed an interest in writing stories that would virtually have the same effect on others. In the classroom, Winegardner strives to pass that same mindset to his students.
Winegardner does not claim to have all the answers as to what makes a great and successful teacher. For him, though, an important factor is to be honest with students in order to help them improve their craft rather than impede their intellectual growth.
"I need to treat my students like people who could make it in the writing profession by telling them the truth about their work instead of being some sort of cheerleader," Winegardner explains.
Winegardner recognizes how fortunate he is to teach in FSU's elite Creative Writing Program, where he has the opportunity to help build careers. As a mentor, Winegardner provides candid advice to his students while also remaining empathetic toward their personal lives.
Mark has always been there with practical advice for any situation I need help with, and I know he does this for any student who asks, not just those of us who work closely with him.

— Rebecca Orchard
"Mark has always been there with practical advice for any situation I need help with, and I know he does this for any student who asks, not just those of us who work closely with him," says Orchard, who has published her work in Passages North, Split Lip Magazine, Tammy, The Pinch, Pigeon Pages, The Baltimore Review, among other publications.
He is constantly evolving as a teacher, Winegardner admits, and his dedication to his students' success remains unwavering. The students, after all, Winegardner points out, ultimately drive his actions and efforts.
Winegardner has a personal mantra, a quote by German literary figure Johann Wolfgang von Goethe, which reminds him of his obligation as a teacher: "If I accept you as you are, I will make you worse; if I treat you as though you are what you are capable of becoming, I help you become that."
He regularly reads the quote in order to bring intentionality into his teaching. He is proud of empowering his students and being a part of their journey, "taking them to the last level" of their academic careers.
Because of his commitment to inspire his students and to further enhance their creative talents, FSU recognizes Winegardner's excellence as a mentor.
Elizabeth Chailosky is a double major in English, on the editing, writing, and media track, and Women's Studies.
Follow the English department on Instagram @fsuenglish; on Facebook facebook.com/fsuenglishdepartment/; and Twitter, @fsu_englishdept