David Johnson named 2020-21 Fulbright Scholar, will conduct his research and teach at KU Leuven
---
David Johnson named 2020-21 Fulbright Scholar, will conduct his research and teach at KU Leuven
By Cristi McKee
Florida State University English Professor David Johnson found out in mid-March that he was selected to receive the 2020-21 Fulbright Scholar Program award. The announcement initially left him feeling overwhelmed.
"I was ecstatic, excited, overjoyed, relieved, and super humbled. I still can't believe it," he says.
Beginning in January 2021, Johnson will conduct research and teach at Katholieke Universiteit in Leuven, Belgium. The teaching component of this fellowship will involve collaboratively teaching a course on Anglo-Dutch literary relations in the Middle Ages and Renaissance.
The Fulbright Scholar Program offers a number of teaching and research awards in over 125 countries to deserving college and university faculty, and is an extremely competitive program. Johnson was one of nine FSU faculty members to receive the 2020-21 award, a record for the school.
Earning this honor to advance his scholarship is a humbling honor, Johnson says.
"These are, I am told, hard to get," admits Johnson. "Belgium typically only takes five per year for the entire country, all fields—STEM and humanities. So, I confess I am also proud."
These are, I am told, hard to get. Belgium typically only takes five per year for the entire country, all fields—STEM and humanities. So, I confess I am also proud.

— David Johnson
Johnson applied for a fellowship with KU Leuven because of its ideal location for gaining access to relevant manuscripts, experts in the field, and the university's world-class library. His research time at the institution was delayed from the fall of 2020 until the winter of 2021.
"KU Leuven employs an academic community unparalleled in my field of study," Johnson says. "They include colleagues in history, linguistics, and Dutch literary studies. The exchange of ideas concerning Middle Dutch literature and its ancillary fields is simply not possible elsewhere."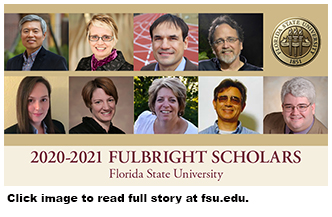 Johnson specializes in medieval English, Latin, and Germanic literatures, focusing on Old English language and literature, manuscript studies, editing, late medieval literature of the Netherlands, Middle Dutch Arthurian romance, and is co-editor of Arthurian Literature.
As part of the opportunities his award funds, Johnson also will contribute to a planned monograph on Flemish poet Jacob van Maerlant. He will analyze van Maerlant's pieces that involved the "Matter of Britain," an Arthurian legend.
"The monograph that will, I hope, result from this Fulbright seeks to answer a number of questions about Jacob van Maerlant's Arthur," Johnson says, "especially, who was King Arthur to Jacob van Maerlant?"
Maerlant wrote three separate stories that involve different anterior sources and have vastly differing transmission histories. Thus, they present an Arthur in each story who is dissimilar from the others.
"This evolution of the legendary king appears to be accompanied by a parallel evolution in Maerlant's thinking on the relative value of verse as opposed to prose, truth versus fiction, and what to Maerlant constituted morally responsible literature," Johnson explains. "Maerlant's position in the verse versus prose controversy has been fairly well documented, but less well studied is the link between this attitude and Maerlant's views on King Arthur's place in history and the nature of the sources he felt could be relied upon as 'true.'"
Johnson will consider several ideas and questions in his study. For example, "What exactly was Maerlant's stance on the difference between history and fiction?" and "To what extent did Maerlant allow the sources he used to influence the way in which he portrayed the ethics of Arthur's court?"
"With an eye to the evolution of thirteenth-century vernacular poetics—and Maerlant's place in its broader European context—this book will delve deeply into these and other issues relating to Maerlant's three Arthurian texts," Johnson says.
While he is greatly looking forward to spending six to nine months in Belgium's cultural and intellectual environment, the food, drink, and culture is also something that Johnson is excited about: "Belgian beer is just superb," he says.
Cristi McKee is an English major, on the editing, writing, and media track, with a minor in business.
Follow the English department on Instagram @fsuenglish; on Facebook facebook.com/fsuenglishdepartment/; and Twitter, @fsu_englishdept