Andrew Epstein's Book "Attention Equals Life" Honored as Outstanding Academic Title
---
Andrew Epstein's Book "Attention Equals Life" Honored as Outstanding Academic Title
By Amber Deschene
Professor Andrew Epstein's book Attention Equals Life: The Pursuit of the Everyday in Contemporary Poetry and Culture (Oxford, 2016) has been named as one of the Outstanding Academic Titles for 2017.
Choice, a magazine of the Association of College & Research Libraries, looks for pieces that have overall excellence in presence and scholarship, originality, and value to undergraduates and undergraduate library collections.
Writing in Choice, reviewer J.A. Zoller stated, "A book of enormous breadth and ambition, Attention Equals Life is at once astonishing and reaffirming, challenging and clarifying. It engages more broadly than its scholarly focus would suggest."
Attention Equals Life offers a new way of understanding experimental realism as a poetic mode and the turn to "everyday-life projects." He dives deep and analyzes how poetry and other literature and art forms explore and examine the art of mundane things that we see and experience on a day-to-day basis.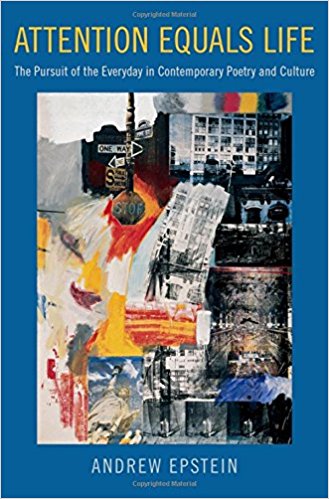 "This book came about because I realized that a lot of the poetry I was drawn to was obsessed with exploring everyday experiences that didn't seem to be 'important,' 'beautiful,' or lofty enough for a good deal of earlier literature and art," Epstein says, in a recent profile.
His book also made the short list for the Modernist Studies Association Book Prize.
"I think the poetry I am talking about—if people are open-minded in approaching it, since it can often be quite unusual and challenging—can be appealing and accessible because it is grounded in, even obsessed with common everyday experiences which we can all relate to," Epstein says.
Professor Gary Taylor, chair of the Department of English, says Epstein's book really does "make the ordinary extraordinary." For more about Attention Equals Life and Epstein's award click here.