Graduate Curriculum
PHD and MA REQUIREMENTS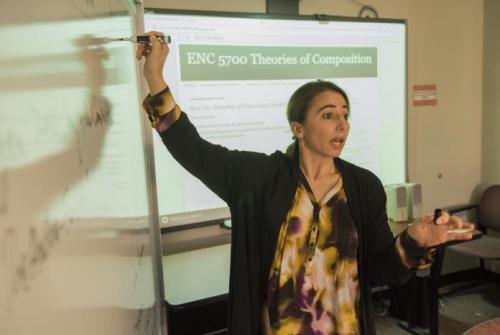 Both degrees require the following core courses, which must be completed at FSU:
Theories of Composition
Rhetorical Theory and Practice
Research Methodologies in Rhetoric and Composition
Additionally, PhD and MA students take courses to prepare them for teaching and tutoring responsibilities. Also required are a second language and a critical theory, both of which can be transferred in from other degree programs by approval of the Associate Chair of Graduate Studies. 
PhD Specific Requirements
PhD students in Composition and Rhetoric take 27 credit hours of coursework (at least 18 in Rhetoric and Composition) and 24 hours of dissertation work for a total of at least 51 hours. In addition to the core courses listed above, PhD students select at least 2 of the following 3 courses:
Theories of Difference
Visual Rhetoric
Digital Revolution and Convergence Culture 
Other courses include special topics and several 1-hour options (e.g., pedagogy, reading group, post-prelims, interviews, workshops). After their coursework is complete, PhD students must pass a written preliminary examination with an oral defense in 3 areas: Rhetoric, Composition, and Minor area of specialization. They must also complete and defend a dissertation.
MA Specific Requirements
MA students in Composition and Rhetoric take a total of 33 credit hours. In addition to the requirements listed above, MA students take elective credits and complete and defend either a thesis (6 credits) or a non-thesis ePortfolio (3 credits). No examinations are required for the MA.
Graduate Assistantships
Assistantship opportunities in the Rhetoric and Composition program at Florida State are abundant and provide graduate students with valuable preparation to enter a range of faculty positions upon graduation. These assistantships provide tuition remission as well as a stipend. Many graduate students opt to take classes and teach during the summer for additional funding. Students work with their advising faculty to lay out an assistantship trajectory that meets their strengths and professional goals. While other assistantship are available, the following 3 areas house the majority of assistantship opportunities:
Instructor: once graduate students have 18 graduate hours in the discipline, they are able to teach their own sections of College Composition. 
Mentor: TAs who have demonstrated teaching excellence and commitment to community can apply to mentor other teaching assistants new to the program. These mentors meet regularly with their groups, observe courses, and provide feedback and support.
Administrator: Advanced PhD students can apply to work as a Program Assistant, which provide insights into and experience in a fuller range of WPA responsibilities (e.g., participating in teacher preparation, scheduling courses, developing curriculum, supporting teachers, responding to problems, etc.).
Tutor/Consultant: graduate students can serve as tutor-consultants in one of several locations of our award-winning writing center or in the digital studio, assisting students and faculty with digital projects such as web and poster design, multimedia composition, video work, etc.
Administrator: Advanced graduate students can apply to assist the Director of the RWC-Ds in one of several administrative positions, which provide insights into and experience in a fuller range of responsibilities (e.g., participating in tutor preparation, scheduling and supporting tutors, developing tutoring materials, supporting ELL/ESL, responding to challenges, etc.).
Once advanced graduate students have taken the appropriate coursework, they are qualified to teach courses in the Editing, Writing, and Media (EWM) major, which is nationally recognized for its inventiveness. Eligible courses include Rhetoric (survey course), Writing and Editing in Print and Online, and History of Text Technologies, as well as Advanced Writing and Editing. 
Advanced PhD students can also apply to teach the practicum for undergraduate tutors and consultants in the RWC-DS.
Other advanced graduate students may apply to teach Article and Essay Technique.
Professional Development and Mentoring
At each stage of their graduate education, students are provided a range of professional development and mentoring opportunities, both formal and informal. The following are just a small sample of the workshops, meetings, roundtables, courses, spaces, and other opportunities graduate students have along the way to support the successful completion of their degrees.
Pedagogy Workshop: First year TAs meet regularly with the Director of College Composition, the Program Assistants, and mentors to support their teaching. 
Publication Workshop: Students with a fully drafted manuscript can sign up for a one-credit workshop, hosted by the program director, to provide and receive feedback on their writing.  
ePortfolio Workshop: Students can sign up for a one-credit hour workshop to develop professional ePortfolios for the job market. Students are provided theory, models, and opportunities for feedback on their work.
Conference Workshops: the program regularly provides workshops and feedback for students preparing conference materials: from conference proposals to expectations for first time presenters or session chairs.
Prelim Prep and Post Prelim Meetings: As a way to support PhD students as they prepare for their preliminary exams and to assist them after they finish exams, the program hosts regular informal meetings and workshops led by various faculty.
Job Placement: The department as well as the program offer a range of support structures to help prepare graduate students for the rigors of the academic job market. We offer faculty and student panels to provide multiple perspectives on applying for positions, workshops for job materials (e.g., CVs, letters, writing samples, teaching philosophies, etc.), mock interviews, practice video interviews, preparation for campus visits, and other support along the way.