Literature, Media, and Culture Graduate/Alumni Bookshelf
---
Literature, Media, and Culture Graduate/Alumni Bookshelf
title-inside title-centered
2


Jacqueline Bach
B.A. 1995 - Jacqueline is an associate professor of English Education and Curriculum Theory at Louisiana State University in the College of Human Sciences and Education. She is the author of Reel Education: Documentaries, Biopics, and Reality Television which analyzes documentaries, biopics, and reality television shows, bringing together the theoretical and practical considerations of teaching cinematic texts about education that claim a degree of verisimilitude.


Flore Chevaillier
Ph. D. 2008 - Flore is Program Faculty in the Department of English at Texas State University. Her first book, The Body of Writing: an Erotics of Contemporary American Fiction (The Ohio State University Press, 2013), examines readers' experience of sensuality in their engagement with the language of fiction. Her second book, Divergent Trajectories: Interviews with Innovative Fiction Writers, is forthcoming with The Ohio State University Press. Her essays have appeared in Journal of Modern Literature, Critique, Literature Compass, and European Journal of American Studies.



Tammy Clewell
Ph.D. 2000 - Dr. Tammy Clewell is professor of English at Kent State University. Her edited collection Modernism and Nostalgia: Bodies, Locations, Aesthetics was published by Palgrave Macmillan in 2013 (and includes a contribution by our own Dr. Barry J. Faulk); and her book Mourning, Modernism, Postmodernism (Palgrave Macmillan, 2009) traces the emergence of a fundamentally new way of writing about individual and collective loss. She has also published essays on modernism, graphic memoir, psychoanalysis, and film in PMLA, Modern Fiction Studies, Literature/Film Quarterly, Angelaki, College Literature, and the Journal of the American Psychoanalytic Association. Her essay on Freud and mourning received the 2001 CORST Prize awarded by the American Psychoanalytic Association. Professor Clewell is currently working on a book-length study of First World War cartoons produced by professional cartoonists and soldier-artists between 1914 and 1918.



Susan E. Colón
Ph.D. 2002 - Dr. Colón was an Associate Professor of Literature in the Honors Program and Associate Dean of the Honors College at Baylor University until her tragic death in 2012. Her research focused on Victorian literature, religion, and ethics, in particular the relationship between theology and literary form. Her last book, Victorian Parables (Continuum, 2012), explored how the synoptic parables are reinscribed in the fiction of Charles Dickens, Margaret Oliphant, and Charlotte Yonge. Colón's first book, The Professional Ideal in Victorian Fiction (Palgrave 2007), considered how Victorian novels theorized, configured, and challenged professional ideals such as autonomy, mentorship, meritocracy, and the service ethic.


Trish Thomas Henley
Ph.D. 2007 - Dr Henley is an Assistant Professor of English and Comparative Literature at the University of Cincinnati. She is completing a book, Velvet Women Within: The Boy Actor and the Prostitute on the Early English Stage, which explores the intersection of early modern sexual ideology and queer desire on the all-male stage by analyzing the difference the body makes when performing the whore. She also recently co-edited (with our own Dr. Gary Taylor) The Oxford Handbook of Thomas Middleton (Oxford University Press, 2012). The handbook is the largest collection of new Middleton criticism ever assembled, and it provides a comprehensive, cutting-edge reaction to Oxford's Collected Works of Thomas Middleton. Dr. Henley has also recently published "Automated Marlowe: Hero and Leander 31-36" (Exemplaria 20), an article co-written with Bruce Boehrer.



Celia Kingsbury
Ph.D. 2000 - Celia is an Associate Professor of English at Central Missouri State University. She is the author of The Peculiar Sanity of War: Hysteria in the Literature of World War I which examines the impact of war hysteria on definitions of sanity and on standards of behavior during World War I and For Home and Country: World War I Propaganda on the Home Front.


Peter C. Kunze
Ph.D. 2012 - Pete is currently pursuing a second Ph.D., in Media Studies, at the University of Texas at Austin. The first edited collection on the famed director, The Films of Wes Anderson: Critical Essays on an Indiewood Icon, provides a range of critical perspectives, including critical cultural studies, affect theory, neoformalism, Marxism, and cybernetics, to demonstrate the diversity of approaches for interrogating the complexities of contemporary film authorship. Warren Buckland has called it "invaluable for bringing us much closer to understanding Anderson's significance as an American Indiewood filmmaker," and the volume has been one of Palgrave Macmillan's best-selling academic books in recent years.



Laci Mattison
Assistant Professor at Florida Gulf Coast University, and Paul Ardoin, Assistant Professor at the University of Texas at San Antonio, along with Dr. S.E. Gontarski, are the general editors of Bloomsbury's "Understanding Philosophy, Understanding Modernism" series, which reevaluates an aesthetic moment alongside the philosophy that shaped and was shaped by it. Mattison and Ardoin have also co-edited two volumes in this series: Understanding Deleuze, Understanding Modernism (August 2014) and Understanding Bergson, Understanding Modernism (January 2013), the latter to which they contributed chapters, as well. As Gregg Lambert states of the most recent volume, "The immediate usefulness of this series is the editors' tripartite structure of close reading, contextualization, and key concepts from the philosophies of modernism. This volume on Deleuze collates an exceptional range of scholars on Deleuze and/or Modernism, maintaining a nice balance between well heeled names and brilliant new voices." Forthcoming volumes in the series are dedicated to thinkers such as William James, Wittgenstein, Foucault, and Merleau-Ponty.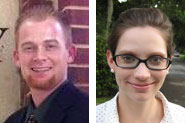 Scott Ortolano and Caitlin Newcomer
Scott Ortolano is Assistant Professor of English at Edison State College. Caitlin Newcomer is a Lecturer in the English and Liberal Studies programs at California State University, Northridge. They co-edited and wrote the introduction for Perspectives on the Short Story. With an eye towards the ever-changing needs of the 21st century classroom, Perspectives offers numerous innovative themes, conventions, and global variations of the short story. Like the short story itself, the anthology roams beyond formal binaries like "conventional" or "experimental," over the borders of geography, nation, ethnicity, race, class, region, and gender, and across the lines of urban, suburban, and rural life as well as political and social affiliations.







Masood Raja
Ph.D. 2006 - Masood joined the English Department of University of North Texas in the fall of 2010. He is the author of Once Upon A Country, a light satire about the leaders, politicians, and generals of a country called Khabistan. His book Constructing Pakistan (Oxford UP) addresses the previously neglected aspect of postcolonial and historical engagement with the creation and construction of Indian Muslim national identity before the partition of India in 1947 and traces the varied Muslim responses to the post 1857 British ascendancy. He has also recently published The Postnational Fantasy: Essays on Postcolonialism, Cosmopolitics and Science Fiction (McFarland 2011), which examines the relationship between the fantastic in novels, movies and video games and real-world debates about nationalism, globalization and cosmopolitanism. In the process, he successfully charts a new discursive space, where postcolonial theory, science fiction, and fantasy studies work cooperatively to expand our understanding of the fantastic, while simultaneously expanding the scope of postcolonial discussions.


Peter P. Reed
Ph.D. 2005 - Dr. Peter P. Reed is currently Assistant Professor of early American literature and culture at the University of Mississippi. His scholarship focuses on early American and Atlantic drama, theatre, and popular culture. His most recent book-in-process, entitled Dancing on the Volcano: The Haitian Revolution and American Performance Cultures, investigates the impact of the Haitian Revolution on the stage and entertainments of the Americas, exploring a range of cultural expressions relevant to theatre and dramatic representation. His previous book, Rogue Performances: Staging the Underclasses in Early American Theatre Culture (Palgrave, 2009), analyzes early American theatre and the roles of the young nation's disempowered classes. It was nominated for the American Society for Theatre Research's 2009 Barnard Hewitt Award for Outstanding Research in Theatre History and the Theatre Library Association's 2009 George Freedley Memorial Book Award. He has also published articles on early American and transnational literature and drama in numerous scholarly journals and edited collections.



Charlie Sweet
Ph.D. 1970 - Charlie Sweet, Ph.D., is a Foundation Professor of English and Theatre and Associate Director of the Teaching and Learning Center at Eastern Kentucky University. He has co-authored two books on pedagogy, It Works for Me! and It Works for Me, Too!, as well as a collection of mystery stories, Bloody Ground: Stories of Mystery and Intrigue from Kentucky and Private Eyes: A Writer's Guide to Private Investigating.




Larissa "Kat" Tracy
Ph.D. 2000 - (BA honors in Literature, Florida State University (1996); PhD, Medieval Literature, Trinity College, Dublin) is currently Associate Professor of Medieval Literature at Longwood University, Farmville, VA. Her publications include Torture and Brutality in Medieval Literature (D.S. Brewer, 2012), Women of the Gilte Legende (D.S. Brewer, 2003) and the edited collections Heads Will Roll: Decapitation in the Medieval and Early Modern Imagination, with Jeff Massey (Brill, 2012), Castration and Culture in the Middle Ages (D.S. Brewer, 2013), Wounds and Wound Repair in Medieval Culture, with Kelly DeVries (Brill, 2015) and Flaying in the Premodern World: Practice and Representation (D.S. Brewer, forthcoming) . She has published articles on violence, fabliaux, comedy, romance, gender, hagiography and Sir Gawain and the Green Knight; she is also the series editor for Explorations in Medieval Culture (Brill), and the editor of Eolas: The Journal for the American Society of Irish Medieval Studies. She has appeared in several National Geographic and Discovery Channel documentaries and her work on medievalisms has been published by Salon.com, Business Insider, Elite Daily, Entertainment Weekly, The Wrap; and Women in the World (New York Times).


Steve Watkins
Ph.D. 1990 - Steve Watkins is author of The Black O: Racism and Redemption in an American Corporate Empire (University of Georgia Press), which won the Virginia College Stores Award for Best Book by a Virginia author, and the story collection My Chaos Theory (Southern Methodist University Press). His stories and articles have appeared in dozens of publications, including North American Review, Quarterly West, The Nation, and The Pushcart Prize Anthology. He teaches journalism and creative writing at the University of Mary Washington.


Aimee Armande Wilson
Ph.D. 2014 - is an Assistant Professor of Humanities at the University of Kansas. She is the author of Conceived in Modernism: The Aesthetics and Politics of Birth Control, which examines the relationship between modernism and the Anglo-American birth control movement. She has also published in Modern Fiction Studies, Genre, and symploke, and is currently working on a book-length study of reproduction and masculinity in modernist literature.