Fred L. Standley Professor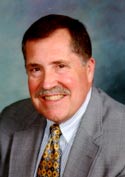 JOHN FENSTERMAKER, is Fred L. Standley Professor of English and University Distinguished Teacher, Emeritus. He specializes in Victorian and Modern American literature and culture and was English Department Chair (1982-1994) and Director of the Program in American and Florida Studies (2001-2008). He is co-founder of the Florida Book Awards program. Active in the profession of English Studies, he has served as President of the Florida College English Association, the Florida Association of Departments of English, The South Atlantic Association of Departments of English, and the South Atlantic Modern Language Association. His most recent book is The Art of Literary Research (with Richard D. Altick). His principal scholarly interest is Ernest Hemingway, particularly the author's life and work between the World Wars.
REPRESENTATIVE PUBLICATIONS AND PROFESSIONAL ACTIVITIES
"It IS Pretty to Think So: Male/Female Relationships in the Nick Adams Stories." In Teaching Ernest Hemingway: Gender and Sexuality. Ed. Verna Kale. Kent, OH: Kent State UP (accepted).
"'Ave Atque Vale': F. Scott Fitzgerald, Ernest Hemingway, Thomas Wolfe—and Charles Scribner's Sons." The Thomas Wolfe Review 37 (2013). 23-41.
"Ernest Hemingway, 1917-1918: First Work, First War." In War + Ink: New Perspectives on Ernest Hemingway's Early Life and Writing. Kent, OH: Kent State UP, 2013. 14-35.
"Ernest Hemingway in Esquire: Contextualizing Arnold Gingrich's Posthumous Portrait(s) of Man and Artist, 1961-1973." In Literature and Journalism: Inspirations, Intersections, and Inventions from Benjamin Franklin to Stephen Colbert. Ed. Mark Canada. New York: Palgrave Macmillan, 2013. 187-207.
"Hemingway's Modernism: Exploring Its Victorian Roots." South Atlantic Review 76. 3 (2011). 77-92.
"'Our parents were raised in Victorian times': Ernest Hemingway Victorian." Fourteenth International Hemingway Conference, Lausanne, Switzerland, 2010.
"Why Esquire? The Multiple Voices of Hemingway's Complex Public Persona." Key West Hemingway: A Reassessment. Ed. Gail D. Sinclair and Kirk Curnutt. Gainesville: UP of Florida (2009). 206-219.
"In Our Time: Women's Presenc(es) and the Importance of Being Helen." Ernest Hemingway: Eight Decades of Criticism. Ed. Linda Wagner-Martin. East Lansing: Michigan State UP, 2009. 303-321.
"Youthful Inventions: Ernest Hemingway in Kansas City, 1917-1918." Thirteenth International Hemingway Conference, Kansas City, 2008.
"Accessing and Humanizing Culture." SAR 71.1(2006):1-11.
"The Concluding Narratives of In Our Time." Twelfth International Hemingway Conference, Ronda, Spain, 2006.
"Agnes and Ernest: A Decade Before Catherine." NDQ 70.4 (Fall 2003): 19-39. (Special Hemingway Issue)
Hemingway in Florida and Cuba. Text and captions for this photographic exhibit at the Museum of Florida History, March-April, 2000 (17 panels/41 photos). Exhibit toured 74 libraries under the auspices of the Florida Humanities Council.
"Hemingway in the 1930s: A Conversation." Arkansas Review 30.2 (1999): 143-62. (with Michael S. Reynolds and Keneth Kinnamon)
"Hemingway at the Millennium." Interview. BBC Worldwide News Service. July 1999.
"Hemingway and the Gulf Stream: The Esquire Letters as Informal Apologia." Studies in American Culture 20.2 (1997): 41-57.
"The Search for an American Audience: Marketing Ernest Hemingway, 1925-1930." Ernest Hemingway: The Oak Park Legacy. Ed. James Nagel. Tuscaloosa: U of Alabama P, 1996. 179-98.
The Art of Literary Research. Fourth Edition. New York: W. W. Norton & Co. 1993. 331 pp. (with Richard D. Altick)
John Forster. Boston: Twayne Publishers, 1984. 134 pp.
"Language Abuse in Bleak House." Victorian Literature and Society. Ed. James R. Kincaid and Albert J. Kuhn. Columbus: Ohio State UP, 1984. 240-57.
Charles Dickens, 1940-1975: An Analytical Subject Index to Periodical Criticism of the Novels and Christmas Books. Boston: G. K. Hall and Co., 1979. 302 pp.
"Marketing Ernest Hemingway: Scribner's Advertising in Publishers Weekly and the New York Times Book Review 1929-1941." Fitzgerald/Hemingway Annual 1978. Detroit: Gale Research Co., 1979. 283-95.
GRANTS AND AWARDS
Outstanding Teacher Award, South Atlantic Association of Departments of English, 2004.
Fred L. Standley Professor, 2003.
Distinguished Research Professor, 2002.
University Distinguished Teacher Award, 2001.
Florida Humanities Council grant to create the exhibit Hemingway in Florida and Cuba, 2000.
Florida Center for the Book grant to bring to the Museum of Florida History, the National Portrait Gallery's Centennial exhibit Picturing Hemingway, 2000.
University Teaching Award, Florida State University, 1998-99.
The President's Teaching Award, 1984-85.