Delivering College Composition: The Fifth Canon
---
Delivering College Composition: The Fifth Canon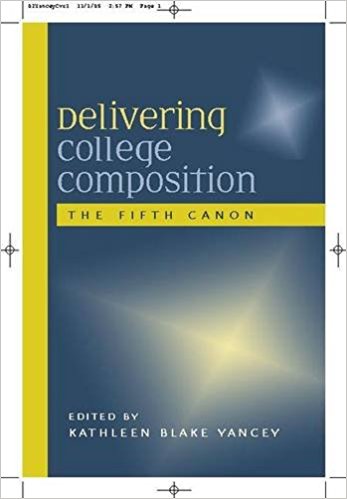 Find This Publication Online
Invention, Arrangement, Style, Memory . . . . Delivery. Of the five rhetorical canons defined by Aristotle, Delivery is the most overlooked and most frequently undertheorized. Delivery provides a lens into the ways composition curricula is designed; into the kinds of writing expected from students; and to the new electronic, physical, and curricular spaces created for composing. Delivering College Composition addresses the need for a more rigorous examination of Delivery, arguing that composition is increasingly being delivered in different ways by different individuals for different purposes within different contexts-yet retaining its identity as well.
Kathleen Yancey asks a number of probing questions about the current state of writing instruction:
What is college composition?
What does it look like, given the multiple ways it is delivered?
What features do courses share?
Is there a common understanding about their purposes, methods, and outcomes?
How do multiple delivery systems alter and redefine this thing we call college composition?
How does delivery matter?
From a research university, to a private college, to an historically black school, to a cyberschool, to advanced placement English classes, Delivering College Composition gives answers to these questions through in-depth analyses from more than a dozen teaching environments.
Focusing strongly on practice and its theoretical implications, Yancey and company provide a frank and informative "thick description&qupt; of classroom instruction, and in the process offer new definitions of what composition means in the present-and what it might look like in the future.