Associate Professor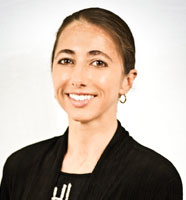 WMS 221
Histories of rhetoric and composition, digital humanities, feminist rhetorics and rhetorical theory, transnationalism, multilingual writing
TAREZ SAMRA GRABAN, Associate Professor, (Ph.D. Purdue University, 2006; A.B. English, Brown University, 1993; A.B. Religious Studies, Brown University, 1993), has special interests in histories of rhetoric, histories and theories of composition, feminist rhetorical theory, digital humanities, archival studies, and transnationalism. In both her teaching and research, Dr. Graban considers intersections of class, language, and ethnicity, and promotes an understanding of critical methodologies that equip writers for more informed civic participation.
Her book, Women's Irony (SIUP 2015), investigates the ways that irony has challenged critical historical methods in rhetoric for feminist work. Her co-authored book, GenAdmin: Theorizing WPA Identities in the 21st Century (Parlor Press, 2011), presents writing program work as a philosophical stance, thereby complicating extant narratives of the field. During 2011-2012, in conjunction with the Institute for Digital Arts and Humanities at Indiana University, Dr. Graban began developing a prototype for the metadata mapping project (MDMP), to visually organize metadata on the intellectual and pedagogical contributions of women rhetors, rhetoricians, and teachers from North America's Progressive Era to the present. That work has extended to an investigation of digital historical ecologies that are not artifact- or place-based. In collaboration with Alli Crandell in 2013, and Richard Urban and Stephen J. McElroy in 2016, she is considering how best to represent these ecologies as part of a knowledge based known as the "LWP (Linked Women Pedagogues) Project". In collaboration with Patricia Sullivan, she is also investigating how advances in digital humanities impact both historiography in rhetorical theory and the education of new historians of rhetoric. Finally, she has begun two new projects: one in which she offers a transnational archival paradigm for remembering the diplomatic writings of elected women leaders and heads of government (in Africa, India, and the Middle East); and another in which she considers digital historiography as a kind of knowledge-making for rhetorical studies.
Books
Women's Irony: Rewriting Feminist Rhetorical Histories. Carbondale: Southern Illinois UP, 2015.
GenAdmin: Theorizing WPA Identities in the 21st Century. Anderson, SC: Parlor Press, 2011. Co-authored with Colin Charlton, Jonikka Charlton, Kathleen J. Ryan, and Amy Ferdinandt Stolley.
Selected Articles and Book Chapters
"Teaching Multilingualism, Teaching Identification: Embracing Resident-Multilingualism as a Curricular Paradigm." Linguistically Diverse Resident and Immigrant Writers (eds. Christina Ortmeier-Hooper and Todd Ruecker). London: Routledge, 2016. 216-28.
"The Critical Place of the Networked Archive." Peitho: Journal of the Coalition of Women Scholars in the History of Rhetoric and Composition 17.1 (Fall/Winter 2014): 1-12. Co-authored with Shirley K Rose.
"In, Through, and About the Archive: What Digitization (Dis)Allows." Rhetoric and the Digital Humanities. Eds. Jim Ridolfo and William Hart-Davidson. Chicago: U Chicago P, 2014. 233-244. Co-authored with Alexis Ramsey-Tobienne and Whitney Myers.
"Humoring the Female Pol: Irony, Consciousness-Raising, and 'Third-Culture' Discourse." Women and Comedy: History, Theory, Practice, eds. Peter Dickinson, Diana Solomon, Sean Zwagerman. Lanham, MD: Fairleigh Dickinson/Rowman, 2014. 201-216.
"From Location(s) to Locatability: Mapping Feminist Recovery and Archival Activity through Metadata." College English 76.2 (Nov. 2013): 171-193.
"Multivalent Composition and the Re-Invention of Expertise." Multimodal Literacies and Emerging Genres in Student Compositions (Eds. Tracey Bowen, Carl Whithaus). Pittsburgh, PA: U of Pittsburgh P, 2013. 248-280. Co-authored with Colin Charlton and Jonikka Charlton.
"Towards a 'Second-Generation' Suffragism: Language Politics in the Ironic Discourse of An American Suffragist." Gender and Language 5.1 (2011): 31-60.
"Digital and Dustfree: A Conversation on the Possibilities of Digital-Only Searching for Third-Wave Historical Recovery." Peitho 13.2 (Dec 2011): 2-11. Co-authored with Patricia Sullivan.
"Emergent Taxonomies: Using 'Tension' and 'Forum' to Organize Primary Texts." Working in the Archives: Practical Research Methods for Rhetoric and Composition (Eds. Barbara L'Eplattenier, Lisa Mastrangelo, Wendy Sharer, Alexis Ramsey). Carbondale: Southern Illinois U P, 2009. 206-219.
"Theorizing Feminist Pragmatic Rhetoric as a Communicative Art for the Composition Practicum." College Composition and Communication 61.1 (September 2009): W277-299. Co-authored with Kathleen J. Ryan.
"Beyond 'Wit and Persuasion': Rhetoric, Composition, and Humor Studies." The Primer of Humor Research (Ed. Victor Raskin). Berlin: Mouton de Gruyter, 2008. 399-448.
"Feminine Irony and the Art of Linguistic Cooperation in Anne Askew's Sixteenth-Century Examinacyons." Rhetorica 25.4 (Autumn 2007): 385-412.
Forthcoming
"Ripple Effects: Towards a Topos of Deployment for Feminist Historiography." Networked Humanities: From Within and Without the University (eds. Brian McNely and Jeff Rice). Anderson, SC: Parlor P, 2017. Forthcoming.
"Contending with 'Difference': Points of Leverage for Intellectual Administration of the Multilingual FYC Course." Internationalization of U.S. Writing Programs (eds. Irwin Weiser and Shirley K Rose). Logan, UT: Utah State UP, 2017. Under contract.
"New Rhetorics of Scholarship: Leveraging Betweenness and Circulation for Feminist Historical Work." Rhetoric, Writing, and Circulation (eds. Laurie Gries and Collin G. Brooke). Co-authored with Patricia Sullivan. Logan, UT: Utah State UP, 2018. Under contract.
FELLOWSHIPS AND AWARDS
Non-residential Research Fellow, University of South Africa (UNISA), Pretoria, RSA (2015-2018)
Council on Research and Creativity, Multidisciplinary Support Program award for the "Linked Women Pedagogues" project, with Richard J. Urban and Stephen J. McElroy (Florida State University, 2015)
Council of Writing Program Administrators Best Book Award in 2011-2012 for GenAdmin: Theorizing WPA Identities in the 21st Century (2014)
Center for Research and Creativity, First Year Assistant Professor Award for "From Locations to Locatability: Enhancing Archival Methods for Feminist Studies in Rhetoric and Composition" (Florida State University, 2013)
Kathleen Ethel Welch Outstanding Article Award to recognize scholarship and research in the areas of feminist pedagogy, practice, history, and theory, with Kathleen J. Ryan (2011)
Institute for the Digital Arts and Humanities Faculty Fellowship, to develop "Beyond Recovery: Feminist Treatises Locations Project" (Indiana University, 2011-2012)
Elizabeth A. Flynn Award for most outstanding feminist scholarship published in field of rhetoric and composition, for "Theorizing Feminist Pragmatic Rhetoric" with Kathleen J. Ryan (2009)
Active Learning Grant for Course Development of "Women in the Archives/Vandals in the Stacks" (Indiana University, 2009)
Office of Service Learning Faculty Fellowship (Indiana University, 2008)
College of Arts and Sciences Summer Faculty Fellowship (Indiana University, 2008)
Janice M. Lauer Dissertation Award (Purdue University, 2006)