Assistant Professor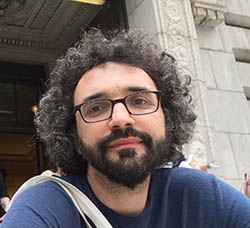 WMS 324
Early American literature, 18th- and 19th-century US literature, American studies, transnationalism, critical theory and philosophy, literature and politics
JOHN MAC KILGORE, Assistant Professor, Ph.D. University of California, Davis (2012), specializes in American literature and culture before 1900, especially from the American Revolution to the Civil War. His research broadly looks at literature's engagement with popular politics—protests, revolutions, public assemblies, insurrections, liberation movements, and reform communities—but with a specific goal in mind: to work against longstanding interpretations of the early United States as, at root, a conservative historical field, to help write histories of occluded democracy, and to contribute to the transnational horizon of American studies, especially its dismantling of American exceptionalism.
Professor Kilgore's first book, Mania for Freedom: American Literatures of Enthusiasm from the Revolution to the Civil War (2016), tells a new story about the formation and development of the early national period that foregrounds "enthusiasm" as a structure of feeling situated around inspired projects of democratic dissent—from the "mob" insurgency of the American Revolution to insurrectionary slaves in the black Atlantic to indigenous resistance to US expansionism in the War of 1812. Analyzing authors such as Phillis Wheatley, Thomas Paine, William Apess, Harriet Beecher Stowe, Martin Delany, and Walt Whitman, he argues for a distinct genre of protest literature (literatures of enthusiasm) which emerges from American rites of dissent and transforms literary writing itself into a species or inciter of popular revival and revolt.
Professor Kilgore's current research project, The US Literary Revolution of 1850-1855, is the first scholarship dedicated solely to the literary history of US writing from 1850 to 1855. Challenging the prevailing idea that this body of literature produced an "American Renaissance" defined by the values of cultural nationalism, romantic genius, and aesthetic/political liberalism, this research aims to show how the writing of this singular period emerged for a specific reason—to oppose a rising US empire and promote in its stead a collective vision of anti-racist, anti-imperial, anti-capitalist international democracy. To make this case, Professor Kilgore explores a wide archive including communist émigré periodicals, working-class dime novels, women's rights fiction, anti-US Californio newspapers, and African-American poetry in addition to canonical classics of the era. 1850-1855 was not a cultural renaissance—it was a social revolution.
PUBLICATIONS
Mania for Freedom: American Literatures of Enthusiasm from the Revolution to the Civil War (UNC Press, 2016). http://uncpress.unc.edu/books/13602.html
"Nat Turner and the Work of Enthusiasm," PMLA 130.5 (2015): 1347-62.
"Rites of Dissent: Literatures of Enthusiasm and the American Revolution," Early American Literature 48.2 (2013): 367-398.
"The Free State of Whitman: Enthusiasm and Dismemberment in the 1860 Leaves of Grass," ESQ: A Journal of the American Renaissance 58.4 (2012): 529-565.
"The Cakewalk of Capital in Charles Chesnutt's The Marrow of Tradition," American Literature 84.1 (2012): 61-87.
"Deterritorialization," Understanding Deleuze, Understanding Modernism. Eds. Paul Ardoin, S. E. Gontarski, and Laci Mattison. New York: Bloomsbury, 2014. 416-418.
PAST COURSES
Spring 2018
AML 4213: Old Florida: Literature, Place, Public Memory
ENG 4934 (Senior Seminar): The Rise of the Posthuman, 1975-1985
Fall 2017
AML 5027 (Graduate Seminar): Realism and Radicalism: The Critique of Money, Labor, and Power in American Fiction, 1861-1940
LIT 4304: The Old, Weird America and the Literary Expression of Popular Performance
Spring 2017
ENG 4932: D-Y-S-T-O-P-I-A
IFS 2023: Bob Dylan
Fall 2016
AML 5017 (Graduate Course): Writing the Revolution and the Early Republic: American Literature, 1770-1823
ENG 5079 (Graduate Course): Issues in Literary and Cultural Studies
Summer 2016
ENG 3014: True Theorist
Fall 2015
AML 4111: 19th-Century American Bestsellers
AML 4213: Early American Poetry and Song
Summer 2015
ENG 4934: Midnight Movies
Spring 2015
AML 5017 (Graduate Seminar): Melville's Sea Tales
ENL 4934 (Senior Seminar): Blake, Dickinson, Whitman (in the Age of Digital Archives)
Fall 2014
AML 4111: The "Great American Novel" of the 19th Century
ENG 3014: Alice in Theoryland (An Introduction to Critical Theory)
Spring 2014
AML 5017 (Graduate Seminar): Affect Theory and Antebellum American Literature
ENL 4934 (Senior Seminar): American Fantastic Literature: Terror and the Uncanny from Brockden Brown to Lovecraft
Fall 2013
AML 4213: The Age of Feeling: 18th-Century American Literature and the Politics of Enlightenment
AML 3311: The US Literary Revolution of 1850-1855