Associate Professor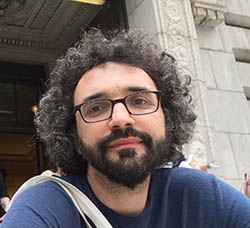 WMS 324
Early American literature, 18th- and 19th-century US literature, American studies, critical theory and philosophy, literature and politics
JOHN MAC KILGORE, Associate Professor, Ph.D. University of California, Davis (2012), is a scholar and teacher of American literature and culture, especially of the early national period and the nineteenth century.
Professor Kilgore's research broadly looks at literature's engagement with political dissent: protests, revolutions, insurrections, liberation and reform movements. His first book, Mania for Freedom: American Literatures of Enthusiasm from the Revolution to the Civil War (2016), uncovers a tradition of "literary enthusiasm" in the early national period linked to a politics of emancipation and rites of democratic dissent, from the "mob" insurgency of the American Revolution to insurrectionary slaves in the black Atlantic to indigenous resistance to US expansionism in the War of 1812. Analyzing authors such as Phillis Wheatley, Mercy Otis Warren, Nathaniel Hawthorne, William Apess, Harriet Beecher Stowe, Martin Delany, and Walt Whitman, Professor Kilgore shows how literatures of enthusiasm transform aesthetic labor into a species or inciter of popular revival and revolt.
While Professor Kilgore teaches an array of courses, both in and outside his primary field of research, his recurring—and most popular—course offerings include "Old Florida: Literature, Place, Public Memory," a survey of early Florida literature put in conversation with sites of public memory—museums, monuments, memorials, and other heritage sites—in and around Tallahassee; "The Old, Weird America: Early American Performance and the Literary Expression of Popular Culture," a study of the aesthetics of popular theater, music, and other performance genres in the early United States from spirituals to burlesque, circus to jazz; "Blake, Dickinson, Whitman (in the Age of Digital Archives)," a critical reevaluation of three major Romantic poets read through electronic scholarly editions and digital archives; and "Bob Dylan," a course on the literary expression of Bob Dylan's music in cultural and historical context.
PUBLICATIONS
"John Lithgow's Real Utopia and the Anti-Capitalist Romance of the Early Republic," Early American Literature 54.1 (2019): 97-133.
Mania for Freedom: American Literatures of Enthusiasm from the Revolution to the Civil War (UNC Press, 2016). http://uncpress.unc.edu/books/13602.html
"Nat Turner and the Work of Enthusiasm," PMLA 130.5 (2015): 1347-62.
"Rites of Dissent: Literatures of Enthusiasm and the American Revolution," Early American Literature 48.2 (2013): 367-398.
"The Free State of Whitman: Enthusiasm and Dismemberment in the 1860 Leaves of Grass," ESQ: A Journal of the American Renaissance 58.4 (2012): 529-565.
"The Cakewalk of Capital in Charles Chesnutt's The Marrow of Tradition," American Literature 84.1 (2012): 61-87.
"Deterritorialization," Understanding Deleuze, Understanding Modernism. Eds. Paul Ardoin, S. E. Gontarski, and Laci Mattison. New York: Bloomsbury, 2014. 416-418.
PAST COURSES
Spring 2019
AML 5017 (Grad Course): Blake, Dickinson, Whitman (In the Age of Digital Archives)
AML 4213: Old Florida: Literature, Place, Public Memory
Fall 2018
ENG 4934 (Senior Seminar): The Old, Weird America: Early American Performance and the Literary Expression of Popular Culture
IFS 2023: Bob Dylan
Spring 2018
AML 4213: Old Florida: Literature, Place, Public Memory
ENG 4934 (Senior Seminar): The Rise of the Posthuman, 1975-1985
Fall 2017
AML 5027 (Graduate Seminar): Realism and Radicalism: The Critique of Money, Labor, and Power in American Fiction, 1861-1940
LIT 4304: The Old, Weird America and the Literary Expression of Popular Performance
Spring 2017
ENG 4932: D-Y-S-T-O-P-I-A
IFS 2023: Bob Dylan
Fall 2016
AML 5017 (Graduate Course): Writing the Revolution and the Early Republic: American Literature, 1770-1823
ENG 5079 (Graduate Course): Issues in Literary and Cultural Studies
Summer 2016
ENG 3014: True Theorist
Fall 2015
AML 4111: 19th-Century American Bestsellers
AML 4213: Early American Poetry and Song
Summer 2015
ENG 4934: Midnight Movies
Spring 2015
AML 5017 (Graduate Seminar): Melville's Sea Tales
ENL 4934 (Senior Seminar): Blake, Dickinson, Whitman (in the Age of Digital Archives)
Fall 2014
AML 4111: The "Great American Novel" of the 19th Century
ENG 3014: Alice in Theoryland (An Introduction to Critical Theory)
Spring 2014
AML 5017 (Graduate Seminar): Affect Theory and Antebellum American Literature
ENL 4934 (Senior Seminar): American Fantastic Literature: Terror and the Uncanny from Brockden Brown to Lovecraft
Fall 2013
AML 4213: The Age of Feeling: 18th-Century American Literature and the Politics of Enlightenment
AML 3311: The US Literary Revolution of 1850-1855