Associate Professor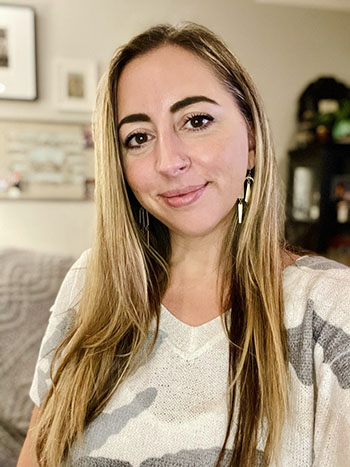 WMS 441
Film theory and criticism; comparative literature; 19th-century literature and culture, with specialization in French; modernity studies; feminist/gender/sexuality studies; Hitchcock studies; adaptation theory
CHRISTINA PARKER-FLYNN, Associate Professor of Film & Literature, Ph.D. Emory University (Comparative Literature), B.A. Hamilton College (English & French).
Her recently published book, Artificial Generation: Photogenic French Literature and the Prehistory of Cinematic Modernity, investigates the intersection of film theory and nineteenth-century literature, arguing that the depth of amalgamation that occurred within literary representation during this era aims to replicate an illusion of life and its sensations, in ways directly related to broader transitions into our modern cinematic age. The book takes a comparative approach in connecting complexly heterogeneous, representational modes, tracing a photo-genealogy of the critical cinematic obsession with female automatons, animated statues, excavated mummies, and dancing bodies to a constellation of the affective forms of French literary modernity post-1830. This particularly artificial generation of writers, including Thèophile Gautier, Auguste Villiers de l'Isle-Adam, and Oscar Wilde, prepared the conceptual ground for the emergence of film on a psycho-cinematic level. A key part of this evolution in representation relies on the continual re-emergence of the artificial woman as longstanding expression of masculine artistic subjectivity, which, by the later nineteenth century, becomes a photographic and filmic drive.
Moving through the beginning of film history, from Georges Méliès and other "silent" filmmakers in the 1890s, into more contemporary movies, including Alfred Hitchcock's Vertigo (1958) and Blade Runner 2049 (2017), the book analyzes how films are often structured around the prior century's mythic and literary principles, which now serve as foundation for film as medium—a phantom form for life's re-presentation. Artificial Generation provides a crucial reassessment of the longstanding, mutual exchange between cinematic and literary reproduction, offering an innovative perspective on the proto-cinematic imperative of simulation within nineteenth-century literary symbolism.
BOOKS
Artificial Generation: Photogenic French Literature and the Prehistory of Cinematic Modernity. Rutgers University Press, 2021.
Palimpsestuous Cinema: Film, Adaptation, and the Work of Thomas de Quincey. (in progress)
SELECTED ARTICLES, ESSAYS, & REVIEWS
"Glean cinematic insight and inspiration from Varda by Agnès" (Film Review). Tallahassee Democrat, Feb 20, 2020.
https://www.tallahassee.com/story/entertainment/2020/02/20/glean-cinematic-insight-and-inspiration-varda-agnes/4797158002/
The Cinema, or the Egg: The Fowl Aesthetics of Alfred Hitchcock's Film Form." Quarterly Review of Film and Video (QRFV), Volume 35, Issue 5, 2018. Online at: https://www.tandfonline.com/doi/full/10.1080/10509208.2018.1460999
"To Be Felt: Examining Textility in Spike Jonze's Her." Mise-en-scène: The Journal of Film & Visual Narration, Issue 3.1, Spring 2018. https://journals.sfu.ca/msq/msq/index.php/msq/article/view/89/pdf
"Miss Representation: The Femme Fatale and the Villainy of Performance in Neo-Victorian Hollywood," Neo-Victorian Villains: Adaptations and Transformations in Popular Culture. Ed. Benjamin Poore. New York: Rodopi, 2017.
"Joe and the 'Real' Girls: Blade Runner 2049." Gender Forum, Issue 66, Winter 2017.
SELECT PRESENTATIONS
"Adaptation as Migration: Avian Evolution in Literature and Film, 1798-2019." NeMLA Annual Conference, March 2020.
"Sighs from the Deep: Remaking as Respiring with de Quincey, Argento, and Guadagnino." Literature/Film Association Annual Conference, September 2019
"Why Study Classical Hollywood Films Today." Roundtable panelist, Society for Cinema & Media Studies (SCMS) Annual Conference, March 2019.
"Seeing & Nothingness: Doing Film Theory with Hemingway's The Killers." XVIII International Hemingway Conference: Hemingway in Paris, July 2018.
"Invented from Whole Cloth: Spike Jonze's Tactile Storytelling and Future Fabrication." Society for Cinema & Media Studies (SCMS) Annual Conference, March 2018.
"In Good Taste: Aesthetics, Adaptation, and Human Consumption in Hitchcock's Rope." SAMLA Annual Conference, November 2017.
"Under the Skin, After the Gaze: from Agnès Varda to Jonathan Glazer." Literature/Film Association Annual Conference, October 2015.
COURSES
SPRING 2022
ENG 5138: Cinematic Species: Mythology, Modernity, and Filmic Re-production
ENG 3114: Film Adaptation
FALL 2021
ENG 5998: Film Club (graduate)
ENG 4115: Film Theory, Hitchcock: Allegories for Seeing (Cinematically)
AWARDS
Committee on Faculty Research Support (COFRS) Grant, Florida State University, 2019: Palimpsestuous Cinema: Film, Adaptation, and the Work of Thomas de Quincey
First-Year Assistant Professor Research Grant, Florida State University, 2015: Postmodern/Postmortem Film: The Endless Afterlife of Form & Genre in American Meta-Cinema.
UCLA William Andrews Clark Memorial Library Center for Seventeenth- and Eighteenth-Century Studies Fellowship for Postdoctoral Research, 2011.
Andrew W. Mellon Foundation Dissertation Seminar Fellowship: "Critical Engagement, Community and the Subjects of Art History," 2008.