Article and photo by Marisa Anderson
Audrey Wheeler is determined to uncover the untold life of Caroline Crane Marsh a 19th-century American poet, author, and women's rights activist.
Wheeler, a sophomore at FSU and IDEA Grant recipient, spent the summer of 2016 at the University of Vermont and Florence, Italy exploring the letters, diaries, and other writings Marsh left behind for her project Caroline Crane Marsh: An American's Account from 1860's Italy.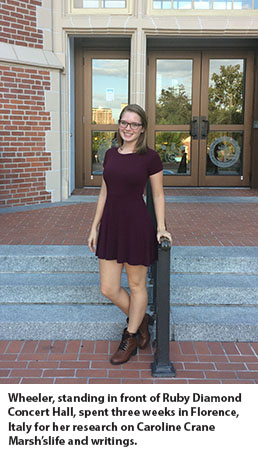 Wheeler first heard about Marsh from her Undergraduate Research Opportunity Program (UROP) professor, Irene Zanini-Cordi, who knew about Marsh through a colleague in Italy.
Zanini-Cordi, an associate professor in the Department of Modern Languages and Linguistics, had no direct knowledge of Marsh because her research deals primarily with Italian salons and social networks, but she was intrigued by the prominent American figure in Italy and relayed her ideas to Wheeler.
Wheeler then did some preliminary research on Marsh and decided she was the perfect topic for her research.
Marsh's husband, George Perkins Marsh (1801-1882), has many works published on him for his impressive work in law and government. In 1861, President Lincoln appointed Marsh to be the first American ambassador to Italy. During this time, Italy struggled with political turmoil and power conflicts as it transitioned into a unified nation. As ambassador, Marsh litigated and alleviated tensions and served as a mentor for the unifying nation. He is also known as America's first environmentalist to argue for preservation. Caroline (1816-1901), though, has never been published and much of her life is still a mystery.
With a newfound mission to uncover Marsh's untold story, Wheeler spent 10 days at UVM, where there is an entire section and building named after Marsh's husband, since he was born in Woodstock and practiced most of his law in Burlington. But unsurprisingly, they only had a small spot of diaries and letters written by Caroline in two boxes.
"She has all these writings and catalogues of all their travel, but then basically nothing has ever been written about her," Wheeler says. "She kept meticulous records in her diaries and letters and you can see a difference when she is writing a letter to an upper-class male versus writing to her sister or say another female who may be a neighbor or just another relative."
Wheeler sifted through the two boxes that and initially found the process disconcerting.
"Going through it was a little frustrating, because everything else was catalogued and nicely organized, but then everything that was related to her was just jumbled," she says. "It was nice to go through and start working to bring her name out, and at the same time, it was just upsetting, because she's such an amazing woman and it was just tossed in there."
Wheeler took photos of the diaries and letters to transcribe and read for her research. After her 10 days at UVM, she traveled to Florence to continue her research for three weeks at the National Central Library of Florence, which is the largest library in Italy. Many works and letters from the Marshes' time in Italy are kept there.
Wheeler would check out one letter at a time and type it up as fast as she could before she had to turn it back in to the librarian.
It was often difficult for Wheeler to decipher what was important to record and what was not. Although many of the letters were written in Italian, which she speaks, many of them were also written in French, which she does not speak.
With much work and dedication, Wheeler organized her research and presented it at the President's Showcase in front of her friends and family, an accomplishment she takes pride in.
"It was definitely an experience and it was an honor to present and represent FSU in that way," she says.
Geoff Bouvier, college life coach in the Advising First Department at FSU, made an impact on Wheeler's passion for uncovering silenced voices when she took his English composition class last spring. Bouvier says he appreciates Wheeler's goal of "bringing an underrepresented woman's voice into our awareness, and with a cultural aspect to boot."
"Audrey is a fine writer, a subtle thinker, and a hard worker," says Bouvier, who earned his PhD in creative writing at FSU in 2016. "She's also fearless and willing to speak out for what she feels is right, even if her ideas go against prevailing ones."
Wheeler has made an impression on him, as well, during her time in his class.
"Nothing Audrey accomplishes would surprise me, as I consider her among the very finest students I've ever had, in over 20 years of teaching," he says.
Although Wheeler is just a sophomore, she has utilized FSU's scholarships and research grants to her benefit. She not only received the IDEA Grant, but she is also part of the Presidential Scholars Program, a highly competitive premier merit scholarship for undergraduate students. This solidified her decision to attend FSU and exposed her to UROP early on in her college career.
Initially an English education major, Wheeler soon switched over to English with a concentration in editing, writing, and media. She added political science as a second major to feed her curiosity of constitutional law and human rights. She then decided to minor in Italian when she began work during her first month at FSU as a research assistant for Zanini-Cordi; they both had scholarly interests dealing with Italian language.
Wheeler and Zanini-Cordi have blossomed a professional and personal relationship during their time with UROP and as Wheeler worked on her IDEA project.
"I really appreciate how intellectually curious she is, perceptive, and that she's an extremely hard worker, too," Zanini-Cordi says. "It's been a really good collaboration, because I've learned a lot from her and I think she had great opportunities too out of this exchange."
Zanini-Cordi specifically pointed to when Wheeler initiated an email exchange with a University of London professor who published a few articles on Marsh, to get tips on how to approach her research.
"I thought that was very entrepreneurial for a first-year student to just go directly to the source," Zanini-Cordi says.
Wheeler's research on Marsh will be the foundation for her Honors in the Major Thesis on gender roles constructed in the media. She also plans to transcribe and publish as many pages of Marsh's diaries and letters possible.
Wheeler and Zanini-Cordi will also attempt to transcribe what they believe to be an original short story written by Marsh about an Italian peasant's life and publish it in the Journal of Italian Translation. They will transcribe the short story into Italian and write a short biography about Marsh in English to preface the work.
Wheeler hopes to continue her research into her masters and land a job as a political correspondent for a major news source.
"If there's a way I can find to combine the two, which is my ultimate hope, then that's where I would lean towards," she says. "If it comes to a point where I have to make more of a decision, I might have to flip a coin, because I love both of them."
Wheeler's enthusiastic attitude and curious mind continues to feed her passion to share Marsh's story.
"It's very nice to have the opportunity now to bring her work into the light and be able to have her contributions to history be made public," she says.
Wheeler most certainly utilized FSU's research opportunities to grow and learn and is one to watch as she continues her college career.
Marisa Anderson is a senior majoring in English with a concentration in editing, writing, and media.
title-inside title-centered
2