Zoom hangouts offer chance for students to meet new people, build connections amid a pandemic
---
Zoom hangouts offer chance for students to meet new people, build connections amid a pandemic
By Sara Sanfilippo
Starting graduate school, especially as a first-year student during the current pandemic, can seem daunting. Finding ways to meet people and build relationships with your peers has become more difficult due to social distancing guidelines.
When Laura Biagi, a Florida State University doctoral student in English-Creative Writing, became the event coordinator for the Graduate English Student Organization (GESO) she began brainstorming some ways for her and her fellow graduate students to meet socially but safely.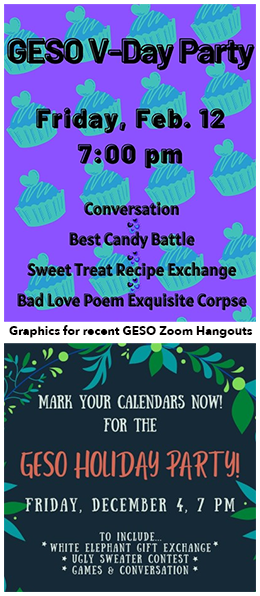 "I wanted to get to know people within the community and my program and foster new connections with other graduate students in the [English] department," Biagi explains. "I figured other people felt similarly."
She came up with the idea to host regular Zoom get-togethers where graduate students from all of the English department programs can meet and talk about their classes, ask for advice from their peers, and just talk about anything they want.
The Zoom hangouts consist of fun and interactive games that allow the participants to get to know each other better.
"Each Zoom hangout differs in how many people attend and what kind of activities we do," Biagi says. "Some are very planned out but others are more casual."
In addition to hosting English department-wide Zoom hangouts, Biagi coordinates Zoom hangouts for each concentration, including Creative Writing, Literature, Media, and Culture, and Rhetoric and Composition. These events typically happen once or twice a month, and attendance varies from a large group to a few students.
"Regardless of the number, it is always a good time," Biagi says.
Biagi co-hosted the previous event on Feb. 5 with fellow creative writing doctoral student Diamond Forde. The two of them put together a Valentine's Day-themed evening. Forde created a Mad-Libs type game using bad pickup lines, and Biagi put together a quiz featuring candy trivia.
The follow-up hangout on Feb. 12 is GESO's "V-Day Party." Students who attend, Biagi says, "can share favorite sweet treat recipes, plus join in on good company and conversation, games, best candy debating, and bad love poem exquisite corpse."
Biagi and GESO will continue to host these monthly get-togethers to connect graduate students among different English department concentrations and find new ways to have fun while still socially distanced.
Sara Sanfilippo is an English major, on the editing, writing, and media track, with a minor in retail operations.
Follow the English department on Instagram @fsuenglish; on Facebook facebook.com/fsuenglishdepartment/; and Twitter, @fsu_englishdept