Zoe Zirlin: The Big Lie(s): A Quantitative Analysis of the Visual Imagery Employed to Propagandize Nazism
---
Zoe Zirlin: The Big Lie(s): A Quantitative Analysis of the Visual Imagery Employed to Propagandize Nazism
By Claudia Craig
Florida State University undergraduate Zoe Zirlin is a senior advertising major, with a minor in English and a certification in SAS Programming and Data Analysis. In the spring of 2019, the Center for Undergraduate Research and Academic Engagement awarded Zirlin an IDEA Grant, specifically the Scott and Ina McNichols Undergraduate Research Award.
That funding helped her research into Nazi propaganda in the 1930s, and Zirlin presented her project, "The Big Lie(s): A Quantitative Analysis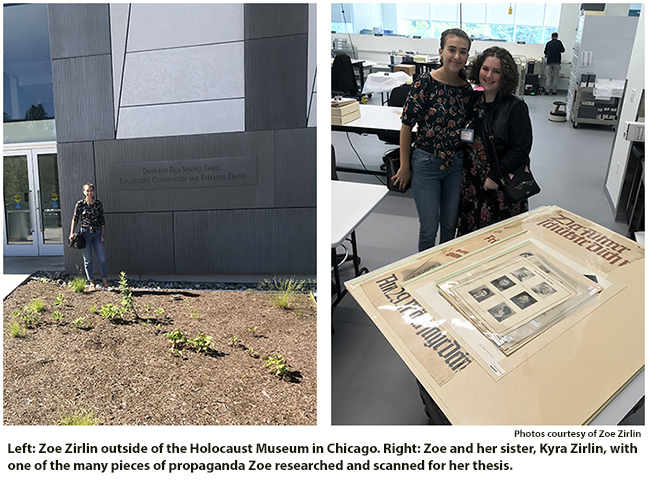 of the Visual Imagery Employed to Propagandize Nazism," at the October 1, 2019 President's Showcase of Undergraduate Research Excellence. The project, she writes in her presentation abstract, is "a content-analysis of the visual imagery in a sample of 72 Nazi Propaganda posters distributed from the years 1933 to 1938, framed through the tropes highlighted by Kenneth Burke in his piece 'The Rhetoric of Hitler's Battle.'"
Zirlin is originally from Chicago, but she decided to attend FSU because of its first-year study abroad program, and she spent that year in Valencia, Spain, and London and traveling Europe.   Zirlin's Honors thesis is a comprehensive look at the propaganda of the Third Reich in Nazi Germany. She presented her topic to an audience of students, professors, family members, and friends at the Turnbull Conference Center.
"Daily life in Nazi Germany during the rise of Hitler's administration can be better understood by researching the state-sponsored media of the time," Zirlin wrote in her presentation abstract. "By analyzing the messages communicated to citizens of the Third Reich in the years leading up to World War II, we can identify what type of sociopolitical environment incubates fascism and totalitarianism."
She even took the crowd through a mock coding meeting, showing the audience what she and her two content-coders do each week. Although Zirlin primarily focused on the past, her presentation ended by calling attention to genocidal acts that are still happening today.
"Genocides happened before the Holocaust, and they have happened after. Genocides are occurring right now," she told the audience. "If we are unable to identify the factors that incubate totalitarian states and mass murder, then we will be able to eradicate genocides in the future."
Upon graduation from FSU, she plans to attend graduate school so that she can hone her marketing research skills or enter the field of data science and management. After her presentation, Zirlin sat down to discuss the background of the project.
What led you to pursue an Honors thesis as an undergraduate?
I have always loved doing research, so publishing an undergraduate thesis seemed like a natural progression. It was made especially appealing because FSU has such an accessible, intellectual, and supportive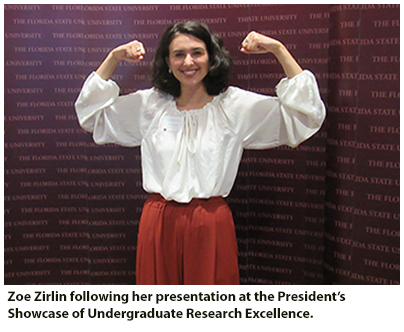 approach to undergraduate research. I think that everyone should consider pursuing research during their undergraduate years.
Can you tell us a little bit about why you chose the topic that you did?
I chose to research Nazi propaganda because, as an advertising major, I find it fascinating how political media can sway the public. I think that it is an especially important topic in today's political climate, as the use of social media as a place to canvas visual images was influential in the 2016 presidential election. I chose to study World War II-era propaganda because I consider it a responsibility to further Holocaust research. Eleven million people perished in the Holocaust, and studying the propaganda that distanced German citizens from their Jewish neighbors gives us a more in-depth insight into how the genocide was able to occur.
How did winning the IDEA Grant help the research that went into your Honors thesis?
With the help of funds from the Scott and Ina McNichols' IDEA Grant, I was able to travel to the National Holocaust Archives in Washington, D.C., to photograph a sample of Nazi propaganda posters for my undergraduate honors thesis. The ability to collect first-hand research in our nation's capital and present at this prestigious event is an incredible way to capstone my four years here at Florida State University.
What have you learned throughout the process of completing your Honors thesis?
I have learned that keeping yourself accountable is paramount to success. When you are spearheading your own multi-year project, setting timelines and staying communicative with people involved in the thesis is super important. I feel as though this new sense of organization has helped me in all of my classes and internships.
What would you tell other students looking to step out of their comfort zone in academia?
College is the best time for you to step out of your comfort zone. There are hundreds of opportunities for you to get involved in anything you find interesting. One of the vast benefits of attending a large school is the multitude of ways to delve deeper into what interests you. Additionally, professors here would love to hear about your research ideas and support your educational journey.
How has FSU influenced your academic journey?
Florida State is such a great place to find yourself and figure out what you want to do in the future. It really is a 'you get out what you put in' situation here. If you chase every opportunity that you can, you will feel more than satisfied with your college experience.
Claudia Craig is a senior studying editing, writing and media with minors in communication and biological science.