This is your chicken: FSU alumna owns Late Night
---
This is your chicken: FSU alumna owns Late Night
By Megan Kirkham
One Florida State University alumna unexpectedly had a personal essay go viral. Not two months later, both she and the essay were featured on Late Night with Seth Meyers, where she discussed the attention she has received since it was published.
Based off the overwhelmingly enthusiastic and supportive responses her friends posted on Instagram, she stole the show.
CJ Hauser graduated from FSU in 2016 with her doctorate in creative writing. Since then, she has taken her talents to New York where she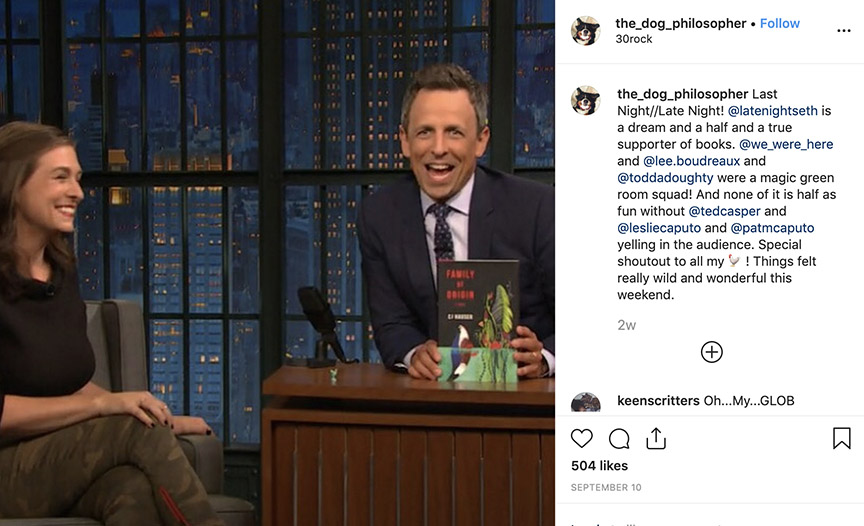 teaches both creative writing and literature at Colgate University. This brings her back to her home area since she grew up in Redding, Connecticut, and earned her Master of Fine Arts from Brooklyn College.
One of Hauser's most recent personal essays, "The Crane Wife," was published July 16, 2019, in The Paris Review. The essay is centered on a scientific expedition that Hauser participated in to study the whooping crane, an endangered species of bird found off the Gulf Coast of Texas.
However, what was different about this trip is that it took place only 10 days after Hauser had called off her engagement. Originally, Hauser was simply writing about her trip to save the whooping cranes, but she divulged to Meyers that it didn't feel right removing the engagement from the story.
"I realized that I was leaving out the part where I called off a wedding a week or two before, and that it was impossible to write the essay without including it," she said.
The result: an honest, introspective, and inspired case study on the human condition and the dynamics of relationships.
The essay caught the attention late-night show host Seth Meyers, who invited Hauser to be on his show where they discussed another one of her recent works—a novel titled Family of Origin. The five minute and five second segment aired September 9, 2019. Hauser was relatable and funny, just like her writing.
During the interview, Hauser talked about why she wrote about her time in Texas, and more importantly, why it took her so long to do so.
"I didn't write about the trip until a couple of years afterwards because I needed to figure out why it was still in my head and why it meant so much to me," Hauser told Meyers. "I can imagine people thinking that everything is getting worse, generationally it's getting worse, every day it's getting worse, and I wanted to think about what sort of people, I don't know, feel that way.
"How do you get that low? And I was getting that low and I sort of wanted to call myself on thinking everything was garbage— to find a better answer."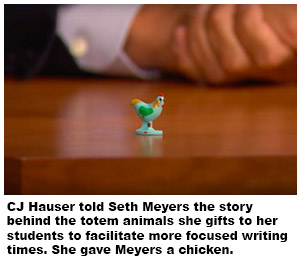 The optimism expressed in her writing was also apparent in her talk with Meyers, and like any good guest, she brought a gift for her host: a small plastic chicken. The giving of small totems is a practice she incorporates into her teaching in order to ensure her students are taking advantage of the little time that they do have to write.
Hauser explained to Meyers that for the majority of writers, herself included, the writing process takes place in liminal work spaces: a coffee shop, a local bodega, or a rare open table at Strozier.
Whenever that totem is placed on a table, it is turned into a writer's desk, even if only temporarily. Finding the time to write takes work, and the small plastic chicken is a guardian of that time, which was parting wisdom she left with Meyers.
Hauser has obviously has found time for her own writing. She has published two novels and her short stories and personal essays have appeared in many publications. With one television appearance now on her resume, perhaps a future publication will bring her more.
Megan Kirkham is a senior who is majoring in English, with a concentration in editing, writing, and media, with a minor in interdisciplinary humanities.