Yolanda Franklin's Blood Vinyls Now Available for Pre-order
---
Yolanda Franklin's Blood Vinyls Now Available for Pre-order

Yolanda Franklin's new book of poetry Blood Vinyls (July 2018) is available for pre-order through Anhinga Press.
The collection is a large reflection of her childhood, and she bases many of the ideas in her work around family roots and music. Born and raised in Tallahassee,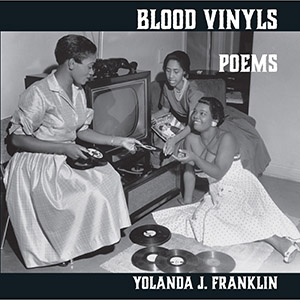 Franklin earned both her undergraduate degree and a Ph.D. in English from Florida State University. She grew up on 40 acres of national forest land, surrounded by her extended family.
She has a musical father who was a game warden and played with artists such as Little Richard and BB King, which not only influenced her nature, but her writing as well.
"I say that I am a musician as my father's daughter because that's what comes up in my poetry, that influence from my family life," she said. "I was a tomboy who loves music."
The 2016-17 academic year was a fortunate one for Franklin. Sometimes an award comes to a person just when they need the prize the most. For her, the timing was spot on for winning a McKnight Dissertation Fellowship.
The fellowship is open to Ph.D. students at nine participating Florida universities, and the organization's goal with the award is to help African-American and Hispanic students with costs associated with earning their advanced degrees.
She initially missed the application deadline for the full fellowship. When Graduate School Assistant Dean Adrienne Stephenson, who also is the director of the Office of Graduate Fellowships and Awards, notified her that the McKnight award was still a possibility, Franklin quickly pulled together the necessary materials, including letters of recommendation from her program committee heads, Professors David Kirby and Maxine Montgomery. She says this was the most excited she has ever been filling out an application, and those positive feelings paid off.
"I thought, 'yes, thank you, Jesus! This time, I won something,'" says Franklin, who was working on her doctorate in poetry. "I work really hard at applying for awards, and I am always hopeful. I really needed this award."
Franklin is a single parent to two college-aged students, and the $12,000 award helped offset some of her family financial obligations.
"The phone call to inform me that I won came first and the email came almost simultaneously," Franklin says. "I wanted to bake for the person. I wanted to ask, 'What do you want me to bake? Can I bring you something?' It's often the way I was raised to show love: to bake something."
In addition to living costs, the money took care of some lingering financial responsibilities Franklin had due to a recent medical issue. Franklin suffered a stroke two years ago, but doctors had no explanation for why it happened. She is now working on a memoir to interrogate this time in her life, which she focused on while taking an independent study in creative nonfiction with FSU English Assistant Professor Ravi Howard.
After the incident occurred, she slowly recovered to full strength, going through the process of "the rewiring and the readapting of my personality." Franklin credits Cocoa Williams, who also earned a Ph.D. in the English department, with helping her focus and generally taking care of her as she dealt with the side effects from the stroke.
"Cocoa is a huge inspiration in my life…I don't know how she deals with me half the time, especially with what I call my 'new brain,'" Franklin says. "She is a godsend – she walked me to class every day when I had double vision."
Franklin was able to get back on track for her Ph.D. studies, and she used majority of her fellowship funds on a couple of research-oriented trips. One of the visits was the National Museum of African American History and Culture in Washington, D.C., where she examined newly released census reports of the slave trade.
In addition, she traveled to New York City to attend poetry readings of authors who influence her work, including Rita Dove and Claudia Rankine. The Q&A sessions, Franklin says, greatly enhanced the research for Blood Vinyls.
The title of her upcoming book ties directly to two of Franklin's interests: family roots and music.
Franklin is a fourth-generation Floridian, and she says that growing up in the South is the backbone to her writing.
"I know about the outdoors in this area, and what it means to live off the land," she says. In fact, her Twitter account is @FloridaGRITS, or "girl raised in the South."
When Franklin talks about her extended family, it is clear that she appreciates the importance of her relatives and the richness they bring into her life. She still has a living great-grandmother, and she can remember all of her great-grandparents. "My people all live into their late 90s," she says.
Her mother was one of the first women to graduate from FSU's College for Women after the campus was desegregated. Franklin takes a strong approach to her education, and she is not afraid to confront Southern stereotypes  
"As a Southern girl, I do push back against gender norms, the expectations of what it means to be a woman and what it means to be feminine, which follows more toward traditions of womanism, similar to Alice Walker," Franklin says.
Walker is included in her list of favorite authors, which is filled with writers who have Southern connections, such as Natasha Trethewey, or authors from the South who appreciate the migration from the South to the North, such as Toni Morrison and Gloria Naylor.
In addition to her colleague Williams, Franklin says she relied on her committee members Kirby and Montgomery for guidance through the Ph.D. program. Her appreciation for Kirby even goes to a more emotional level.
"It's like he and I were born to be together," Franklin says, with a laugh. "I tell his wife, Barbara Hamby, that all the time. I love them. His love for music and the way he remembers it is very much like my father did."
Her Ph.D. degree from FSU complements the undergraduate degree in education she earned at the school. Following that graduation, Franklin taught English in middle and high school, and became a nationally board certified teacher of English as well as a reading specialist.
Once she picked up her creative writing again, she earned her Master of Fine Arts at Lesley University in Cambridge. She appreciates the route she took throughout her educational and personal life, dealing with the struggles she has encountered along the way.
"I think it is interesting that I am from Tallahassee, I was a student at Florida High, which was FSU's high school, and I attended FSU as undergrad," she says. "And I came full circle by returning to FSU for my Ph.D.
"Winning the McKnight award afforded me a financial and an extra academic support group that eased my path to completing that goal."