Virgil Suárez delivered powerful reading of poetry at FSU Libraries' 2019 Immigration Symposium
---
Virgil Suárez delivered powerful reading of poetry at FSU Libraries' 2019 Immigration Symposium
By Emily Voytecek
Standing in front of the crowd for the 2019 Immigration Symposium, Virgil Suárez wore a black T-shirt bearing the words "Poetry Out Loud" in bold yellow and red letters.
That message was appropriate, as the Florida State University English professor read three poems–with enthusiasm–during his talk, "The Nature of My Personal Immigrant Poetry."
Suárez's late-morning presentation on November 7 in Strozier Library touched on a number of topics, including the current immigration situation at the U.S. border and the need for accountability in a number of U.S. federal
policies. He also discussed his personal history with immigration, having come to the U.S. from Spain in 1974.
Suárez was born in 1962 in Havana, Cuba, and he and his family lived in Spain from 1970 to 1974. Much of his poetry is inspired by his personal immigration history and "the immigration of lots of people in my country," Suárez says, "so it's kind of a record how they settled,"
Many common themes of his poetry include "leaving the country of your birth and coming to the United States, trying to set up and establish communities in the United States, maintaining families, maintaining language, and maintaining a sense of who you are and who you come from."
FSU Libraries hosts regular symposiums, and the Civil Rights Institute and the College of Social Sciences & Public Policy sponsored this event, held in Strozier Library's Bradley Reading Room.
"Different presenters will look at the topic of immigration from the perspective of their particular disciplines…to allow for numerous presentations and perspectives, as well as dialog and conversation," read Renaine Julian's press release. The symposium included 10 presentations from multiple FSU departments, including history, modern languages and linguistics, sociology, and criminology and criminal justice. Representatives from FSU's law school, the Center for Leadership and Social Change, and university counsel also spoke at the day-long event.
Suárez, who has been at FSU since 1993, felt the variety of viewpoints helped keep the symposium well-rounded.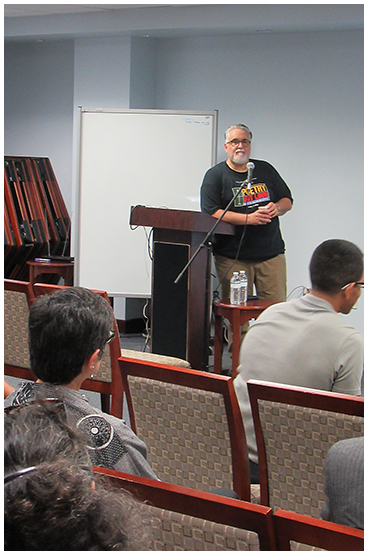 "Bringing both historians and lawyers and people to talk about the situation, that's why I mentioned [in my talk] things like the children, and the family breaking up, family separation at the border, because most academics tend to stay at a general level … these are tough times for immigration to this country," he says.
Suárez read multiple poems on those topics to an engaged crowd of about 40 people. Two poems were from his 2005 collection 90 miles: selected and new poems. "Clotheslines" and "Bitterness" are inspired from memories of his childhood, the former being set in Havana and the latter one in Spain. His third poem, "To the Florida Legislature with Seditious Intentions," focuses on present-day events.
When writing poetry, Suárez makes sure to think critically and actively, as opposed to taking things at face value. Suárez invokes political themes in most of his work, using his poetry "as a springboard" to talk about political issues.
One of the messages Suárez tries through his work is to "get people to understand the nature, not only of the history of the place… but get to the places where they can again affect change."
Suárez was excited to share his messages and political activism at the symposium.
"This was a good start, talking about some of these key issues, that I think students know about and students are interested in," he says. "The world is going to have to be fought for by young people and inherited by young people."
Suárez has been working on a new poetry collection, The Painted Bunting's Last Molt. That publication was part of his inspiration for the talk, as he carefully selected works to read. The poems, he says, needed to relate to the general message he wanted to send, but also "I want to give an audience kind of a range of possibilities in terms of my work, some early work and some later work."
The Painted Bunting's Last Molt will be released by the University of Pittsburgh Press in March 2020.
Emily Voytecek is a junior majoring in English on the editing, writing, and media track, with a minor in information technology.