University Honors Program—Gabrielle Donofrio
---
University Honors Program—Gabrielle Donofrio
Gabrielle Donofrio was one of the 228 Florida State University 2020 graduates who finished their college career with the distinction of earning a University Honors Program medallion. More information about the requirements for completing the University Honors Program can be found here.
Read on for more about Donofrio and her achievement.
Major
English, Editing, Writing, and Media with a second major in criminology
Hometown
New Orleans
What was the inspiration behind you pursuing the Honors Program designation?
I applied to the Honors Program just after applying to FSU in general. I wanted to use all of the advantages that are provided at a big state school, and I liked the challenge of working for the distinction. Other than that, the smaller class sizes and promise of a similarly motivated community drew me to the program.
Could you explain/summarize the requirements for the designation? How does a student earn the points?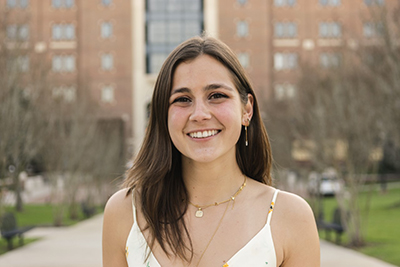 Basically, the system is set up so that Honors students fulfill various requirements over the years that each add to the points that they need to meet the 18. For example, ENC2135, which I took as my first honors class was a 3-credit hour class and thus worth 3 honors points. You can either take the predetermined honors classes, or "honors augment" a regular class to get the points. Over the four years, there are more than enough opportunities to meet the point minimum.
Did you work with a faculty advisor during the time you were working on the Honors designation or was this something you did on your own?
The Honors Program provides a number of resources for the students in the program, including a handful of academic advisors. I was assigned to Mr. Jeff Badger, associate director of the Honors Program, and I made a point to either visit his office or email him questions at least once a semester to make sure that I was on the right track. I'm a big advocate of using your advisors and professors even if you feel wholly confident.
Did you have to find ways to stay on top of the requirements or was it pretty easy to follow through?
As I said above, I checked in fairly consistently to make sure that I was on par in a given semester. I never felt unmotivated to keep up with the program because I could accomplish the requirements while still getting my regular classes done. It was also helpful that the other activities that I did for points like the Undergraduate Research Opportunities Program (UROP) and community service were great résumé-builders. The Honors Program is meant to boost every student and help them get a leg up on the post-graduate world.
What did you enjoy most about working on the Honors requirement? Did you have any downsides or struggles you would like to discuss?
I enjoyed my time living in Landis Hall my freshman year; that experience gave me most of my longstanding college friendships, and the quick trip to Suwannee was ideal. But beyond that, being a part of the program allowed me to dive into classes that I wouldn't otherwise have, such as Genetics in Society or Women in Literature. Being in the Honors Program also assures somewhat smaller class sizes, allowing students to more easily have a rapport with professors and likely their classmates as well. Sometimes it felt overwhelming with extra essays and projects that come with an Honors class or going out to find some opportunities for community service, but I had other students in the same boat as me. Working together on service projects or going to Strozier Library together to knock out our essays made it seem not quite so daunting.
What advice would you give to any English students who want to earn this honor?
The best advice I think I can give to students interested in completing the Honors program would be to use the resources. Advisors, check-lists, and your peers in the program are all indispensable. The follow-through is harder than you think but taking advantage of all of the assets to the program makes it so worth it. The program has a lot of wiggle room and different pathways to completing the requirements. Upon finishing, the distinction can land you some impressive achievements to put on a résumé as well as showing potential employers or graduate programs that you have the resolve to work for some higher goal.
What plans do you have post-graduation?
Thankfully, though I won't be having the European adventure that I'd hoped for, my real post-grad plans weren't disrupted too much by COVID-19. I will be attending Tulane University School of Law in New Orleans on an academic scholarship. I am thrilled that my introduction to law school will not be too far off of the "normal," aka harrowing lectures and readings that will keep me on my toes.