Through her college journalism opportunities, alumna Savannah Tindall found her future path
---
Through her college journalism opportunities, alumna Savannah Tindall found her future path
By Tabitha Labrato
Florida State University alumna Savannah Tindall soon begins a new adventure as a graduate student in Boston—not without leaving her impact at FSU, however, as well as a mark of excellence in the English department.
During her time as a student, Tindall immersed herself in extracurricular activities related to her two majors, English-Editing, Writing, and Media and Public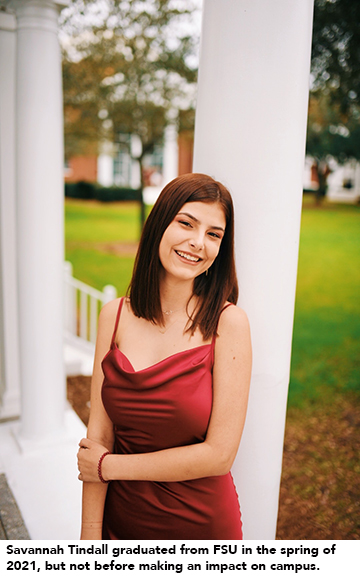 Relations. She moves on from FSU with an appreciation for the study of publishing and advertising.
"I entered FSU lacking confidence in myself as an individual," Tindall says. "I knew I enjoyed writing but was unsure of how it would play a part in my career post-graduation. My experiences here have allowed me to find what makes me feel truly fulfilled and grow as a professional through my involvement.
"I leave FSU feeling satisfied with my collegiate journey and excited to continue my growth."
Tindall participated in many facets of FSU's journalism community. She was a staff writer and editor for Her Campus, and the editor in chief of two publications, Philia and Strike Magazine, where she also served as writing director. Tindall contributed greatly to two publications during her time studying abroad through FSU's International Programs. She wrote for Nomadic Noles in Valencia, Spain, and for ItaliaNoles in Florence, Italy.
She also was a member of FSU's Advertising Club and vice president of the Society for Collegiate Journalists, a student organization with English department ties.
Now, as Tindall graduates in the spring of 2021 with two bachelor's degrees and several internships—including working for three semesters in the English department and one as a copywriter for her public relations major—she reflects on her achievements and how they have prepared her for her next feat in life: pursuing a master's degree in advertising at Boston University.
Tindall's intern experience with the English department began in January 2020, writing news articles and professor and alumni profiles. In the Fall 2020 and Spring 2021 semesters, Tindall moved into a managing editor position, supervising other interns and coordinating story assignments.
Those responsibilities gave Tindall valuable perspective and experience, she says, which eventually led to feeling much more comfortable in academia.
"This was really beneficial for me going into BU, because I have so much more confidence when asking questions since I have had to interview professors on their years' worth of research as an intern," she says, explaining one aspect of her responsibilities as a writer.
In fact, after her experiences with writing profiles of professors, and being surrounded by scholarly excellence, Tindall has the ultimate goal of being a professor later in life.
"The professors at FSU have made a tremendous impact on who I am as a person," she says. "Without talented professors like Jack Clifford in the English department or Dr. Patrick Merle at the College of Communication, who have treated me like an equal and helped me to grow, I am not sure I would be as academically driven as I am now."
Merle is associate professor in the College of Communication and Information and he worked with Tindall as her instructor in Florence.
"Savannah possesses a high level of self-motivation and drive," he says. "Once she sets her mind on a project, she always manages to accomplish it with success. Ever since I first had her as a student in Florence, I have always appreciated her constant desire to learn more, her ability to grow from constructive criticism, and her insatiable ambition to be involved in fundamental projects."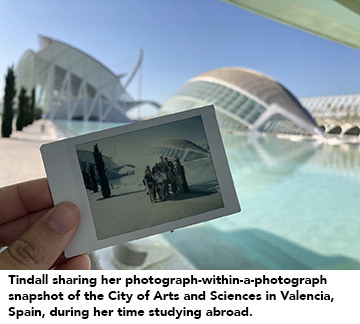 Clifford, the English department's media specialist and Tindall's internship supervisor, commends her commitment to getting the most out of her time in college. He has worked closely with Tindall, especially over the past year because of her intern coordinator position.
"I am not sure where to even begin with my praise for Savannah," says Clifford, who also is one of the co-instructors for the EWM Program in Spain, where Tindall studied abroad in the summer of 2019. "I appreciate her excellence as a student in Valencia, her outstanding work as a representative for the department, and her enthusiastic approach to any endeavor she has worked on with me. Savannah will accomplish whatever she wants to accomplish in graduate school and in life."
Because of her involvement with the English department and the connections she made with her mentors, Tindall says she has a deeper love and understanding for the importance of writing and editing skills in everyday life outside of the classroom.
"I can confidently articulate myself in a world full of emails and social media that requires many writing skills," she says. "Being so involved has presented me with a better sense of self and self-worth and helped me get used to having deadlines when balancing my organizations' work with my coursework."
As she reflects on her time as an English student and how it has prepared her for her next significant step in life—graduate school—she is thankful for how much time she spent becoming involved in multiple student and campus organizations. Despite the stress she experienced along the way, she advises others to do the same.
"Get involved—it can definitely be intimidating to put yourself out there as a student, but everyone that I have interacted with has treated me as an equal and has pushed me to take on more challenges," she says.
Following her April 24 commencement ceremony at the Donald L. Tucker Civic Center, Tindall began her look back on her time as an encouraging leader for English department interns, a role model for the staffers involved in her magazine affiliations, and a hardworking student in her classes. She became a member of the Garnet & Gold Scholar Society in an April 22 virtual ceremony.
Tindall also began looking forward. She recently accepted a graduate assistantship editor in chief of the COMmunicator, Boston University's student-run website for the Department of Mass Communication, Advertising and Public Relations. She credits her involvement with the English department and her previous experiences of editor in chief with getting that position.
As much as her experiences with FSU and the English department have meant to Tindall, her future aspirations should be just as enriching.
Tabitha Labrato is an English major, on the editing, writing, and media track, with a minor in communications.
Follow the English department on Instagram @fsuenglish; on Facebook facebook.com/fsuenglishdepartment/; and Twitter, @fsu_englishdept