Three English students to present at President's Showcase of Undergraduate Research Excellence
---
Three English students to present at President's Showcase of Undergraduate Research Excellence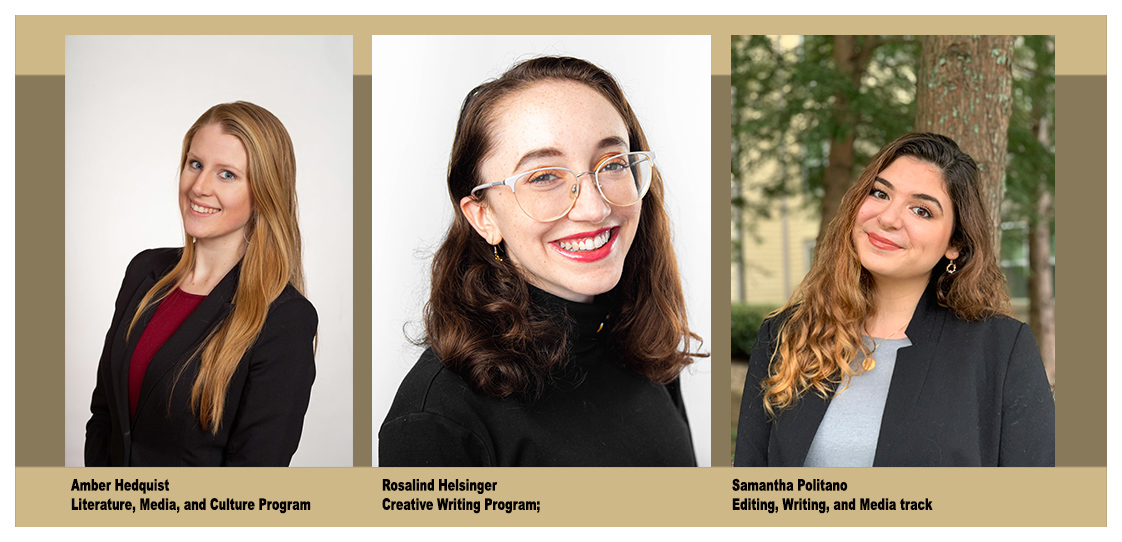 By Cristi McKee
Three students in Florida State University's Department of English have been selected to present their research in the 2020 President's Showcase of Undergraduate Research Excellence, set for Nov. 19 from 5 p.m. to 8 p.m.
The three students are IDEA Grant winners: Amber Hedquist is in the Literature, Media, and Culture Program; Rosalind Helsinger is in the Creative Writing Program; and Samantha Politano is on the Editing, Writing, and Media track and is a double major in environmental science & policy. This year's event is set for Nov. 19 from 5 p.m.-8 p.m. and will be held virtually with two sessions of four Zoom presentation meetings.
Over the summer of 2020, the students conducted research on three distinctive topics. The virtual showcase is the culminating presentation of their findings,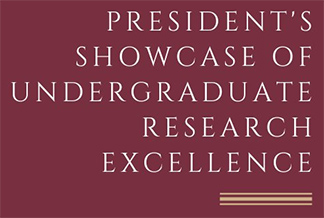 and the results are the final component of their experience.
Hedquist's project, "Investigating Perceptions of Space Within the Tallahassee Community," discusses an article published by Florida A&M University students in the FAMUAN about the railroad tracks that run between the campuses of FSU and FAMU. Hedquist's first-year abroad studies in Valencia, Spain, inspired her idea.
During that time, she delved into concepts such as communities, composition pedagogy, and borders as perceptual factors, and she incorporated archival research and personal interviews into her project. The final presentation turns her discoveries into a rhetorical investigation of spaces and places.
"Fascinated by the discursive and perceptual implications of the space, I applied for and received an IDEA Grant from the Center for Undergraduate Research and Academic Engagement (CRE) to construct my research project," she explains.
Hedquist was overwhelmed with gratitude when she found out she received the 2020 IDEA grant and would be presenting at this showcase. Being selected for the IDEA grant also serves as a testament of the validity of humanities-based research, she adds.
"The showcase is another opportunity to participate in the CRE's programming, which has been a hallmark of my FSU career," she says. "I am honored to present a project that supports the value of rhetoricians in research outside of the humanities."
The support Hedquist received from her research advisor, English Associate Professor Tarez Graban, has been unmatched, she says.
"My gratitude for Dr. Graban's support cannot be quantified, categorized, or aptly expressed in a short summary," Hedquist says. "Her support is at the core of my personal and professional development as an undergraduate. To speak tangibly, Dr. Graban has reconfigured my approach to data analysis and guided my archival and theory-based explorations."
Graban says Hedquist is a "highly motivated researcher," and she sees Hedquist's project as another step toward a bright future for her.
"It has been an incredibly enjoyable project to supervise, and Amber is a delight in every way," Graban says. "I see this as the beginning of a much longer trajectory for her, and I'm genuinely excited to see how far she pursues it."
Helsinger's project, "False Flesh: Shakespeare and Adultery," focuses on the exploration of how the accusation of adultery and the concept of chastity were weaponized against women during the Shakespearean Era. She feels honored to have been selected for the IDEA Grant and to be presenting her research this Thursday. Her research advisor, English and Theatre Professor Terri Bourus, helped Helsinger organize her ideas, find resources, and select her thesis committee.
Bourus praises Helsinger's work ethic and experience, saying those qualities set her up for even more success in the future and in Shakespeare studies in general.
"She is endlessly positive and delightfully upbeat, energetic, and disciplined. It is my joy to work with her on this exciting grant-winning project on Shakespeare and Adultery," Bourus says.
Politano's research stems from her environmental science and policy major, and she will present "Sponge communities in mesophotic reefs of the Gulf of Mexico before and after the Deepwater Horizon oil discharge." The research highlights field work she conducted at the Smithsonian Tropical Research Institute in Bocas del Toro, Panama. She found herself fascinated by the topic during her time with the Undergraduate Research Opportunities Program.
"This experience solidified my love for environmental science, and as I continued my coursework, I found myself continually enamored with the resilience of sponges," Politano says.
As a first-generation college student, Politano says she did not at first quite understand the intricacies of scientific research. Reaching this point and being selected to participate in this showcase due to her research, however, is an accomplishment she values.
"I am beyond thankful that I was able to embark on such an educational journey," she says. "I am very fortunate to have received the Scott and Ina McNichols Undergraduate Research Award, as I was able to fund some of my living expenses [in Panama] for this summer," she says.
She also appreciates the guidance she received from her project advisors, Ian MacDonald, a professor of Oceanography in the Department of Earth, Ocean and Atmospheric Science, and Mauricio Silva-Aguilera, a doctoral student and graduate researcher in the same department.
"Dr. MacDonald and Dr. Mauricio Silva-Aguilera have helped immensely in my understanding of scientific inquiry," Politano says. "They have been patient as they have walked me through numerous steps of this process."
The showcase will take place via Zoom among two sessions. You can view the program here, and sign up to join the showcase here.
Cristi McKee is an English major, on the editing, writing, and media track, with a minor in business.
Follow the English department on Instagram @fsuenglish; on Facebook facebook.com/fsuenglishdepartment/; and Twitter, @fsu_englishdept