Tarez Samra Graban's Seminar Students Get Hands-on Archival and Research Experience
---
Tarez Samra Graban's Seminar Students Get Hands-on Archival and Research Experience
During the fall of 2015, when Associate Professor Tarez Samra Graban began designing the course material for a future English Honors in the Major seminar, she looked to Florida State University's past. Specifically, she concentrated on the notable role women had as writers or instructors of writing in FSU's history.
Graban then introduced that framework in her Spring 2017 ENG 4938 seminar, "Women in the Archives, Vandals in the Stacks," during which she offered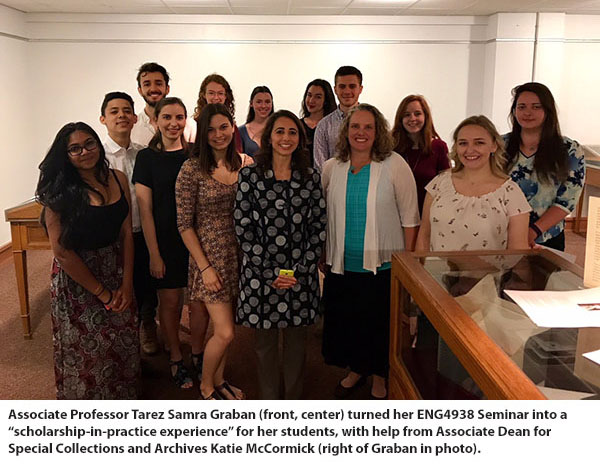 students "a scholarship-in-practice experience." Students analyzed case studies based on the class readings and completed several archival problem-solving tasks throughout the semester. For each problem-solving task, they worked in teams to try to respond to an archival challenge, and then analytically reflect on that challenge through the lens of their readings. Most significantly, students spent the semester pre-processing the papers of Nellie Godfrey King, an opportunity that undergraduates don't often have.
And for students and scholars, when historical archives are on table, the Special Collections at Strozier Library can be a vital partner in the learning process.
"I drafted the syllabus with a proposal and sent it to Katie McCormick the year prior," Graban says, referring to the associate dean for Special Collections and Archives. "We met and talked through several objectives and had several conversations about logistics, even designing the final project together."
Graban's efforts led her to the unprocessed papers of Nellie Godfrey, who happened to be a writer and a schoolteacher as well as an alumna of the interim graduating classes of Florida Female College, before Florida State College for Women, and before marrying Charles King. Godfrey, or Ms. Nellie as she also was known, orated at her 1906 graduation on Pestalozzi: His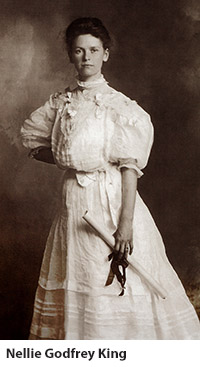 Influence on Public Education,, and was a prolific writer, according to a post on Illuminations, the official blog of Special Collections website. Godfrey's daughter-in-law, Leora Pruitt King, Florida State College for Women alumna class of 1942, gifted Godfrey's letters and postcards – numbering more than 1,000 – as well as photographs, early writings, and other personal and institutional memorabilia to Heritage Protocol and University Archives.
"Katie and archivist Sandra Berry pulled several different collections for me to consider for this course, some unprocessed, others partially processed," Graban says. "Godfrey's collection was of a perfect size and scope for the course, offering students different text technologies to consider, offering them some notable and meaningful ephemera to explore, and offering them a geographically and chronologically appropriate set of subjects and subject matters to analyze. There were enough ambiguities in the collection that we thought students might generate original research questions."   
Class days alternated between discussion, workshop, and research in the archives, Graban says. All of these activities, along with regular discussions with McCormick, who participated in over half of the class sessions, facilitated students' work on the semester-long processing project, she adds.
"Katie and I wanted to ensure that students would have plenty of opportunities to 'cross over' their material and critical perspectives, i.e., to contend with archivists' and researchers' dilemmas in tandem," Graban says.
The coursework was broken into four components: an individual, three-part research journal, in which students systematically recorded and discussed how they were synthesizing the goals of the course each week; a series of "archival problem-solving" tasks, which students completed collaboratively and then collaboratively wrote up in the form of a report; the class archival component, which included some curation, a processing plan, an inventory list, and a showcase presentation of materials; and a critical research essay, generated from an original question each student proposed based on her or his work with primary texts in the archives, and argued at some intersection of feminist theory and theories of "archive."
At the end of the semester, students presented their final projects in a showcase of the completed work. Sidney Turner, a student in Graban's seminar, says she was "in awe of the archival work and the research that we had completed."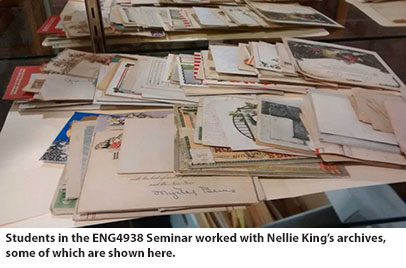 "It is not possible to fill a box with an entire person's life, but it is fascinating to see what can be discovered when looking at records and pictures within them," Turner says. "Following the conclusion of this archival experience, I have a better understanding and appreciation for what an archive protects and what it can offer if you look in the right places."
Turner says she was surprised to find that Godfrey's archives focused as much on her as on her family, but ultimately the process was a rewarding one. 
"It is a patriarchal washing of her life that seemed to overshadow her accomplishments in favor of the lives of her husband and children," Turner says. "We discovered Nellie through the archival material she preserved, and viewed her through the eyes of her loved ones' letters as we puzzled over the value she placed on the various documents and objects she chose to keep safe throughout her life."
Christina Parodi, another student in Graban's seminar, says she appreciated that each student explored a separate part of Godfrey's life and presented those discoveries to the rest of the class.
"We had a lot of questions regarding specific events in her life that would have been impossible to research if we all did it, so it was great that it all came together at the end," says Parodi, who graduated in May 2017 with a bachelor's of science degree in International Affairs and a bachelor's of arts degree with a double major in Italian Studies and Creative Writing.
Parodi directed her project at the way people write women's history and the pre-existing notions included in descriptions that are expected to be unbiased. The Special Collections staff, she says, was helpful at every step.
"I also liked how the people who work in Special Collections actively try to remain unbiased and keep up to date with relevant literature on how to best process collections," Parodi says.
Graban points to the partnership the class had with Special Collections staff, including McCormick, Berry, and Instruction Archivist Rory Grennan, as a stimulating experience for the students, and she says they often talked about how much they appreciated having hands-on access to the archives. Graban had offered versions of this course in the past, but this was her first opportunity to offer it at FSU for the English honors students. She was pleased with the range, depth, and passion of their collaborative and individual work.
"Their engagement throughout the semester was consistently high and they enjoyed solving problems together," Graban says. "While I knew they were enjoying making connections between our archival and critical dilemmas and their own interests as researchers, I wasn't sure how that would translate into their final critical essays for the course."
Not only did students put on a very professional showcase, she says, they also took seriously the opportunity to ask vital questions of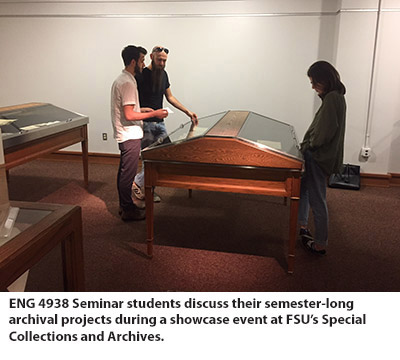 archival spaces and of themselves as lovers of text. Graban points out that some questions guiding the course and reflected in the students' projects included: How do we represent "gender," "race," and/or "power" in the archives? How do those representations get negotiated over time? When can we say that objects "tell the truth"? What are some contradictions between preservation and access? Which speaks more loudly—representations of "as it was" or reflections on "as it could be"? What factors influence the archive's composition? When is archiving like mediation, disruption, vandalism, or erasure?
"Students often remarked on the gravity of the decisions they knew they were making on behalf of the collection," Graban says.
Throughout this process, Graban says she and her class benefited from the archivists' ethic of sharing.
"Katie, Sandra, and Rory, along with others in Special Collections, were very generous with their time and their materials," she says.
McCormick appreciates the collaborative efforts between her and the Special Collections staff and Graban and her students.
"Watching students grapple with the collection, search for answers, and develop research questions and projects based on one of our alumni collections in FSU Special Collections and Archives was fantastic," she says. "I hope we get to do more projects like this."