Step by Step: Alumna Christina Parodi Follows Her Planned Path to the Top
---
Step by Step: Alumna Christina Parodi Follows Her Planned Path to the Top
Department of English alumna Christina Parodi had what could be called by any description an exhaustive college experience.
A first-year semester studying abroad. An internship teaching English in Peru. Another internship with Florida State University's International Rescue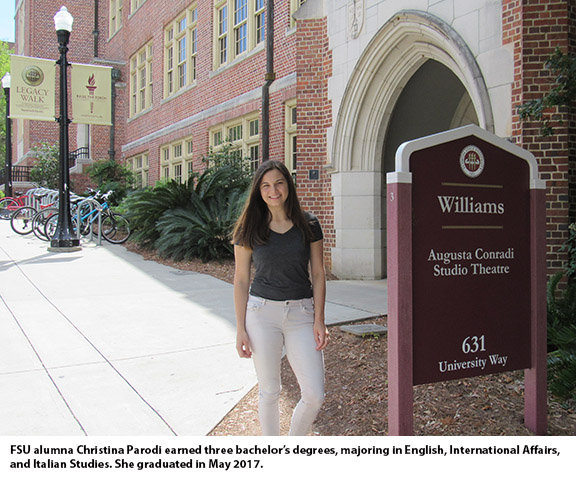 Committee working with Syrian and Republic of Congo refugee populations. An honors thesis. Three majors. A finalist for a Fulbright Fellowship.
Those are just a few of her undertakings.
Parodi thoroughly embraced the university learning environment, and her undergraduate ascent reached its plateau when she graduated in May 2017 with degrees in English, Italian Studies, and International Affairs. For Parodi, her path to this first level of academic success was well planned.
"For as long as I can remember, I've wanted to work as a diplomat in the State Department—I'm really interested in working with refugee populations," Parodi says. "I've always known what I wanted to do, so I've just been trying to make myself prepared to reach that goal."
Her academic course in a way mirrors the activity she enjoys most when she wants a break from her scholastic pursuits. Sport rock climbing, her favorite physical and mental exercise, gives her a thrill because of the uncertainty involved.
"I have no idea what's going to happen when I rock climb, which is why I like it so much," says Parodi, who worked for two years at the Tallahassee Rock Gym but prefers climbing outdoors. "I don't think people understand how amazing the sport is until you do it outside. The experience makes me feel so uncomfortable, and then that feeling goes away when I get to the top and I've accomplished this amazing feat."
Although there are similarities between her rock climbing and academic achievements—each successful step leads to her ultimate goal—Parodi is much more at ease when the topics are her upbringing, her Latinx heritage, her achievements while at FSU, and her future goals.
Her journey to and through FSU
Parodi was born in Key Biscayne, an island near Miami. Her father was born in Peru but came to the U.S. when he was 17, and he currently works in the air conditioning industry. Her mother, a teacher in Key Biscayne, is Latvian.
Her father's grandparents still live in Peru, and from age 7 to 15, Parodi visited every summer for two months. They don't speak English, though, so communicating with them during her stays was a bit difficult. She spoke Spanish as a child at home until age 4 or 5, but her father got a job that caused him to travel. This coupled with her starting school caused her to lose competency in the language.
"Latino parents usually don't really speak Spanish to their kids; they want their children to be 'American,'" says Parodi, who did relearn the language during her internship in Peru. "My Spanish isn't great but it's good enough. Put me anywhere and I won't die."
Parodi's grandmother on her mother's side bought property in the 1960s in Key Biscayne, which helped her family afford to live in the area. Her grandfather, Ingus Naruns, came to the U.S. from Latvia around 1950, and he eventually became lead cellist for the Boston Pops Orchestra under Arthur Fiedler. He also played cello for The Beatles on "Eleanor Rigby" as well as for The Bee Gees' "Saturday Night Fever."
"That side of the family is very musical, which I didn't acquire," Parodi says, with a laugh.
Her father is a big influence in Parodi's life, and without her mom's help and support, she would not have been able to extend her stay at FSU after the school told her she had earned too many credits.
"I had to pay out-of-state tuition for 2 classes," she says. "The cap is 120 credits, and I had 140. At 140 they tell you, 'You gotta go.'"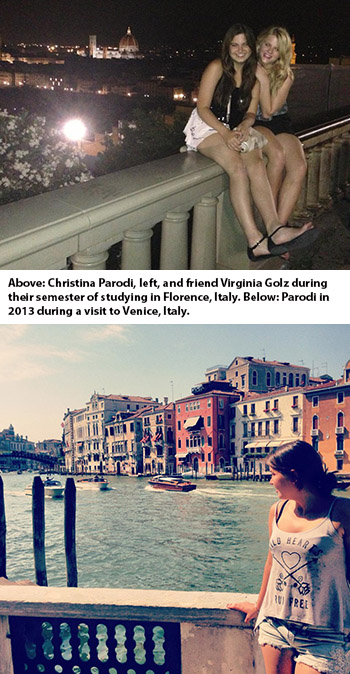 Parodi chose FSU out of high school because of the school's International Programs. She enrolled in the Florence study abroad program for her first semester, and she stays in touch with many of the friends she made during the experience. Parodi continued the process of learning Italian by regularly meeting with groups to practice the language.
Still, she wanted to get better with her dominant language, English. She began taking English classes to improve her writing, and Parodi enjoyed the experience so much she added an English major, with a concentration in creative writing, to link with her major in International Affairs.
Once in the department, she met Assistant Professor John Ribó, who would become a mentor to Parodi. She took two courses with him, Multiethnic Literature and Global Literature, and the assigned readings broadened the perspectives she was learning in her history and international relations classes.
"It was so interesting to go from reading something very impersonal in a history book, and then reading about the same event in literature and getting the fuller picture of what happened," she says, talking about Nigerian author Chimamanda Ngozi Adichie's Half of a Yellow Sun, which explores the Nigerian civil war of the late 1960s and Biafra's attempted but failed secession from Nigeria. "Before, I had read maybe two sentences about this in a history book—now I'm reading about it and fully understanding how atrocious the situation was."
Ribó discovered Parodi's commitment and intellectual depth early on, saying "she never settles for the minimum." For example, in the first class Parodi took with him, her final research paper focused on the effects of the North American Free Trade Agreement on labor markets and migration patterns along the U.S.-Mexico border.
"When I told Christina the research that would be required for this project went well beyond the requirements of the course, she told me she did not mind the extra work, and it showed," Ribó says, adding her essay connected cultural objects studied in the course to complex histories of international policy spanning decades. "This self-motivated achievement of excellence became a pattern throughout my experiences teaching and mentoring Christina."
The two bonded on common issues—like Ribó, for example, she learned Spanish on her own—and eventually Parodi wrote her honors thesis under Ribó's supervision. She chose to write about her life as a Latina in the U.S., and she divided the paper into three categories: her life in US; her life in Peru as a child; and then her life as an adult in college. She took a chronological approach within each category.
Her inspiration was Gloria E. Anzalúa's The Borderlands, which describes the dichotomy of being Latino in U.S. but being an American abroad. Parodi says she identified with the theme of a dual identity—not fully one or the other.
"When you write about identity, you get personal, but I didn't realize how personal it would get," she says. "There is a lot of research in the paper, but it turned out a lot more creative than I thought it would. I didn't know I could be that creative."
Ribó appreciates Parodi's "clear vision of who she is personally and professionally."
"In my classes, she was able to focus on knowledge relevant to her growth as a fully integrated human being, as a Latina excited about a
career in international affairs," he says. "That clarity about who she is and what she wants is powerful; it allowed her to integrate her personal and professional journeys—a strategy that has proved extremely effective."
Parodi's thesis was the first one Ribó directed, and she remembers the experience being a learning one for both of them. She laughs when she says they had "to learn to work within the realm of procrastination."
"In the beginning, he gave me a little too much room and trusted me a little too much, but I had to say 'No, I need you to give me deadlines or else I'm going to push it to the last minute,'" she says. He advised her to write whatever and however much she wanted, and not to think about the project as a thesis. "I wrote in vignettes and I sent him a vignette a week, most of which ended up in the thesis."
Two post-graduation opportunities
After finishing her education at FSU without being asked to leave, as Parodi jokingly suggested might happen, she looked toward her next academic plateau. She did not lounge around, though, although she easily could have indulged in her guilty reading pleasure: anything Twilight and anything about vampires.
She continued to work at the rock gym as well with a local law firm, which took up about 60 hours of her week. She also reapplied to FSU as a non-degree seeking student and took two online courses in micro and macro economics to satisfy prerequisites for a graduate school program she was considering. 
Then, while meeting an advisor with FSU's Office of National Fellowships about a Thomas R. Pickering Foreign Affairs Fellowship, Parodi found out about Fulbright Fellowships. She applied in October 2017 for an academic fellowship, instead of one to teach English abroad, because she wanted to earn her master's in public administration at an Italian university. As a bonus, she would be able to solidify her fluency in Italian.
Her application focus came from her days in middle school when she participated in Model United Nations, and that long-held want to be a diplomat and to work with refugee populations. Italy, she reasoned, is a hotbed right now for the unfair treatment of refugees.  
Ribó helped Parodi with the essays, and the FSU fellowship committee mentioned his recommendation letter specifically during her on-campus interview. While that application went through the review process, Parodi applied to graduate school, with Johns Hopkins being her top choice. Essays for her applications were due in January 2018, and her Fulbright essay writing experience helped her fine-tune her graduate school essays on the global refugee crisis.
"You think, 'Oh, 500 words, this is going to be easy,'" she says. "No, I am the most superfluous person who exists. I'll be writing one sentence and it turns into a paragraph. I learned how to cut down a lot."
Johns Hopkins accepted her into its graduate program, but now she had to wait to hear about her Fulbright. Normally, the Fulbright committee announces its decisions in early March. That timeframe was pushed back, and Parodi felt anxious, even though she knew the situation was win-win for her.
"I had these two wonderful possibilities—I'm either going to Johns Hopkins or I'm going to do a Fulbright," she says. "But not knowing was driving me crazy."
She actually felt relief once she found out in mid April that she had been chosen as an alternate. She finally could plan out her next steps.
"Although she didn't receive the Fulbright, I think the sustained focus required to articulate why she deserves to be a Fulbright scholar translated into stronger graduate school applications and a clearer vision of what she wants to do with her life and why," Ribó says.
Her next challenges
Before she steps foot on the Johns Hopkins campus for fall semester, Parodi will push herself academically once again.
In the summer of 2018, from June 22 to August 10, she will immerse herself in an Italian language studies program through the Middlebury School of Languages based in Vermont. Parodi's session takes place in Oakland, California, and the rules are strict about the use of English. Parodi signed a contract that she will speak only Italian during her stay, or she is subject to expulsion from the program.
Covering the cost on her own would have been too expensive, so Parodi did what she does well: wrote a scholarship essay. She explained how knowing Italian is necessary for when she is working with refugee organizations and being an advocate for refugees in Italy. "How can I advocate for someone if I can't speak the language?" as she says.
Of course, Parodi earned a full scholarship.
"So, I am going to do this crazy seven weeks, and my Italian is going to be great," she says. "I end on August 10 and then I start at Johns Hopkins on August 20. I set it up that way so I can be prepared when I get there."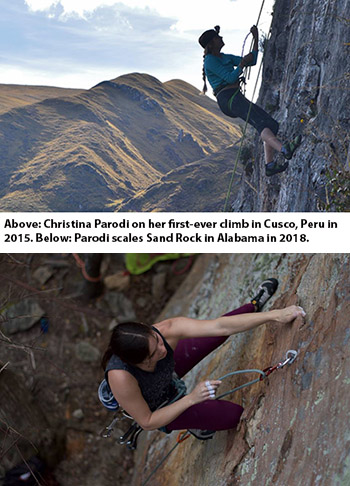 Ribó admires what Parodi has accomplished during the transition from her undergraduate studies. Parodi exudes self-assurance about her path, but Ribo has seen the strategic and methodical mapping out of her time while she was at FSU and in the year since.
"Today it comes off as confidence, and Christina certainly has reason to be confident," he says, "but so much planning and work went into building up that confidence: writing her honors thesis, studying for the GRE, writing multiple drafts of the essays for her graduate school and Fulbright applications. Christina is confident and earned her confidence, and I do think it will help her succeed in her studies abroad and in graduate school and beyond."
No matter where she goes or what she does, her passion for rock climbing is not going to diminish. Her first-ever climb was in Peru as part of a yoga and rock climbing excursion. Yoga was her interest then, but she volunteered to be the first one to go up the climbing route because she likes to challenge herself mentally.
"I'll be climbing, and I am literally contemplating, 'What am I doing right now? What is wrong with me?'" she says. "Then I get to the top and I realize, 'Oh, OK, that's why.'"
One day, when Parodi reaches her highest goal away from the rocks, she will be able to look back and appreciate the steps she took to get there.