Spring Series lineup packed with superb writers
---
Spring Series lineup packed with superb writers
By Rebecca McCandless
The Spring 2020 Jerome Stern Distinguished Writers Series is brimming with must-hear literary talent.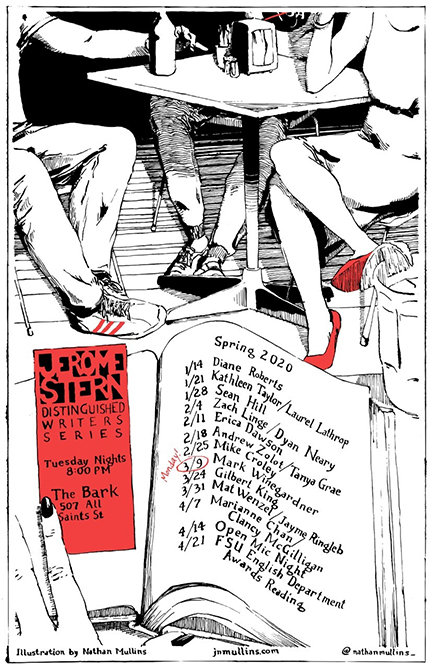 "We couldn't be more excited about our spring 2020 lineup," English Professor and Creative Writing Program Director Skip Horack says. "Two fantastic poets (one of whom won the 2018 Florida Book Award), an FSU alum with a debut story collection, and a Pulitzer Prize winner in nonfiction."
This semester's series commences Tuesday, January 14, at 8 p.m. in its usual location, The Bark on 507 All Saints St. The first author is someone you surely do not want to miss.
"We are especially fortunate to be able to kick off the reading series with FSU's very own Diane Roberts—professor extraordinaire, as well as one of the smartest, and funniest, writers we have in this country," Horack says.
Roberts is a professor of English, and she has an extensive list of writing accomplishments. To name a few, she is the author of four books, an op-ed journalist for various publications such as The New York Times and The Times of London, and also serves as a commentator for NPR.
When asked what she will be reading at The Bark, Roberts admits she usually picks her piece of writing an hour before the event.
"It will be about white women and why it is that in the 21st century they still occupy a place in our culture and our politics, which is simultaneously quite powerful and socially retrograde," Roberts says. "This is a fancy way of saying I write a lot about sororities. And princesses. And the 51 percent of white women who voted for Donald Trump."
Roberts has a passion for writing about the South and the political views encompassed in its culture.
"All the things about the South which fascinate (and bother) me, including racism, fixation on the past, extreme gender roles, worship of violence, etc., are endemic in the wider American culture,"
she says. "It's just that in the South, we have been articulating these obsessions for 400 years. The South is like the stage on which all of America's neuroses, fixations and dark secrets play out."
Roberts says she enjoys public readings because she can share her writing in an environment that allows her to judge the audience's reaction to her work.
"This will be my first reading at The Bark, so I'm looking forward to presenting my writing in that very friendly atmosphere," she says.
A friendly environment, indeed. Keri Miller, a second-year graduate student in the fiction MFA program and one of the series hosts, describes The Bark as very social before the readings. Attendees may order drinks and enjoy dinner while chatting.
The music is turned off and the lights are dimmed at 8, however, and the crowd is asked to be respectful during the reading.
"This doesn't restrict attendees from ordering food or drinks," Miller says. "Laughter, applause, gasps of joy are all encouraged."
The readings last an hour at most. Once finished, the author may choose to have a short Q&A session—though this is rare. If the author has a book available for purchase, Midtown Reader, which is a locally owned bookstore, will likely have a table with copies. You also are welcome to bring your own copy, as there will be a chance to have your book signed and chat with the author.
Rebecca McCandless is a junior majoring in English on the creative writing track, with a minor in communication. 
Follow the English department on Instagram, @fsuenglish, on Facebook, facebook.com/fsuenglishdepartment/, and Twitter, @fsu_englishdept