Spring induction ceremony for Sigma Tau Delta adds new members for organizational activities
---
Spring induction ceremony for Sigma Tau Delta adds new members for organizational activities
By Sofia Cabrera
For the past 16 months, COVID-19 safety protocols have disrupted in-person activities, and Florida State University's Sigma Tau Delta International English Honor Society did what was necessary to adjust to the restrictions on campus.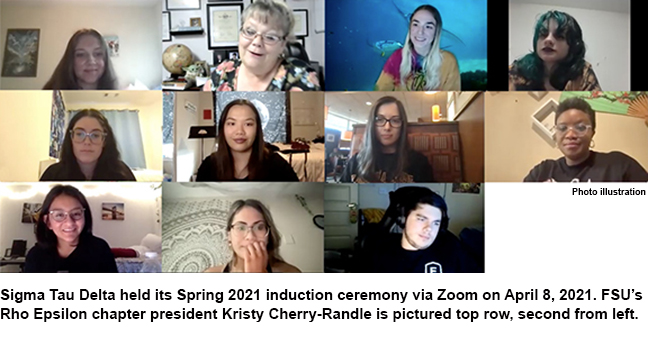 The organization even thrived in some ways, says Kristy Cherry-Randle, president of FSU's Rho Epsilon chapter. For example, she noticed more involvement from members.
"I do not know if it is due to the pandemic, but our executive team has been very active throughout this year," she explains.
Cherry-Randle was considered a member at large when she first joined Sigma Tau Delta in December 2019.
"If an executive member did not attend a meeting, I would take over certain roles such as secretary or treasurer," she says. "Although I did not have a title, I would help plan events or take over executive roles as needed."
She has been serving as the organization's president since 2020. Her most recent planned event took place April 8, 2021, when the honor society added nine new members during its spring induction ceremony held via Zoom.
"The process of preparing a virtual induction ceremony was a huge adjustment," Cherry-Randle says. "Because of the pandemic, we were scrambling and figuring out a ceremony for our inductees."
The spring 2020 induction ceremony was postponed due to the pandemic. Sigma Tau Delta then combined the spring 2020 and fall 2020 ceremonies in December. The combined ceremony had 21 inductees.
As president, Cherry-Randle takes on different roles when necessary for the organization. In her leadership position, and while she has been a member of the organization, she never expected to coordinate a virtual ceremony.
"When you are dealing with about 70 members, it is difficult to get everyone together," she points out. "Trying to bring those visual cues that normally happen in a room versus online was a challenge. It would be so absurd for us to even clap in a Zoom session when it was already difficult for us to hear."
Before the pandemic, Sigma Tau Delta held its ceremonies on campus in the Williams Building, Room 013, also known as the Common Room for the English department. Inductees would receive their certificate and shake hands with English Associate Professor Rhea Estelle Lathan, the society's faculty advisor, as the pinning ceremony was conducted.
Previous ceremony scripts were revised to accommodate for a virtual space. According to Cherry-Randle, she and the officers liked the script used for the fall event, and they used the same one for the spring induction. According to Cherry-Randle, the fall 2020 and spring 2021 ceremonies were more structured, organized, and formal.

Cherry-Randle began the ceremony with some comments about the event. Once she read the inductees' names, she asked if they were qualified to become members. The members responded "We do" to each qualification. (See the qualifications for membership at the article's end.)
Afterwards, each officer gave a brief history about the organization. As an advisor, Lathan then declared the members to be in full standing of the Rho Epsilon Chapter of Sigma Tau Delta.
"The spring 2021 induction lasted about 15-20 minutes," Cherry-Randle says. "In total, there were nine inductees at the ceremony; however, only four inductees were able to attend. In addition, current members from Sigma Tau Delta were asked to attend and support their fellow inductees. Family members of the inductees were also in attendance."
Newly inductee of the Rho Epsilon chapter, Brenna Miller, is a woodwind performance major with a dual degree in English-Editing, Writing, and Media.
"Attending a virtual induction was odd," Miller states. "Despite this, I did enjoy the ceremony as I was able to see other members and understand more about the organization. I also help with the social media team which has allowed me to meet members and officers."
Miller adds that she wants to meet more people in the English major, especially because it is not her primary degree.
"I look forward to the opportunities that Sigma Tau Delta has to offer, especially the internships," she says. "I also like that I can help the organization grow at FSU."
Cherry-Randle anticipates and welcomes qualified members for the Fall 2021 semester.
"I cannot wait to see everyone's faces," she says. "I hope we can return to more service type activities and hands-on activities as an organization."
Interested members can send an email to the Sigma Tau Delta Gmail account, and an application form will be sent from there. Questions about the organization will be answered as well.
More information about applying and requirements for Sigma Tau Delta membership
Advisors for FSU's English Department have access to the application. As an instructor of record at FSU, Cherry-Randle shares information about Sigma Tau Delta to students who take ENG 2012. All English majors are required to take this course, so she encourages other instructors to share the information.
Potential members must have a 3.0 GPA in both the English Department at FSU and in one's overall GPA. If a student transfers, the student first needs three classes at FSU before being inducted. An unofficial transcript is also required.
Once the new member is selected, they must pay dues in order to secure membership. Since the pandemic, the process for shipping new member certificates has been difficult; it is a lengthy process.
Sofia Cabrera is an English major, on the literature, media, and culture track, with a minor in education.
Follow the English department on Instagram @fsuenglish; on Facebook facebook.com/fsuenglishdepartment/; and Twitter, @fsu_englishdept