Southeast Review revives in-person fundraiser, with readings, prizes, and costumes to lift spirits
---
Southeast Review revives in-person fundraiser, with readings, prizes, and costumes to lift spirits
By Rachel Loring
The Southeast Review's annual fundraiser returns this year with exciting new activities for participants to experience and enjoy. The event is scheduled for Tuesday, Oct. 26, from 7 p.m. to 9 p.m. at The Bark and will feature an open mic, a silent auction, and a special Halloween costume contest.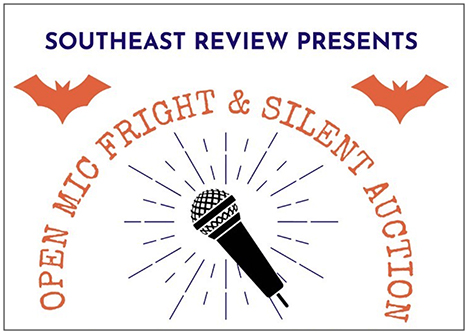 SER Assistant Editor Amanda Hadlock is looking forward to the return of hosting the fundraiser in person after last year's was held virtually.
"It's definitely a big change," says Hadlock, an English M.F.A. candidate, "but it's exciting to get to hear everybody read in person and get to have people together outside of just class meetings."
The open mic portion of the night features six graduate students and three faculty members. Featured English department faculty members this year are Associate Professor Skip Horack, Distinguished University Scholar Barbara Hamby, and Assistant Professor Ravi Howard.
"There will be a variety of different genres that people will be reading in," Hadlock says. "You can hear some poetry, short fiction, maybe some short nonfiction too."
The variety of readers demonstrates the Southeast Review's dedication to all forms of writing from all kinds of writers. The literary magazine publishes a wide range of genres while also ensuring that emerging writers and established writers are presented together. This has been important to the magazine since its inception at FSU in 1979, and the fundraiser gives graduate students the opportunity to share their work alongside faculty members.
Alongside the readings, eventgoers can take part in the silent auction, which features an array of items donated by 10 different local businesses.
"We got great support from a lot of local businesses," Hadlock says, "and we've got some really cool donations like passes for axe throwing and rock climbing and tickets to [Tallahassee's] Skate World.
"There's a gift basket from Black Dog Café, a gift basket from My Favorite Books, a lot of different things."
Hadlock included a costume contest for this year's fundraiser as a fun Halloween treat to get guests in the festive spirit.
"We don't always do that, but I thought it would be fun," she says. "The costumes aren't required, just encouraged. There is a prize for best costume."
Hadlock has planned an evening that appeals to everyone, and she encourages anyone interested in attending to put on a costume and come to The Bark on Oct. 26 for a night filled with great readings, Halloween spirit, and a chance to win some really cool prizes.
Rachel Loring is double majoring in English on the creative writing track and in family and child sciences.
Follow the English department on Instagram @fsuenglish; on Facebook facebook.com/fsuenglishdepartment/; and Twitter, @fsu_englishdept