SER hosts annual fundraiser, issue release party with Jerome Stern Series and Midtown Reader
---
SER hosts annual fundraiser, issue release party with Jerome Stern Series and Midtown Reader
By Cristi McKee
The Southeast Review is hosting its annual fundraiser virtually this year, and the event doubles as a release party for the literary journal's upcoming issue.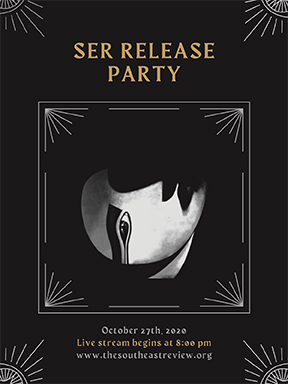 The Oct. 27 event online get-together begins at 8 p.m. on Zoom, and is hosted in partnership with local independent bookstore Midtown Reader and the FSU Department of English's Jerome Stern Distinguished Writers Series. The release party celebrates issue 38.2 of The Southeast Review (SER) and features readings by Sarah Fawn Montgomery, Saddiq Dzukogi, Su Cho, Bipin Aurora, and torrin a. greathouse, all contributors to this issue.
SER Assistant Editor Diamond Forde is excited about the event as it allows issue contributors to be celebrated.
"I'm really looking forward to seeing all of our hard work come together," says Forde, a doctoral student in FSU's Creative Writing Program. "But I'm also really excited to be a part of a community that celebrates its readers, their work, and their accomplishments."
As part of the fundraiser, a raffle will be held for the chance to win signed books, jam baskets, blankets, crafts, feedback sessions with SER editors, and more. Winners of the raffle will be shipped their prizes at a later date.
The FSU Department of English established The Southeast Review, a national literary magazine, in 1979. Graduate students and faculty members edit and manage the magazine, which is published twice a year.
Forde says online attendees can expect a fun occasion in celebration of fantastic writers. The entire SER team—including Editor-in-Chief Zach Linge and the journal's section editors—has donated significant time and effort into organizing the event.
The evening is open to the public and is a chance to applaud the journal's hardworking staff and this issue's contributors.
"This release party will be a celebration," Forde says, "and I really hope people will come out to join us in that."
Those interested in attending the fundraiser/release party can register online, here.
Cristi McKee is an English major, on the editing, writing, and media track, with a minor in business.
Follow the English department on Instagram @fsuenglish; on Facebook facebook.com/fsuenglishdepartment/; and Twitter, @fsu_englishdept