Samuel Beckett presented on the screen and stage
---
Samuel Beckett presented on the screen and stage
People usually have certain expectations when they watch a film or witness a live theater performance. Those audiences, in general, want an understandable plot line to follow and the satisfaction of a resolution to the story.
The Irish novelist, playwright, and theater director Samuel Beckett never made those experiences easy for viewers.
Thanks to a collaboration between Florida State University English Professor Stan Gontarski, and Tallahassee's Irish Repertory Theater (IRT), the Big Bend region has several opportunities for the public to see for themselves the challenges that Beckett's work offers.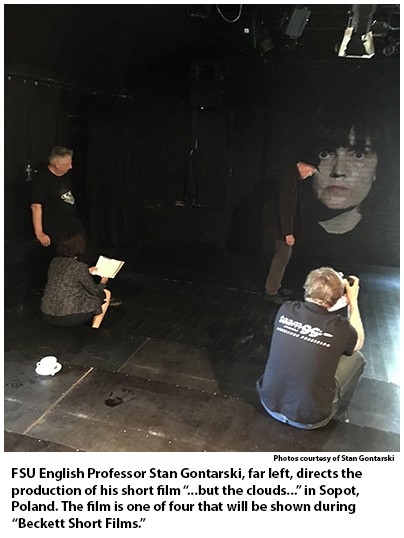 Several events over the next couple of weeks highlight Beckett on the screen and on the stage. "Beckett Short Films," four productions that Gontarski directed, will show on Wednesday, January 29 at All Saints Cinema in Tallahassee. Two days later, and running until February 2, the IRT performs Beckett's Endgame at Goodwood Museum and Gardens in Tallahassee.
Capping off the two-plus weeks is another IRT performance of Endgame, this time February 7 through February 9 at Palaver Tree Theater in Crawdfordville, which is approximately 20 miles south of Tallahassee.
"If you come expecting either light entertainment or something to be brought together cleanly and neatly at the end, you're bound to be disappointed somewhat," Gontarski told listeners during WFSU's January 22 radio broadcast of Perspectives, as he and several Repertory members spoke about their work together. "Beckett never thought it was the writer's job to pull everything together. In his mind, that's what readers and audience members do—that's [their] job."
As a build-up to the play, and to perhaps help ease into the processing of Endgame's approximate 80 minutes, the night at All Saints Cinema offers Beckett in smaller bites when Gontarski presents his four short films for the first time as a cluster. Part one of the showing includes …but the clouds… and Beckett on the Baltic, which run for 10 and 20 minutes, respectively. Part two offers Ohio Impromptu (13 minutes and 15 seconds) and What Where (eight minutes).
In addition to his academic responsibilities at FSU, Gontarski teaches acting and directing workshops outside of Tallahassee. The past two years he has worked in Sopot, Poland, with cinematographers Szymon Uliasz and Magdalena Gubale to produce …but the clouds… (2017) and Beckett on the Baltic (2018). Both films had their world premieres in Poland, and …but the clouds… was shown in Worcester, Massachusetts, as part of former English department doctoral student Paul Shields' October 2018 presentation "But the Cloudless: a Beckett Show."
Beckett wrote …but the clouds…—which is a line from William Butler Yeats' poem The Tower—in 1977 for television, Gontarski points out, and in fact, Beckett did a lot of work with media. In the digital age, though, compared to video technology in the 1970s and 1980s, much more can be done with manipulating images and overall aesthetics to enhance the viewing experience.
The production of Beckett on the Baltic folds imagery of the Baltic Sea beach in Sopot with Beckett's works that address the idea of lost love. The title for that film comes from a line in Krapp's Last Tape—"Could have been happy with her, up there on the Baltic"—which is Krapp's comment about abandoning love.
"Late in life, Beckett was interested in hauntings, characters haunted by love lost," Gontarski says. "The more I looked at it, the more I realized that the films I was doing in the late 1980s and early 1990s had a certain consistency. In that one way or another they were ghost stories."
Ohio Impromptu, which Beckett wrote in 1980 as a favor to Gontarski, and What Where were both originally staged at the Magic Theater in San Francisco in 1988. Global Village in New York City filmed and included them in its 1993 documentary Waiting for Beckett. Both of these shorts were filmed while Beckett was still alive, and Gontarski's production of What Where has clips of the playwright talking about the staging.
"All four of the short films are about hauntings or uncanny mental preoccupations in a certain way," Gontarski says. "For example, in Ohio Impromptu someone dies and sends an emmisary back to comfort the person left behind. What Where, the last thing Beckett worked on, plays on the memory of loss of people."
With the 30th anniversary of Beckett's death passing in December 2019, Gontarski says he believes it's time to experiment with his plays, an act that Gontarski admits Beckett would object to if he were alive.
"He would not be interested in this level of deviation," he says. "If the works are going to have currency, though, you can't keep playing them the same way over and over. Let's see what we can do differently to open them up."
Which essentially is how Gontarski's cooperation with the upcoming Endgame productions materialized. Gary Brame, who is directing the play, and Lanny Thomas, IRT's artistic director, contacted him for help with staging a Beckett work other than Waiting for Godot. Coincidentally, Gontarski's 1992 The Theatrical Notebooks of Samuel Beckett: Endgame had just been republished as a paperback in the summer of 2019. That version is different from the Grove Press version, and this is only the third time the revised text has been performed.
During the WFSU interview, Brame talked about "the full reins" Gontarski gave him on the play's production. He added that he and the rest of the IRT members are grateful to have someone of Gontarski's knowledge about Beckett as an individual and as a writer working with them.
"This has been one of the most rewarding collaborative relationships I've had, to have someone of his stature at my disposal to ask questions about how I can handle some of the difficult material and issues of the play," Brame said.
Working with the revised text is exciting, Brame added, pointing out that he has not directed Endgame before and the four actors playing the roles of Hamm, Clov, Nell, and Nagg have not appeared in Endgame before either.
"One of the things I've been talking to the actors about is how the script continues to morph all the time," Brame said. "So, there are moments of high comedy, low comedy, there's some pathos, there's melancholy. Endgame is an experience that changes every night based on new discoveries that an actor can make. . . .It's very clever, it's very funny, and there's a lot of wordplay."
Gontarski will give a short introduction before the opening night performance at Goodwood as well as an introduction before the Sunday matinee show at the Palaver.
"In my opening remarks I plan to say that very often, how people judge a play depends on the expectations, what they think plays should do, or what it should be about," he says. "These are pre-set ideas. It's more difficult to deal with a work that sets out to foil the most common expectations."
For those playgoers who remain puzzled after the performances, Gontarski and members of Irish Repertory Theater will be on hand for a "talk back," a post-performance question and answer sessions.
Schedule of events
"Beckett Short Films"—Wednesday, Jan. 29, 7 p.m., at All Saints Cinema. $10 general admission, $7 for students and Tallahassee Film Society members.
Endgame—Friday, Jan. 31 and Saturday, Feb. 1, 7:30 p.m., and Sunday, Feb. 2, 1:30 p.m. at Goodwood Museum and Gardens, Tallahassee. All three shows include a wine-and-cheese reception prior to the performance. $25 including reception.
Endgame—Friday, Feb. 7 and Saturday, Feb. 8, 8 p.m., and Sunday, Feb. 9, 2:30 p.m. at Palaver Tree Theater, Crawfordville. $15.
To listen to the entire Perspectives show on WFSU, click here.