Sabine Nemours: The Female Backbone of Immigrant Communities
---
Sabine Nemours: The Female Backbone of Immigrant Communities
For her 2019 IDEA Grant project, Sabine H. Nemours chose to reconnect with her Haitian roots in order to support her main research thesis. With her presentation titled Nemours confidently outlined her reasoning for why she believes the idea that the United States is a "melting pot" is mistaken.
Nemours, a senior English major in the Literature, Media and Culture Program, presented her research project on October 1, 2019 at Florida State University's President's Showcase for Undergraduate Research Excellence.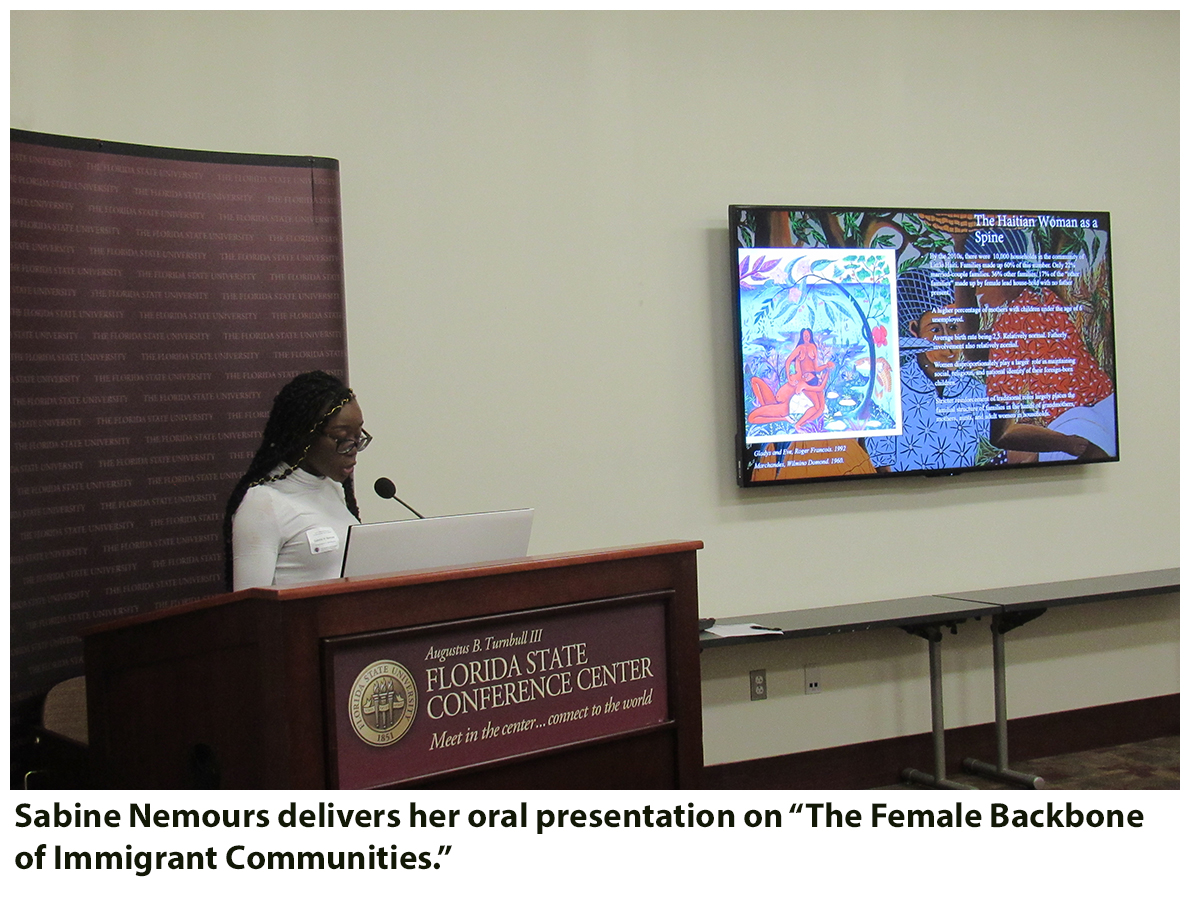 She first spoke for approximately 15 minutes on her research, and then read a selection from Things Left Unsaid, the novel-in-progress serving as the basis for her IDEA Grant, which was funded by the Nancy Casper Hillis and Mark Hillis Endowment.
"I've known since I was 8 years old that wanted to be a writer," says Nemours, who is Haitian and raised in Miami. "I'll never forget picking up my first book and knowing that something in literature is what I wanted to do with my life. Many students, or young girls at that age, don't wake up one day and realize that's what they want to do. I think I'm especially lucky because when I was younger I really tried to fashion myself after writers like Toni Morrison or Octavia Butler.
"Getting published is an ongoing act for me. Proving I'm the best writer I can be in an academic and professional way.
Even though Nemours is familiar with being on stage—she is a member of FSU's Undergraduate Poetry Club and she performs at spoken word events—the presentation and the reading were nerveracking for her, especially due to a time limit for the presentations.
"I had so much to say, and I tried to figure out how best to say it in the best and most concise way," she says, before adding with a laugh. "I think I am little wordy, I know myself, I can talk if they let me. But I did my best to be concise."
In the abstract for her presentation, Nemours wrote, "The term melting-pot has been a staple in our American vernacular. Historically, the term supports an antiquated view of our nation united by 'the people' and not by their ethnic or cultural ties. Used in this way, the term is meant to placate and to sweep under the proverbial rug that our differences don't separate us as much as we say they do."
Nemours argues there is no such existence of that environment. She points out that her hometown is commonly referred to as a "melting-pot" because it is a major port for immigration. Her goal in the project was to examine Miami's many cultures to determine if the communities that make up Miami's geographic, economic, and social background fit into the definition. She focused primarily on the community of Little Haiti, which her research discovered is "deeply divided along the lines of race, color, identity, and immigration status," she says.
"I had been familiar with Little Haiti in my own household, but not very much because my household was very Americanized," she says. "My mother was a single mother but she worked very hard to assimilate and acclimate us. Or appropriate the American culture surrounding us so that we could live without dealing with the discrimination that was prevalent at the time."
She carried out her project through interviews with curators of businesses and cultural centers, live observations, and historical data gathered on Florida immigration policies from the Haitian Heritage Museum. "Despite traditional thinking of immigrant communities," she writes in her abstract, "Little Haiti exists in a fragile state of fierce ethnic independence and uncompromising financial dependence. The culture is 'Haitian,' but the economy of Little Haiti is not."
She began the project thinking that her Haitian roots would provide the foundation she needed to navigate the personal visits she made to speak with people. When she attended Market Days, a busy event with vendors, food, music, though, she found herself stumbling over her words in Creole as she spoke with people.
"I forgot words because it had been so long since I used them—I realized how far removed I was from the people, so I had to take a step back and then dive in properly," says Nemours, who is double majoring at FSU in sociology. "I had to realize while I am Haitian, I also am American because I have been raised in that identity too. I was something apart from what they were, I was something new, someone born out of that community, a small piece of Haiti rooted in America."
She persevered, and with all of her findings, Nemours ultimately concluded that "the ethnic survival of Little Haiti rested on the backs of Haitian women, as women serve as an uncompromisable element of social conditioning in Little Haiti," she wrote in her abstract. "What my research project discovered was that there is no such thing as an American melting pot, but there is an American backbone and such backbones are disproportionately female."
As for the success of her project, Nemours is pleased with the outcome.
"I wanted to hit the nail on the head," she says. "I wanted to speak about women, I wanted to speak about what they are doing because often times, language, identity, culture are passed down by mothers to daughters and sons through that natural lineal line."
Nemours says she also had a strong mentor and advisor for the project, English Professor Maxine Montgomery. In fall of 2018, Nemours took her first African American literature course at FSU with Montgomery, and she was surrounded by juniors and seniors.
"She recognized my passion for literary studies, and especially my focus on wanting to bring representation to the literary field," Nemours says. "She saw in me from day one much I love reading black women writers."
Montgomery recalls how Nemours stood out from her cohorts from the beginning of the term, "because of the breadth of her familiarity with texts from a range of different traditions and periods, her command of theoretical concepts relevant to our readings, and her ability to think critically and communicate her ideas in compelling ways. I was astonished to learn that she was a sophomore in a class comprised of mostly seniors, but she was clearly, in an intellectual sense, head and shoulders above her peers."
Through multiple visits in Montgomery's office, the two became close, and eventually Nemours became a research assistant during her junior year to work with Montgomery on her book-in-progress, The Post-Apocalyptic Black Female Imagination. She tasked Nemours with the responsibility for compiling an annotated bibliography on Octavia Butler's Fledgling, "a novel that both Sabine and I absolutely love, mainly because of a mutual interest in science fiction."
"It would not be an over exaggeration to point out that she exceeded my high expectations at every stage of the internship—from her work in selecting prominent critical works to her compilation of a digital database including a dizzying assortment of secondary criticism," Montgomery says. "We met frequently throughout the term in order to discuss her progress on the bibliography, and our conversations quickly evolved into a vigorous scholarly exchange of ideas about how my argument could benefit from insights from recent articles and essays on speculative fiction. At times, it seemed as if I was no longer supervising an intern; instead, I was involved in deep discussion with someone who was on a trajectory that would lead to her being a noted scholar in the field and a gifted writer of fiction in her own right."
Nemours says those meetings and working with Montgomery helped her better understand the writing process.
"I'm more interested in writing creative fiction, but getting the chance to do supplementary literary research—reading books, finding interviews, looking up transcripts—was a transformative experience because it taught me the back work you have to do when it comes to creating those books," Nemours says. "If not for her, I would not have been able to make the connections I needed to figure out how I could fit myself into the scheme of what the IDEA grant needed or what the program was about."
Nemours didn't apply for the grant at first because she says she had "a small case of impostor syndrome." Montgomery encouraged her to apply, however.
"I realized that if I didn' take the chance to undertake the the actual role of what a writer does, then I would never actually pursue my dream of being a writer," Nemours says.
Montgomery says Things Left Unsaid allows Nemours to "draw upon her gift for fiction writing, her close familiarity with Haitian-Creole language and culture, and her interest in retelling the untold stories of black women in the creation of a work of fiction that holds the promise of being an important contribution to the growing body of literature on the lived experiences of Haitian-immigrants in a new world setting."
Sometime in the near future, 8-year-olds may be picking up Nemours' books for inspiration and to find a literary path in life.