Rooting for her students, Gwen Niekamp finds joy with teaching
---
Rooting for her students, Gwen Niekamp finds joy with teaching
By Bella Bozied
Wherever Gwen Niekamp has called home, she enjoys and values the human experience, which reflects heavily in her scholarship, her writing, and her teaching.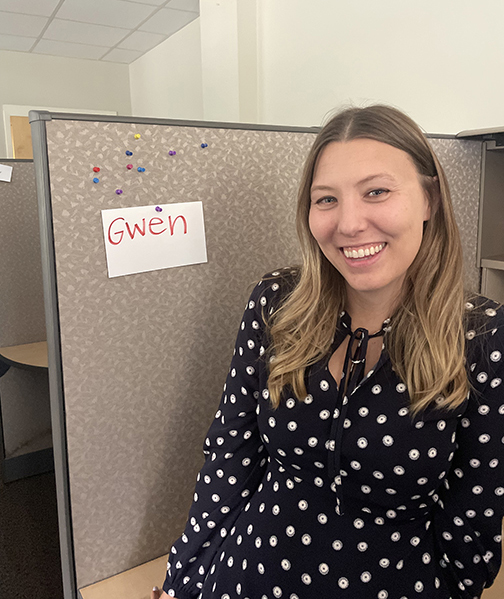 And Niekamp has explored a good number of "homes": from growing up in Louisville, Kentucky; attending Vassar College in Poughkeepsie, New York; achieving her master's degree at Washington University in St. Louis, Missouri; and studying abroad and earning a fellowship in Buenos Aires, Argentina, she has seen many places.
Her current environment is special to Niekamp, who is a doctoral student at Florida State University, working toward her degree in English, with a specialty in creative nonfiction.
"I love living in Tallahassee—I don't get the seasonal blues here," says Niekamp, who also for the past year has served as president for the Rho Epsilon chapter of Sigma Tau Delta, the campus English honors society. "Right behind [my partner and I's home], out the window in our living room, you can see one of the oldest oak trees in Tallahassee. And people have hung hammocks and swings in there, and it's just really amazing. I wake up every day being like, 'I'm so lucky.'"
Students in the courses Niekamp teaches are the lucky ones. Niekamp closed out the Spring 2023 semester by winning the department's Fred L. Standley Graduate Assistant Teaching Award and the Robert O. Lawton Award for Excellence in Teaching First-year Composition. She won the Bryan Hall Award for Excellence in Teaching First-Year Composition for the 2021-22 academic year.
Although she initially had interest in an advanced degree in a publishing-oriented field, she began looking for one that felt more "creatively stimulating," Niekamp says, a trait she looks for when acting on anything in life. The career path that best gives her that opportunity, she says without hesitation, is teaching.
Niekamp recalls how, in her adolescence, she would play "teacher" to a classroom encompassing beanie babies and her little brother as students, using desks from the local Catholic school.
"We had [the setup] in our basement and I would literally teach my brother," she says. "And when he got things right, I would give him a milk bone dog treat, and he would eat it."
She is quick to point out that she has not fed any children or students Milk Bones since she was about 5 years old. Jokes and dog treats aside, Niekamp adds she "just knew I wanted to be a teacher."
At age 18, she moved from her hometown of Louisville to pursue a Bachelor of Arts in English Literature and Hispanic Studies at Vassar, which is about 70 miles north of New York City. There, Niekamp took a film class that was taught in Spanish called Post-Modern Sexual Identity in Post-Franco Spain.
"Those were the kinds of courses I was taking, and I really loved how it just stimulates a different part of my brain," Niekamp says, describing her mindset.
During her junior year as an undergraduate, she studied abroad in Buenos Aires. She had been learning Spanish since she was just 6 years old, and Niekamp was adamant about strengthening her skills. With her adolescence experience and hard work, success with the language came easy.
"[My Spanish teacher] had a phone book, and she just would make me translate all of the advertisements from English to Spanish," Niekamp says. "While everybody else was doing the lesson, I just sat there translating phone book advertisements."
Because of her lifelong practice of speaking Spanish through private lessons—and those unique in-class assignments—Niekamp pursued and earned an internship at Ediciones Lea, a publishing company in Buenos Aires. She recalls working predominantly on translating a hybrid genre of books that she could only describe as, "Where's Waldo Scooby-Doo books."
The slapstick, comedy-oriented diction was scattered across pages, placed in text boxes and signs. The process was a challenging surprise to her.
"I remember feeling like it was a riddle trying to figure out how to translate a pun into another language because often it doesn't work," she says. "So, I felt really creatively stimulated trying to think of alternatives."
The publishing house allowed her to gain experience in most roles within a publishing system: graphic designer, editor-in-chief, and others. Once she returned to and graduated from Vassar, she took on various life experiences to decide what paths she wanted to further pursue. Through hometown internships, a post-grad fellowship for research in Buenos Aires, and working as a caseworker and grant coordinator for a refugee resettlement agency

that helped Cuban and Haitian immigrants, among other activities, Niekamp learned that "while I love languages, it wasn't the right way for me to use language."
She returned to school to use language to her full potential, as she knew she could. After earning her Master of Fine Arts in Creative Writing from Washington University, she began teaching as an adjunct instructor at Maryville University in St. Louis, a position that paid her by the number of classes she taught instead of a salary.
"It's not really sustainable long-term, but I loved it," Niekamp says. "It was my favorite job I've ever had."
She arrived at FSU in the fall of 2021. Like many graduate students, Niekamp has taught several sections of ENC 2135: Research, Genre, and Context, which is one of two required composition courses at FSU. Niekamp's persistently hopeful attitude carries through in all aspects of life, especially when it comes to teaching ENC 2135.
"One of my challenges is that since everybody has to take it, nobody wants to take it, so I try to come up with ways to make the students have fun," Niekamp says.
That attitude is especially displayed during a recent mid-April class with her 20 students. The classroom is full of light, and not just because the windows are kept open.
Addressing everyone by name as they walk in, Niekamp actively listens to and discusses each student's day with them. She then begins engaging the class through her passion for the subjects she is covering that day, all important aspects of her job.
Even when she lets students take the reins, Niekamp sits front and center to give them her full attention. Enthusiastically nodding her head, smiling at the student who is discussing their work, she notices the small but important details spelled out in the presentation.
"It's one of the most engaging classes I've ever been in," says Stryder Brown, a first-year Actuarial Science major and Honors student. "I can't remember the last time I could actually name everyone in a class until now."
He describes the energy Niekamp brings to every assignment, each class, and the general conversation as an experience he feels lucky to have within his academic setting.
"I would say that the connectivity I have both with Gwen and with my classmates has allowed me to feel more connected with the university itself," Brown says.
Another first-year student in the class, Mirra Patel, echoes Brown's appreciation for Niekamp's passion for teaching.
"She [has] provided constructive feedback which helped me improve on future writing assignments," says Patel, a Human Resource Management major. "Gwen also made the class fun and entertaining so we would enjoy coming to class every week."
In class, Niekamp assists in making her students' work better, but she also explores life's tactful journeys and hardships by expressing herself through her own words. When writing, she focuses on topics ranging from gender dynamics, dark academia, and female friendships, and she values focusing her pieces on people and places.
She has been published numerous times, and her writing has appeared in magazines such as Boulevard, Belt, Hippocampus, and Hobart Pulp, as well as the Essay Daily publication.
The joy Niekamp derives from studying English and writing is further displayed through her commitment to Sigma Tau Delta, specifically to FSU's Rho Epsilon chapter. Once her responsibilities as president end, Niekamp will transition into the graduate advisor role.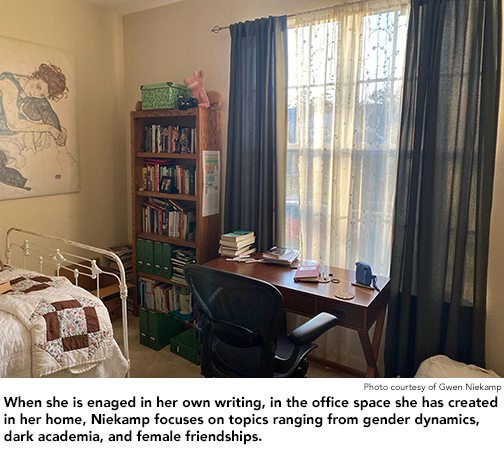 FSU English-Literature, Media, and Culture doctoral candidate Kristy Cherry-Randle currently holds that position and was a key reason that Niekamp joined and flourished within the organization. Cherry-Randle, who was the organization's president at the time, sent an email to graduate students in the fall of 2021 with information about events.
"I ended up going to the in-person induction ceremony, and that's where I met [her] in person," Niekamp says. "After there was a little reception, she and I just got to talking and hit it off."
She admired Cherry-Randle's boldness and now expresses thankfulness for everything she has brought her during their mentorship. Cherry-Randle admits to having "goosebumps" when listening to Niekamp speaking about her mentorship experience.
The two do not share just their mentorship, though. The pair hold similar views on the direction of the Rho Epsilon chapter, how to carry out that vision, and are desk neighbors in their Williams Building office.
The formative relationship between Niekamp and Cherry-Randle is what Niekamp sees the organization stemming from and the group's goals.
"What I like about the mentorship through Sigma Tau Delta is that a lot of our members are interested in grad or law school, or they have no idea what they want to do," Niekamp says. "Graduate students have just been in those roles, we just applied, and we just had to figure it out. I feel like in terms of mentorship, it's more actionable instead of theoretical."
For the near future, Niekamp will pursue her teaching and publishing goals with a positive attitude and hard-working spirit. She will work on her memoir and other writings, as she takes her everyday experiences with others in her current home and translates them into telling the most important story of all: her own.
Bella Bozied is a double major in English-Editing, Writing, and Media as well as Information, Communication, and Technology. She is the winner of the English department's 2022-23 Gerald Ensley Emerging Journalist Award.
Follow the English department on Instagram @fsuenglish; on Facebook facebook.com/fsuenglishdepartment/; and Twitter, @fsu_englishdept