Rhetoric and Composition faculty and students welcome visiting scholar Morris Young to campus
---
Rhetoric and Composition faculty and students welcome visiting scholar Morris Young to campus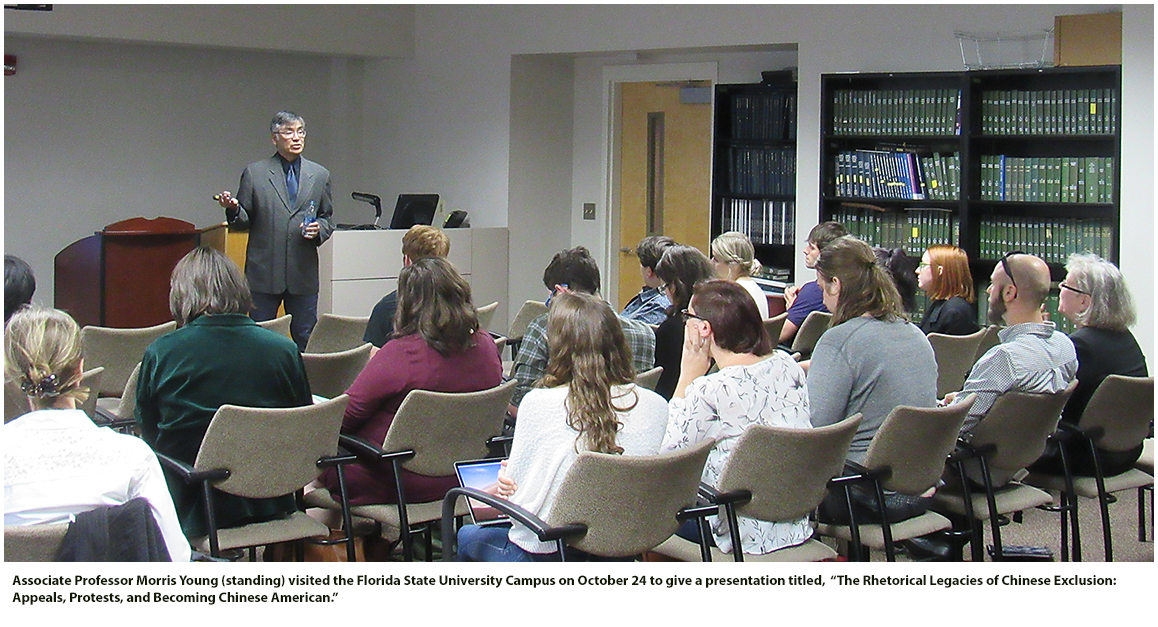 By Marianna La Riva
At Florida State University, the Department of Rhetoric and Composition offers its graduate students challenging courses and encourages them to undertake in-depth research projects. The program's faulty members welcome established scholars to campus to talk about their works and accomplishments as well, so students can make connections in the field.
Approximately 50 faculty and students welcomed Morris Young to the English department in mid-October. Young is a Nancy C. Hoefs Professor of English at the University of Wisconsin, Madison, and director of the university's English 100 Program as well as a faculty affiliate in Asian American studies. Young's research focuses on the relationship that exists between writing and identity, and Asian American literature and culture.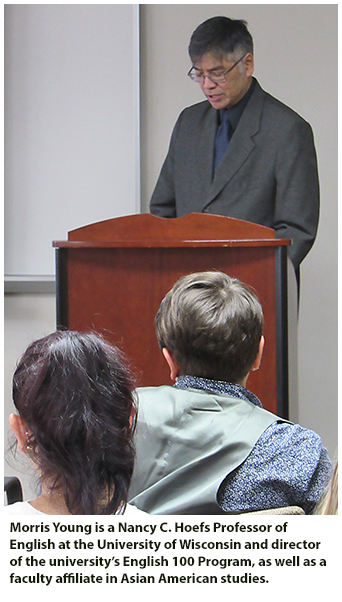 Young's one-hour talk and Q&A session was titled "The Rhetorical Legacies of Chinese Exclusion: Appeals, Protests, and Becoming Chinese American." Young's presentation focused on "the rhetorical activity of Chinese in America during…1882-1900 as they attempted to address restrictive and discriminatory laws and policies, expose exploitation, and respond to racism," according to information circulated before the event.
Noah Patterson was among the many students who attended Young's lecture. Patterson, a second-year Master of Arts in rhetoric and composition, says he shares similar research interests as Young.
"One of my entry points into rhetorical theory and writing studies was through social movement rhetorics," Patterson says. "So, I was really excited by [Young's] centering of Asian American identity and his discussion of social, cultural, political, and systemic contexts, especially in terms of resistance."
Many English department faculty members joined students at the talk. Associate Professor Tarez Samra Graban introduced Young to those in attendance.
Graban made the initial effort to bring Young to campus because over the years she has personal experiences with Young as both a scholar and a field practitioner, what she referred to as "Morris moments."
"The first 'Morris moment' was encountering his 2004 publication Minor Re/Visions in my last year of doctoral studies, which, at the time offered us a way to reflect on post-9/11 politics of citizenship," Graban said in her introduction. "The second 'Morris moment' consisted of a conversation I had with Young and two of his colleagues from Miami University of Ohio in a hotel suite at the December 2006 MLA convention in Chicago, memorable for me because of the way all three of them invited me to rethink and reposition my work as a historical intervention into how knowledge about writing is made."
Graban mentioned two other instances when she and Young's work intersected, before she talked about being on a panel on third-culture discourse at the 2010 Watson Conference in Louisville, Kentucky. Young had been assigned as the panel's chair, which marked the fifth "Morris moment" for her.
"And after that, it seemed that Morris Young was everywhere – everywhere I went where there were conversations about multilayered discourse, racialized positioning, rhetorical citizenship, translanguaging, decoloniality, Young was present, often leading the conversations, sometimes merely facilitating them, but always listening with interest and observing with acumen," Graban said. "Young's powers of listening and observing ensure that his scholarship is always evolving, whether it's attending to the translation work of native Hawaiian Henry Obookiah, or arguing for the creolization of Asian American rhetoric, or articulating identity as a vital key concept in writing studies."
Young's current research dives deep into the impacts of rhetorical activity in response to exigencies of exclusion, marginalization, and containment. This event provided an opportunity for Young to present this particular paper for the first time.
"The paper I gave today is based on an essay that is going to be included in an MLA press book, Reframing 19 Century American Rhetoric," Young says. "I am not a historian but I am making my way through working with historical and archival materials, and trying to historicize these kinds of events."
According to English Associate Professor Michael Neal, one benefit of Young's lecture was that listeners could make connections between the discussion and the current political climate in the U.S., specifically regarding the immigration process and the impact recent policy changes have on immigrants.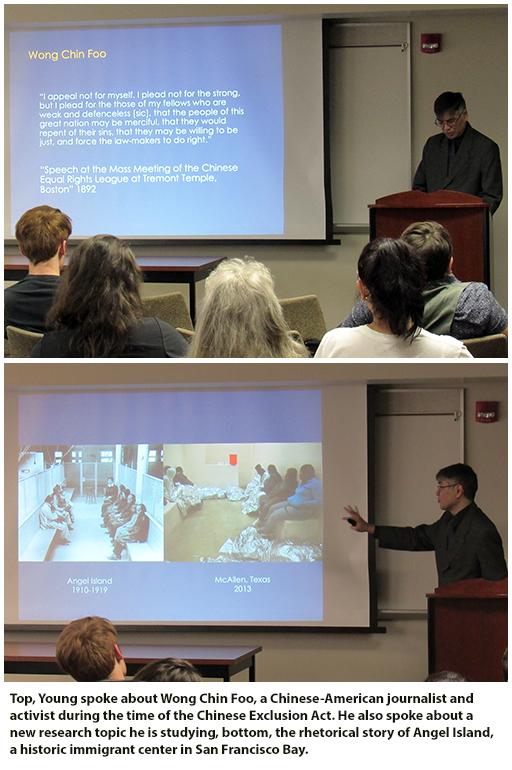 Young's talk also benefits students like Patterson, whose research interests include rhetorical theory and practice that concerns narrative and memory, visual rhetoric, and intersectionality. Patterson also enjoys public writing, embodiment, and the cultural usage of text technologies.
He was especially interested in Young's focus on Wong Chin Foo, a Chinese-American journalist and activist. Foo fought for the equal rights of Chinese-Americans during the time of the Chinese Exclusion Act, and due to his efforts, many Chinese-Americans currently consider him the Chinese "Dr. Martin Luther King."
"I wanted to ask Dr. Young if he noticed Wong using any symbolic resources beyond the alphabetic because I'm interested in how different rhetors use, say, visual means or embodied actions to create meaning or resist," Patterson says. "I think rhetoric is still seen primarily in terms of writing or speech, and I think rhetorical action includes, but also goes beyond that."
In her introduction, Graban spoke about the evolution of Young's current research, which prompted her to recently ask a group of 15 FSU graduate students to revisit his Minor Re/Visions. They read his 2004 publication alongside "a collection of other pieces about cultural technologies, racialized technologies, rhetorical knowledge-making, and translanguaging composition," she added.
"We were challenged by the task of resituating [Minor Re/Visions] social, disciplinary, and epistemological assumptions in our contemporary moment when we, as a field, are focusing on other genres or having different kinds of conversations about race," Graban continued. "Indeed, I had hoped we would use the book as an occasion to challenge our own commonplaces about his and other projects. And I knew that Young would be interested in sharing with us how his own perspectives on such literacy projects have grown or changed."
For his future research projects, Young plans to write more extensively on Angel Island, a historical immigration center in San Francisco Bay. He wants to specifically look at the rhetorical story that this center tells.
"It has been written about quite a bit," Young says, "but the detainees would carve poems in Chinese characters on the walls, so I find that rhetorical aspect really interesting."'
Another future project he has started centers on Henry Obookiah, a historic Hawaiian figure. During the 19th century Obookiah moved to Connecticut where he learned English and converted to Christianity. Young says his educational process inspired American Protestant missionaries to visit the islands, changing the course of history.
"Because [Americans] could educate him, it was the inspiration for sending the first mission to Hawaii," Young says. "He changed the course of history."
Neal formally invited Young to FSU. This was the first time that the Madison professor has been to Tallahassee.
"I haven't seen too much of campus, but this is actually a really lovely English department," Young says.
With all of Young's future and current projects, the Department of Rhetoric and Composition was grateful to have him visit and speak to FSU students and faculty.
Marianna La Riva is a senior majoring in English, with a concentration in editing, writing, and media, along with a minor in communication.