Recent alumnae Jade and Jordan Heise look back on their experiences with FSU English department
---
Recent alumnae Jade and Jordan Heise look back on their experiences with FSU English department
By Faith Matson
Florida State University recently graduated two students who have more in common than just their major: Jade and Jordan Heise also happen to be twin sisters.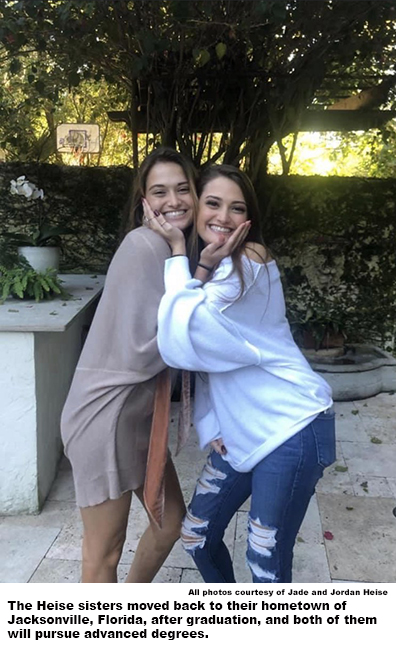 But while the Jacksonville natives earned the same bachelor's degree in English-Literature, Media, and Culture in the fall of 2020, their respective paths to graduation had very different starting points.
In high school, Jordan was the president of the chemistry club and vice president of the Latin club. She came to FSU having already completed three semesters' worth of requirements for a degree in biochemistry.
"I always enjoyed reading for pleasure, but I never saw myself going into a literature major," Jordan says. "I always completely thought that I was 100 percent going to be in a lab, doing chemistry for the rest of my life."
Jade participated in those same high school clubs as well, but her true passion was art – she was even the vice president of the school's art honors society.
Despite her artistic interests in high school, Jade began her FSU journey as a biology major with the intention of becoming a veterinarian. After beginning her first semester, though, she started to doubt her decision.
"I was never sure about it," Jade explains. "I could picture that, but it wasn't something that really grasped my interest anymore."
A couple of factors seemed to steer both Jade and Jordan toward an English degree. They both shared a mutual love of reading, for one, which was instilled by their mother from a very young age. They were both also required to take a liberal studies course when they arrived at FSU. Jade took Women in Literature with Amber Cresgy, the class ultimately helping her make the decision to change paths.
"When I took Women in Literature, that class just grasped my interest so much, and I was like 'you know what, if I do this, I know I'll find something that interests me, and this is what I just really enjoy doing,'" Jade says. "'This is how I want to spend my time at FSU.'"
Jordan, however, chose a class taught by then-doctoral student Ashley Christensen.
"I ended up taking six classes with her while I was at FSU, she was amazing," Jordan says. "She was a huge influence on me switching majors."
Jade also went on to take a number of classes with Christensen, who has only positive memories of her classes with the Heise twins.
"Working with Jordan and Jade was both a joy and a privilege," says Christensen, who earned her doctoral degree in English-Literature, Media, and Culture in the summer of 2020. "Both young women were a warm and engaging presence in every single course they took with me."
Jade was the first of the pair to make the decision to change majors.
"It was really intimidating at first, but I really am glad that I made that decision," she says.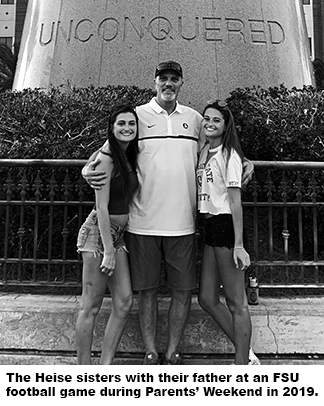 Once they were studying for the same degree, Jade and Jordan ultimately took some of the same courses, as well. Some people may see it as an advantage to have a sibling in the same class, but the Heise sisters said they often experienced greater difficulties when taking courses together.
"There's a gray area with plagiarism, where if we're taking the same classes at the same time and we live together, we were always super paranoid about professors thinking we worked on stuff together," Jade explains.
Therefore, they would make an effort to ensure that their work always differed enough from one another so they could not be accused of cheating.
When they were together in the classroom and participating in lectures, each sister often had a hard time not talking over the other.
"I think it was also a little difficult because she and I can be incredibly similar at times and then incredibly different," Jordan says. "When we discuss texts, we both get very passionate because we have very strong takes on things."
Jordan adds that their discussions with each other in class often came off as arguments to their peers, but that there was never any maliciousness behind their exchanges. They merely talked to one another as siblings, which often included talking over each other.
"We speak to each other in certain ways where we know that we're being respectful to one another," Jade says.
As for their future plans, the sisters have settled on different career goals. Both of them are taking a gap year due to the COVID-19 pandemic. Jordan then plans to attend law school, while Jade would like to attend graduate school to study library sciences.
"Hopefully in the next few months I'll get a job at a law firm...learning what I really want to do in that field," Jordan says. "And I'll go from there."
Jade is currently working at an art gallery in Jacksonville, where she is archiving pieces from the gallery's collection.
"I'd love to work for a university," Jade says. "As long as I'm doing something that I love, I'm not working."
Wherever they may go, they have a strong advocate behind them: Christensen, who is now a postdoctoral teaching fellow for FSU's English department.
"I am very excited to see what both accomplished women do next, both together and on their own," she says.
Faith Matson is an English major on the editing, writing, and media track, and is also pursuing a certificate in Global Citizenship.
Follow the English department on Instagram @fsuenglish; on Facebook facebook.com/fsuenglishdepartment/; and Twitter, @fsu_englishdept