Before the reading comes the author's introduction
---
Before the reading comes the author's introduction
By Rebecca McCandless
The Jerome Stern Distinguished Writers Series is held every Tuesday at The Bark, a local venue known for its warm and laid-back atmosphere. The lead up to the readings is full of laughter, allowing friends to enjoy each other's company, but this moment of waiting may be slightly nerve-racking for one person with a specific role.
When people attend readings, the main focus is the featured author. But what about the introducers? They are often one of the first faces you see on stage and have the important job of educating people about the author while simultaneously warming up the audience.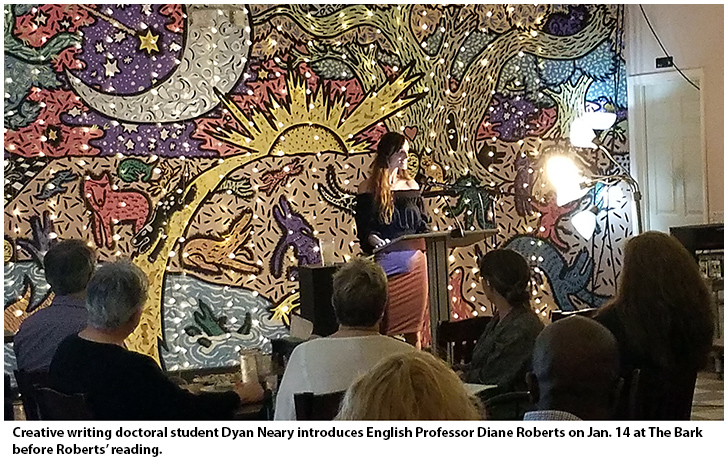 The English department's reading series allows graduate students who read to choose their own introducers. If a reader is from out of town, however, such as recent visiting poet Sean Hill, the graduate students are asked to volunteer as an introducer.
"For the student readers, fellow graduate students know them best because we have been in workshops together," Creative Writing Program Assistant and doctoral student Laurel Lathrop says. "As for a visiting writer, the introducer will usually be someone who really likes [the author's] work or who has been to a writing conference with them."
Occasionally, an introducer might be fortunate to be paired with an author they know on a personal level.
Take Dyan Neary, for instance, who had the pleasure of introducing Florida State University English Professor Diane Roberts on Jan. 14 for the first reading of the spring semester. Neary created her introduction, full of wit, adoration, and praise for Roberts, by speaking with other authors, students, friends, and colleagues about their experiences with Roberts.
Neary says, now looking back on that night, she appreciated others contributing to the introduction.
"Diane is such a well-known person in this town (and beyond!) that I thought it would be fun to ask people who know her well or have worked with her in different capacities over the years how they'd describe her in a few words," she says.
Neary, a doctoral student in creative writing, was sure to include the various anecdotes of Roberts in her introduction.
"Some of the words I got: Formidable. boisterous. Charming. Fiery. Sorceress. Heroic and Beautiful. Flaming heart of justice. Genteel killer. Gale force, with manners and a southern accent," Neary wrote. "One person told me, 'If I was ever arrested, I'd call Diane because she's probably on knee-slapping, elbow-ribbing terms with every need-to-know person in this town.'"
Neary says her only concern when introducing Roberts was that she wished she were funnier.
"I joked to a friend earlier that day that my introduction would surely go over better if I were really funny," Neary says. "I'm kind of a goofball, sure, and I have a sense of humor, but I'm not this off-the-cuff, comedically funny person. Diane Roberts is funny—high comedy funny."
Neary seemed to maintain the perfect balance of funny and informative while giving the audience a taste of Roberts' personality, calling her the "human embodiment of the phrase 'bless your heart.'" She ended the introduction with a list of Roberts' many accomplishments and a warm welcome.
However, other times introducers might have the responsibility of presenting an author they have never met.
At the Jan. 28 reading, for example, English doctoral student in poetry Kelly Butler took on the task of introducing Sean Hill, who lives in Montana and directs the Minnesota Northwoods Writers Conference at Bemidji State University. Equally as full of admiration as Neary's introduction, what Butler lacked in personal experience with Hill she made up for with beautiful descriptions of his poetry.
"The Sean Hill poem has many voices, and each one its own world of layered sound and emotional frequency," Butler says. "One voice knows that he can't speak about his experience, historic or present, without talking about systematic oppression."
Butler became a fan of Hill's after reading his debut poetry collection Blood Ties & Brown Liquor. She says she wrote her introduction by applying the skills she has learned while studying poetry, which has inspired her appreciation for Hill's technique.
"[The collection] presents an array of black voices that span over two centuries, situating them in one town: Milledgeville, GA," Butler says. "It registers to me as both archival and alive. Over Christmas Break, I read his Poem a Day selection "Hello" about seeing one's first child through an ultrasound, and I was impressed that he made me care about the subject matter."
As for the introduction, Butler admits she was nervous to meet a poet she admires as much as Hill.
"Sean was kind and down to earth, and we had great conversations about poetry," Butler says. "I was certainly nervous about the introduction. We can never know if our experience of someone's work is one they'll appreciate, especially if we have different backgrounds.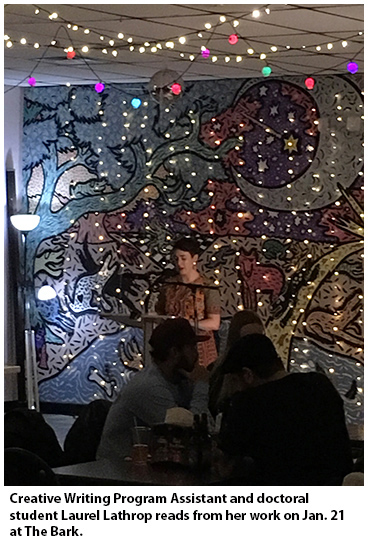 On the other side of the spectrum, people who are being introduced can get somewhat anxious as well. For example, Lathrop went through the experience during her Jan. 21 reading at The Bark.
"I asked a good friend of mine [Amy Michaels] to introduce me," Lathrop says. "Even with someone you know really well and love dearly, you are always just a little bit nervous."
Other than Michaels' commendable writing skills and being in the same writing group as her, Lathrop says she chose Michaels for her sense of humor.
"I don't want someone who is going to be making lots of serious points about my writing," Lathrop says. "You want a nice fun atmosphere. She made some jokes about how I love vintage dresses, and I was like 'Yep, absolutely roast me.'"
In comparison to other readings she has attended, Lathrop appreciates the setting at The Bark. Instead of being in an auditorium and treating readings like a lecture, she was able to eat dinner with her friends before her reading, which helped calm her nerves.
The most important distinction Lathrop made between the Distinguish Writers Series and others she has attended is the mixture of visiting writers and writers from FSU's students and faculty.
"I think it works out really nicely for making the point that it is all one big writing community," she says.
Rebecca McCandless is a junior majoring in English on the creative writing track, with a minor in communication.
Follow the English department on Instagram, @fsuenglish, on Facebook, facebook.com/fsuenglishdepartment/, and Twitter, @fsu_englishdept