Raven Halle trusted their intuition to be creative, leading to a love of poetry and community
---
Raven Halle trusted their intuition to be creative, leading to a love of poetry and community
By Tabitha Labrato
Raven Halle is proof that undergraduates who switch to become English majors should feel confident when it comes to choosing the correct career path.
Despite not starting at Florida State University as an English major, Halle, who graduated in May 2020, carved out their own niche in the Creative Writing Program, eventually earning them many recognitions and awards throughout their time at FSU.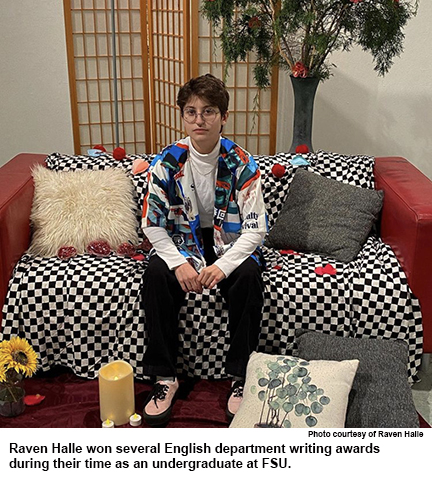 Going into university, Halle was a biology major before changing to art history for their studies. When signing up for classes for the third semester, though, they enrolled in a poetry class.
"It was as if the universe intervened and said, 'Trust me,'" Halle says. "So, I trusted it and found myself in the course Introduction to Poetry, taught by Maari Carter. It was in that class, and very much due to Maari, that I felt compelled to begin writing. I haven't looked back since."
As an undergraduate, Halle received multiple honors for writing: the FSU Emerging Writers Creative Spotlight Award for Undergraduate Poetry in 2018; the John Mackay Shaw Academy of American Poets Undergraduate Award in 2019; and the Cody Harris Allen Award for Outstanding Undergraduate Writing in 2020.
Halle won the Emerging Writers award the same year they began writing, so having such success so early on in their writing career was incredibly validating.
"Receiving awards for poetry — something I love so deeply — made me feel like poetry loves me back, and that's a special feeling I had never known," Halle says. "I think the most important thing, though, is that I was then able to connect with others in the writing community at FSU, and I was introduced to some lovely and talented people."
Additionally, Halle's favorite part about being an English major was learning from incredible educators. In addition to Carter, Halle mentions former FSU graduate teaching assistants Ösel Jessica Plante and Ruth Baumann, and English Professor David Kirby and English Distinguished University Scholar Barbara Hamby as being "purely brilliant."
"Without their knives my mind would not have been sharpened into what it is today," Halle says. "It was a new and beautiful feeling to be able to be truly vulnerable in my writing, and I was only able to do that because of how deeply my educators supported and believed in me. I am grateful to have learned from the greats."
Similarly, Hamby remembers Halle fondly.
"Raven is a miraculous poet and it was such a pleasure having them in class," Hamby says. "Raven's poems are filled with gorgeous images and surprises. I can't wait to read their first book."
Raven's poems are filled with gorgeous images and surprises. I can't wait to read their first book.

— Barbara Hamby
As they reflected on their time at Florida State University, Halle recalled a memory that sticks out most from their time at FSU: in 2018, Halle gave their first-ever poetry reading at The Warehouse, where FSU students once held regular reading events.
"It is an indescribable experience to read your writing in a packed and silent room," they say, "and I still feel so lucky to have had people who cared enough to listen."
Post-graduation, Halle is applying their English studies and love for language. Halle is currently freelance writing for a newspaper local to Orlando, while also working at Lucky Goat Coffee as a barista.
"I love both of my jobs and I am grateful to write for a living while also pursuing my interests in coffee," they explain.
Halle embraces their untraditional path that led them to a love of English that blossomed far beyond what they could have initially envisioned.
For other students, either in the English major or considering a change to become one, Halle had one piece of advice to share.
"Always do what you love," they say. "If you do what you love, then it will love you back."
Tabitha Labrato is an English major, on the editing, writing, and media track, with a minor in communications.
Follow the English department on Instagram @fsuenglish; on Facebook facebook.com/fsuenglishdepartment/; and Twitter, @fsu_englishdept